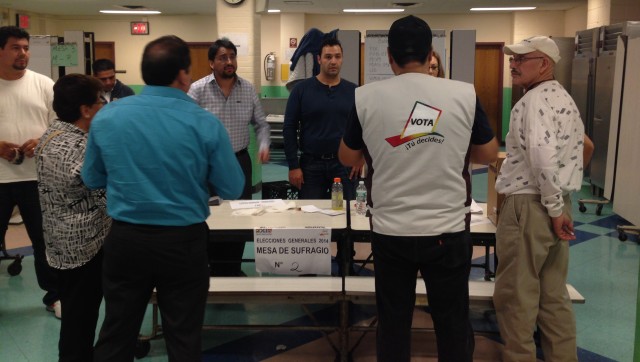 Bolivians in New York Cast Votes for President, Favoring Opposition
NEW YORK – When Bolivians in New York City cast their votes in a presidential election Sunday, most of them went against the trend that swept President Evo Morales into his third term.
While Morales won around 60 percent of the vote in Bolivia, New York voters gave him just over a quarter of their vote, preferring instead the opposition candidate Samuel Doria Medina.
The remote election in New York was held at a public school in the Latino enclave of Jackson Heights, Queens. More than 900 voters were registered, although just 414 showed up to vote. The vote was the second contest held abroad since foreign voting was first allowed during Bolivia's 2009 election.
While the polls in New York represented just a tiny segment of the general election, and Morales' easy re-election to a third term was long predicted, many said the foreign vote was nonetheless symbolically important.
Bolivian Ambassador to the U.N. Sacha Llorenti said the foreign vote was part of a broader trend in which a growing Bolivia increasingly looks to the outside world. "It's the consolidation of a process in which our citizenship goes beyond our borders," Llorenti said.
While Morales' victory was all but guaranteed — he was polling well above fifty percent and facing a fractured opposition — some New York voters were still worried about electoral fraud, according to Frank Cuba, the notary responsible for the vote in Jackson Heights.
The voters accused Morales' Movement Toward Socialism party (MAS) of hand-picking the 24-member Jackson Heights electoral jury, which was responsible for checking voters' registrations and counting their votes by hand.
Cuba insisted the process was apolitical, adding that he and other electoral staff did not belong to any political parties, but were instead appointed by the judicial branch of Bolivia's government, and that jurors were selected at random.
Despite Cuba's assurances, Ana Traverso-Krejcarek, a sociologist who has worked for the state government in the longtime opposition stronghold of Santa Cruz, said she was concerned about fraud. She added, "What I've noticed is that there are a lot of people from the government" at the polling site.
Despite those concerns, the atmosphere was relaxed. Laughing children ran through the cafeteria, hiding beyond stacks of tables and chairs. One juror brought in homemade papas a la huancaina, a traditional Andean dish of potatoes in a rich peanut sauce. Two NYPD officers lounged in a corner, texting.
As Traverso-Krejcarek pointed out, several MAS members were present, including Jessica Jordan, Bolivia's consul in New York. Jordan highlighted Morales' accomplishments in a variety of areas. "Growth, poverty, infrastructure, stability. That's what's been happening," said Jordan, a former beauty queen who also ran unsuccessfully for governor of Bolivia's Beni state in 2010 and 2013.
At one point during the day, Jordan visited with an elderly voter, kneeling down to make eye contact and chat about Beni, her home state.
Despite the presence of many MAS officials and accusations that the party was hand-picking jury members, many of the jurors were themselves critical of the president. Erik Coarety Nina, who moved to the U.S. more than 30 years ago from Bolivia's capital La Paz, said he wasn't against Morales, but that the president, first elected in 2005, had served too long. "People are saying, 'too much already.' I believe in change."
A volunteer representing the opposition Democratic Unity party (UD) was also present for the vote. Wearing a white UD ball cap and matching armband over his business suit, Willy Bordon spent the day among the jurors, near the voting booths.
Bordon said most of the Bolivians in New York would be voting for his candidate, in contrast to Morales' popularity back home, a result, he said, of the president "spending a lot of money, especially in propaganda. In the U.S.A., everybody has the same opportunity to be informed."
The UD's candidate, Medina, won 180 out of 414 votes in Jackson Heights.
Voters turned out despite Morales' near certain victory for a variety of reasons. Juror Gabriel Tordoya said he wanted to strengthen the president's mandate to reduce extreme poverty in his third term. "Bolivia is going very good right now, but we'd like to change a little more. There are still a lot of people in the streets," said Tordoya, who plans to retire in Bolivia next year.
The number of Bolivians in extreme poverty has declined to about 20 percent of the population, down from more than a third when Morales took office.
María del Rosario Ortiz Bello said she was voting because she comes back to Bolivia every year. "I'm nervous, because I need a change. I don't want to live like Venezuela, Cuba, Argentina, Ecuador," she whispered, in reference to the left-leaning bloc of countries aligned with Bolivia. Regarding Morales: "He is a crazy man."
Many voters highlighted the importance of mandatory voting laws. "It's a right. It's also mandatory. Everyone has a duty to strengthen our institutions," Llorenti, the UN ambassador, said.
The laws can make it difficult for voters who abstain to get anything done in Bolivia. Voters receive a certificate which, for 90 days after the election, they must present in order to do business at a bank or government office. One voter, Johnny Bolivar, a jeweler living in Queens, said his main reason for voting was to make sure he can return to Bolivia to accept an inheritance from his mother.
The voting period, which ran concurrently with the election in Bolivia, was extended by 35 minutes, as many Bolivians had been at a Hispanic Day parade in Manhattan. Each of the 414 votes was announced one by one in front of about 50 onlookers, many of whom filmed the proceedings.
Once the tallies had been announced, showing a win (in New York) for Medina, the opposition candidate, Willy Bordon was beaming. "I'm happy, I'm very happy," Bordon said. "I promised Samuel that in New York, we're going to win."
One man burst into song. "¡Viva Bolivia, viva Santa Cruz!"
Christopher, an editor at the Latin America News Dispatch, is also a Portuguese-language FLAS fellow at New York University. Previously, he worked as a researcher with a private security firm and as a writer for InSight Crime, a news organization focused on crime in Latin America.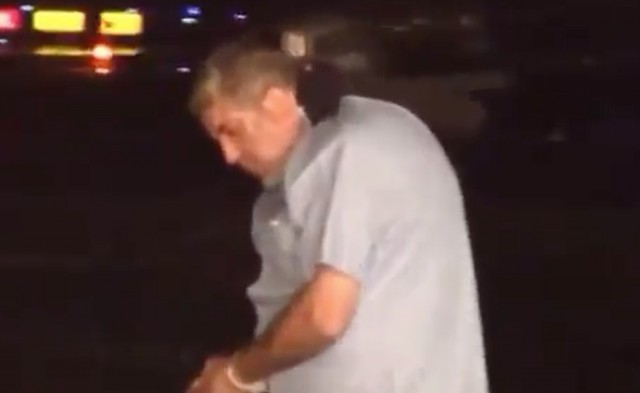 October 10, 2014 > Staff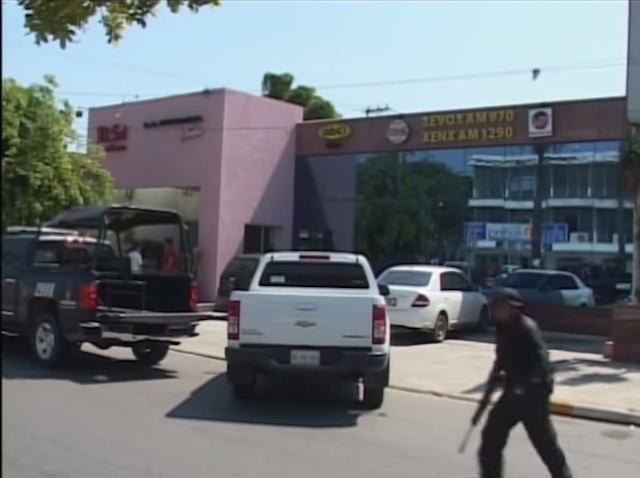 October 14, 2014 > Staff