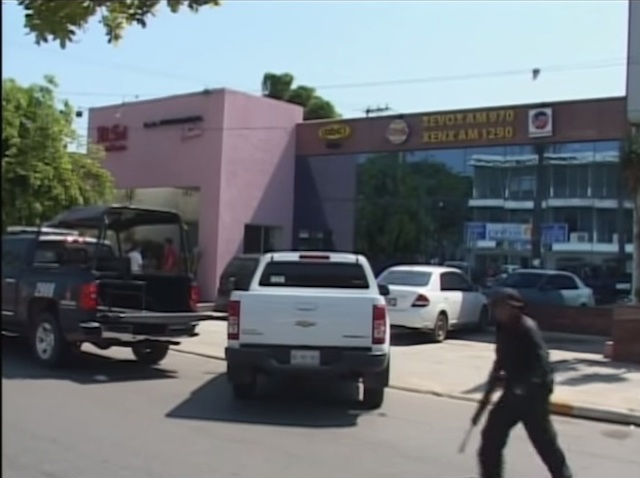 Mexican Radio Host Shot Dead on the Air
October 14, 2014
By Staff
Top Story — Mexican activist and radio host Atilano Roman Tirado was shot on-air during his weekly program Oct. 11 in the state of Sinaloa.
Two gunmen forced their way into the radio studio of Fiesta Mexicana where Tirado hosted his Saturday morning program "Así es mi Tierra." Listeners of the program could hear a shot fired around 10:40 a.m. followed by a co-worker's voice saying, "he killed him." Programming on the station did not resume for another 30 minutes.
Besides his radio work Tirado, 47, also lead the Movimiento de Desplazados por la Presa Picachos (Displaced Persons of Picachos Movement), a group of 800 farming families whose lands were flooded during the construction of the Picachos dam in 2009.
The movement demanded authorities grant housing and public services as well as create fishing and tourism cooperatives to benefit the families affected by the flood.
Tirado was known to be critical of the Mexican government and militant in his activism.
He was also no stranger to violence and received death threats along with three other leaders of the Displaced Persons of Picachos Movement, according to a post on the movement's blog from Sept. 23, 2010, the AP noted.
Though the movement had become less active in recent years, Tirado participated in protests both Thursday and Friday last week after he accused state organizations of granting commercial fishing licenses intended for members of his organization to outsiders.
Mario Lopez Valdez, the governor of Sinaloa state, said Tirado's murder "would not go unpunished." A lack of security cameras at the studio, however, may complicate any investigation.
Violence against members of the media is common in Mexico. According to the Committee to Protect Journalists, a New York based independent nonprofit, 75 journalists and media workers have been killed in Mexico since 1994, 93 percent of them Mexican nationals.
The nonprofit's 2014 Impunity Index ranks Mexico seventh of 14 countries where murders of journalists are most likely to go unpunished.
Mexico is also ranked 152nd out of 180 countries on the 2014 World Press Freedom Index issued by Reporters Without Borders.
Earlier this month another politically active journalist, Margarito Gonzalez Juarez, survived an attack in the state of Zacatecas, when his home was shot at by unknown gunmen. That shooting is also still under investigation.
Headlines from the Western Hemisphere
North America
Caribbean
Central America
Andes
Southern Cone
Image: Youtube
Subscribe to Today in Latin America by Email