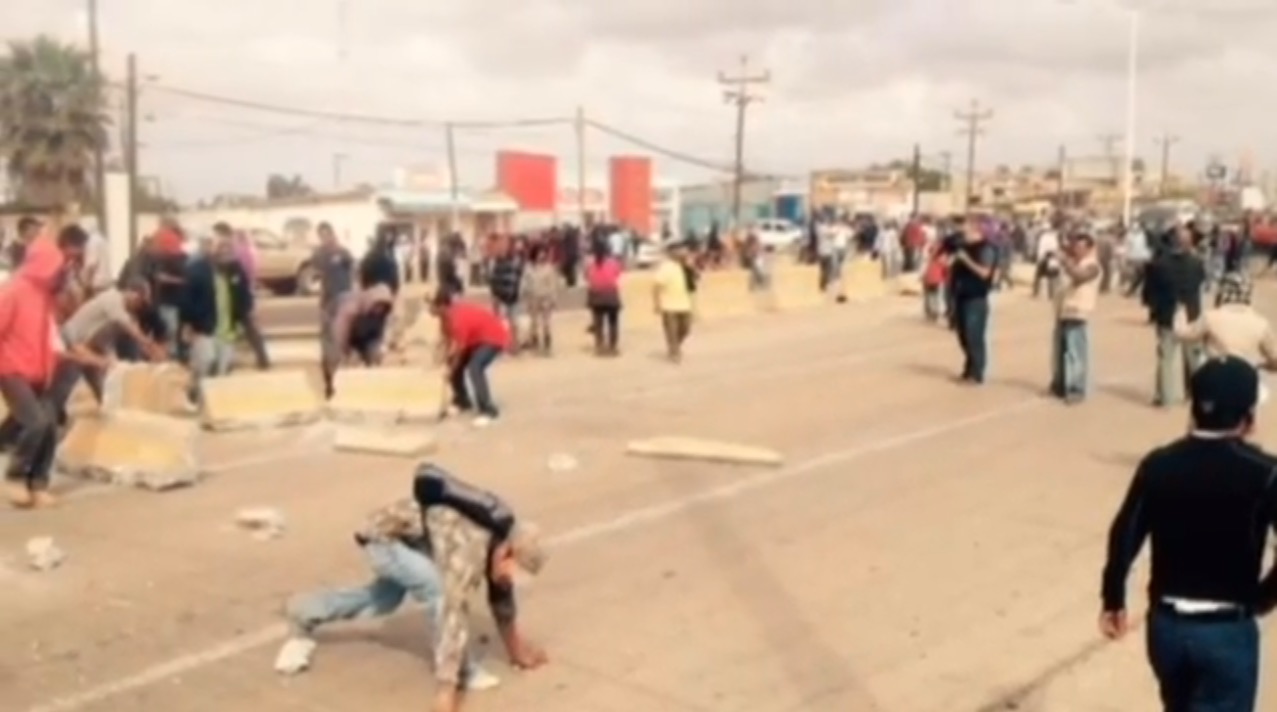 Baja Farmworkers' Strike Continues Amid Dialogue
March 26, 2015
By Staff
Top Story — A strike by farm workers across Mexico's Baja California peninsula continued on Wednesday despite the launch of talks involving workers, officials and farm operators, threatening the harvest of millions of dollars worth of produce, according to local media.
The strike was launched more than a week ago in the area surrounding the coastal town of San Quintín in protest against low pay, poor working conditions and labor abuses. Protesters have periodically blocked major highways and clashed with police sent to disperse their demonstrations. More than 200 have been arrested.
Mexico's National Human Rights Commission (CNDH) announced on the previous day it is investigating allegations of abuse against farm workers in the Baja California peninsula amid an ongoing strike over the same issue.
Federal officials from the CNDH reportedly traveled to Baja California to interview workers about their claims that they have been attacked by local, state and federal police since their strike began. The CNDH also said it secured medical care for some 200 workers who were rescued from a farm where they were abused.
In February, a coalition of growers vowed to improve working conditions in the wake of a major Los Angeles Times investigation detailing the harsh conditions facing farm workers.
Just Published at the Latin America News Dispatch
Latin America New Dispatch is proud to announce the first episode of our new podcast, Radio Dispatch. You can find us in the iTunes store and on SoundCloud. For this episode, we sat down with one of Argentina's most prominent nonfiction writers, Graciela Mochkofsky, to tell the shocking story of federal prosecutor Alberto Nisman, who in January was found dead in his apartment — an apparent suicide — just hours before he was to testify in Congress against President Cristina Fernández.
Headlines from the Western Hemisphere
North America
An arson attack on Key Energy Service, a subsidiary of a U.S. energy services firm in Mexico, was part of an extortion attempt, according to prosecutors, who confirmed local media accounts that the burning of three trucks in the company's yard was punishment for Key Energy Service having ignored demands for protection payments.
President Barack Obama's move to normalize diplomatic relations with Cuba was in part motivated by #CubaNow, a Miami-based organization backed by prominent Cuban-Americans that petitioned Obama to use his executive powers to change U.S. policy on Cuba, and is currently calling for an end of the U.S. embargo.
The U.S. State Department has twice denied a visa to José Chúa López, a 20-year-old Mexican in need of a life-saving heart and liver transplant, despite an according to The Associated Press.
Caribbean
Haiti is "slouching towards tyranny," according to an opinion piece from the Washington Post editorial board, which argues that a weak judiciary, the country's history of dictatorships and President Michel Martelly's disregard for government checks and balances make Haiti's chance for restoring democracy precarious.
Cuba's sole female boxer, who's story is the subject of a new documentary, decided to leave for the United States this year because female boxers are not allowed to competitively compete on the island despite its famous boxing culture.
Central America
A group of 24 researchers, archaeologists and scholars signed a letter this month condemning the recent media coverage of the discovery of a 'lost city' in Honduras, particularly taking issue with the original National Geographic article, which they say both ignores the indigenous population of the region and is guilty of exaggeration.
Both Costa Rica and Honduras have expressed concerns over Nicaragua's announcement that it plans to purchase fighter jets from Russia, a fear echoed by the United States, which worries what Russia's growing presence in Latin America could mean for U.S. relations in the region.
Andes
Members of leftist guerrilla group FARC will join Colombian soldiers in a pilot program to locate and clear landmines in the country — the collaboration being part of an agreement made during ongoing negotiations between the Colombian government and the rebel group in Havana, Cuba.
The government of Peru has declared a state of emergency over the next 60 days in the town of Chosica, after a mudslide on Monday that killed at least seven people and knocked down 65 houses.
Southern Cone
The United Kingdom's plans to reinforce defense forces in the Falkland Islands has been billed an attention-grabbing, pre-election "provocation" by Foreign Minister Héctor Timerman of Argentina.
While four of the major Brazilian engineering firms implicated in the multi-billion dollar graft case at oil firm Petrobras have reportedly sought plea deals, the administration of President Dilma Rousseff denied that it is considering a striking any deals with the firms.
Unusually heavy rain in Chile's Atacama desert region that has affected approximately 600 people has led the government to declare a state of emergency, one day after wildfires in three of the country's national parks led to a national alert.
Image: YouTube, screenshot