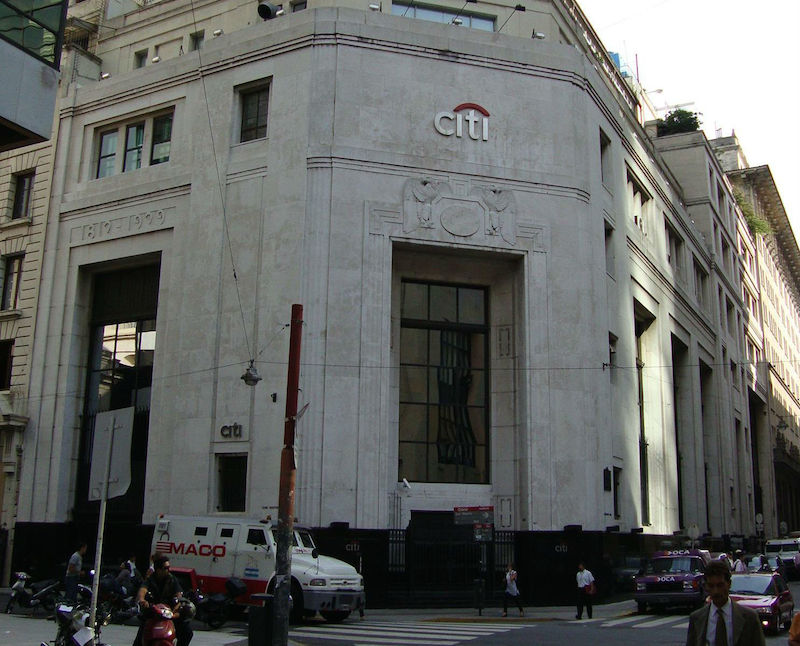 ​Citibank's Buenos Aires headquarters, which were inspected Monday by government regulators. (
Elsapucai
, public domain)
Argentina Inspects Citibank in Latest Chapter of Legal Battle Over Debt
April 7, 2015
By Staff
Top Story — The legal battle between Argentina and a group of U.S. creditors flared up again on Monday, when regulators from Argentina's central bank inspected Citibank's Buenos Aires headquarters after the company's CEO was suspended last week.
The spat is the result of arguments about debt restructuring in Argentina, which defaulted on its debt last July for the second time in 13 years. Since then, the country has been in a legal battle over the way it repays its creditors.
U.S. District Judge Thomas Griesa's ruling stated that the country couldn't repay holders of its restructured debt without also paying holdout investors — a sum that equalled some $1.5 billion.
Citibank was processing bond payments for holders of restructured debt, but Griesa decided last month that the bank could no longer do so. That ruling prompted Argentina to declare that it would take away Citibank's license to operate if it did not keep processing payments. Argentina has since reached an agreement with the vulture funds and creditors to continue making payments until June, when another institution will assume responsibility of the country's debt.
The holdout funds, often referred to in Argentina as "vulture funds," purchased Argentina's debt after the country's economic meltdown in 2001 for pennies on the dollar, and are now fighting to get full repayment on the bonds. The creditors have rejected the terms of separate debt restructurings in 2005 and 2010, drawing the ire of President Cristina Fernández's administration.
The vulture funds have been criticized by many countries in the developing world, who in September called on the United Nations to stop them from refusing to allow Argentina to restructure its debt.
Headlines from the Western Hemisphere
North America
Caribbean
Central America
Andes
Southern Cone