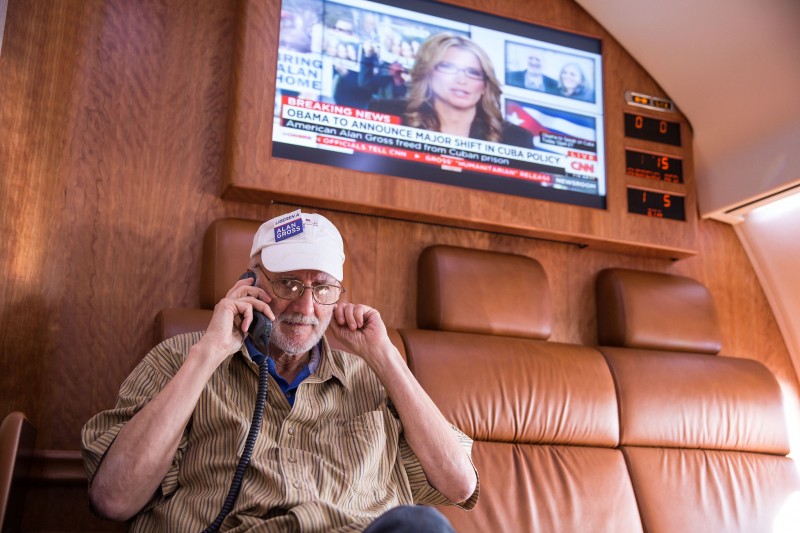 Alan Gross speaks on the phone with President Barack Obama after his release from Cuban prison on Dec. 17, 2014. (
White House
, public domain)
U.S. Supreme Court Denies Alan Gross Appeal in Lawsuit Against U.S. Government
NEW YORK — The U.S. Supreme Court denied an appeal on Monday by former government subcontractor Alan Gross, who filed a $60 million lawsuit in 2012 alleging negligence on the part of the U.S. government over the five years he spent in a Cuban prison.
The decision upholds a November 2014 ruling in the U.S. Court of Appeals for the District of Columbia Circuit, which dismissed the case on the grounds that the United States is not liable for "claims arising in a foreign country."
"We are certainly disappointed, but not surprised by the court's decision," said Gross' lawyer Scott Gilbert in a statement to Latin America News Dispatch.
In 2009, Gross was arrested while working as a government subcontractor in Cuba, where he was distributing satellite phones and computer equipment to the island's Jewish community as part of a USAID democracy promotion program. Cuban authorities accused him of being a U.S. intelligence agent, and sentenced him to 15 years in prison for participating in "a subversive project of the U.S. government that aimed to destroy the Revolution through the use of communications systems out of the control of authorities."
In the lawsuit, Gross and his wife Judy say that Gross wasn't properly informed of the perils of his work, which the "United States negligently directed, organized, and oversaw." The case was dismissed in federal court, however, just one month before Gross was released from prison in December as part of the thawing of diplomatic relations with Cuba.
Gross received $3.2 million in a separate case in December, when USAID reached a settlement with the subcontractor he was working with in Cuba, Development Alternatives, Inc.
As in the most recent ruling, however, the U.S. government denied any liability for Gross' imprisonment. In a statement released in December, USAID said, "The settlement avoids the cost, delay and risks of further proceedings, and does not constitute an admission of liability by either party."
Dusty Christensen is a writer based in New York City, and a producer of LAND's podcast, Radio Dispatch. His work has appeared at The Nation magazine, NPR's Latino USA, Eight by Eight magazine and Alternet, among other places. He speaks English, Spanish, Russian and Ukrainian with varying degrees of success, and is currently a Quechua-language FLAS Fellow at New York University.