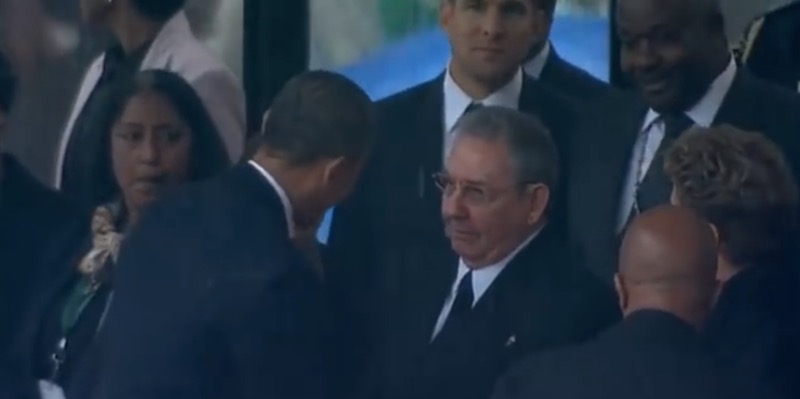 U.S. President Obama shakes hands with Cuban President Raúl Castro at Nelson Mandela's funeral in December 2013 (Youtube, Screenshot).
Summit of the Americas Begins, U.S.-Cuba Relations Take Center Stage
April 10, 2015
By Staff
Top Story — The Summit of The Americas begins today in Panama, and historic diplomatic talks between the United States and Cuba are at the center of attention as the two countries' presidents will make their first appearance together, joining some 30 other leaders from the region to discuss the theme of "prosperity with equity."
This is Cuba's first appearance at the summit in its twenty-plus years of existence, and already tensions over the country's presence are starting to show. On Thursday, pro-government Cubans disrupted a meeting of activists from across the region for the second day in a row, drafting proposals for the summit, saying that government supporters from Cuba were being excluded and jeering Cuban dissidents present in the meeting.
Later, Obama announced that the U.S. State Department had completed a review of Cuba's place on a list of countries that support terrorism, and that he would soon be ready to make a decision about removing them from the list. Cuba's presence on the list has been a sticking point in negotiations between the two countries, and removing Cuba would be a significant diplomatic step forward.
Other major issues at the summit will likely include the United States' placing sanctions on Venezuela after labeling the country a "threat to national security."
Although the United States has since backed off of claims that Venezuela is a threat, tensions remain between the two countries. On Wednesday, a top U.S. State Department official made a surprise trip to Venezuela to meet with Venezuelan President Nicolás Maduro, who the United States has called on to release jailed opposition leaders, which it says are political prisoners.
Headlines from the Western Hemisphere
North America
The head of Mexico's national water commission resigned Thursday in the wake of a scandal over allegations that he used a government helicopter for personal travel, a development that will likely please critics of a controversial reform effort he sought to implement, which some characterized as privatization.
The New Generation drug cartel is growing fast and could soon be the strongest in Mexico, several analysts told the Washington Post amid a flurry of speculation over the group's brazen assault on a police convoy which left 15 dead and cast a pall over the legislative election season, which officially began on Sunday.
Mexican officials announced the detection of at least two separate bird flu outbreaks in the southern states of Puebla and Oaxaca, echoing the 2009 swine flu outbreak that killed at least 12,000 people.
Caribbean
At least 21 migrants from Haiti died and 17 are missing after a boat capsized off the country's coast, highlighting the grave risks facing those who attempt to emigrate by sea.
U.S. President Barack Obama drew attention on his trip to Jamaica, where he travelled to attend a meeting with Caribbean leaders, when he made an unannounced stop at the Bob Marley Museum to pay tribute to an artist he has long admired.
Central America
El Salvador registered more homicides in March than any other month in the past 10 years, new statistics suggest, raising fears that an unraveling truce between gangs may push the murder rate beyond Honduras, where it is higher than anywhere else in the world.
Andes
The Bolivian government announced that it is moving closer to approving natural gas exploration contracts whose goal it is to confirm that 2 trillion cubic feet are available for extraction in designated concession areas.
Colombian President Juan Manuel Santos announced on Thursday that the government will extend the bombing ceasefire against FARC rebels for another month, following the one-month March suspension.
Southern Cone
A Brazilian protester caused a ruckus during a congressional hearing on Thursday by releasing five rats into the room packed with politicians and members of the media, shortly after the arrival of Treasurer João Vaccari Neto, who was present to answer questions related to his role in the multi-billion-dollar Petrobras corruption scandal.
The corruption scandals currently engulfing Chilean President Michelle Bachelet's administration —despite the country's reputation as "one of the region's least corrupt nations" — is investigated by the New York Times.
Subscribe to Today in Latin America by Email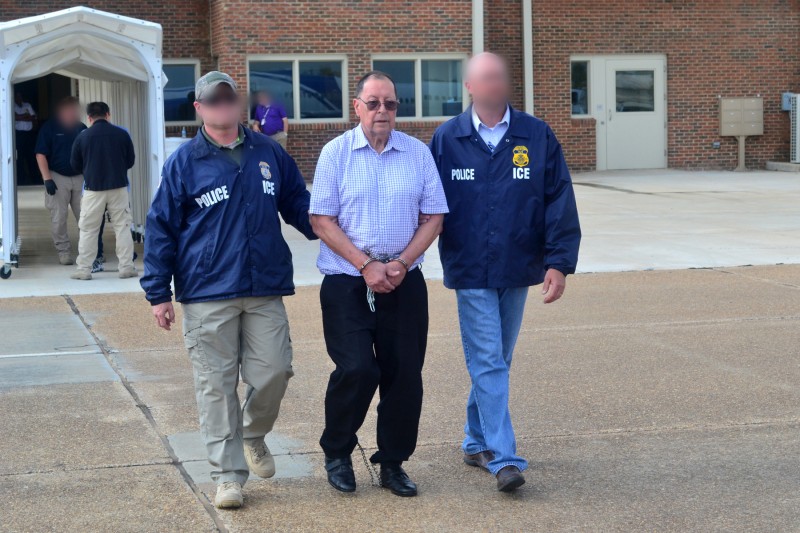 April 9, 2015
> Staff