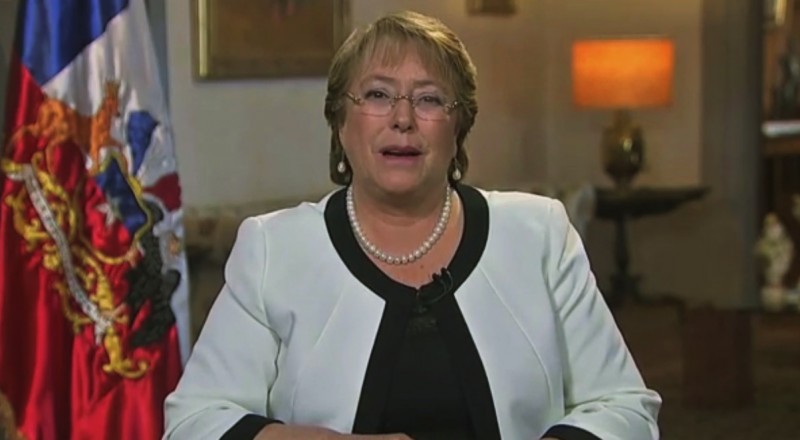 (Chilean President Michelle Bachelet,
Youtube
)
In Sweeping Move, Chilean President Appoints New Cabinet
May 12, 2015
By Staff
Top Story — Chilean President Michelle Bachelet announced the replacement of five cabinet ministers and the transfer of four others on Monday — a move characterized as "sweeping" and " without precedent in recent Chilean history" — in a bid to overturn her government's growing unpopularity. The announcement follows news on Wednesday that Bachelet had requested the resignation of all 23 of her ministers.
"Today, it's time to give new impetus to the quality of our government," Bachelet said, with regards to the cabinet shake-up.
Among the removed cabinet members are Interior Minister Rodrigo Peñailillo, who was also Bachelet's chief of staff and Finance Minister Alberto Arenas.
Bachelet's approval numbers have plunged due to a series of corruption scandals in Chile involving right-wing opposition figures, but also members of her own family. Her son, Sebastián Dávalos, is being investigated for influence-peddling over his role in a bank-loan transaction made to his wife. The president's disapproval ratings recently hit a record-high 64 percent.
Headlines from the Western Hemisphere
North America
Caribbean
Central America
Andes
Southern Cone
Subscribe to Today in Latin America by Email