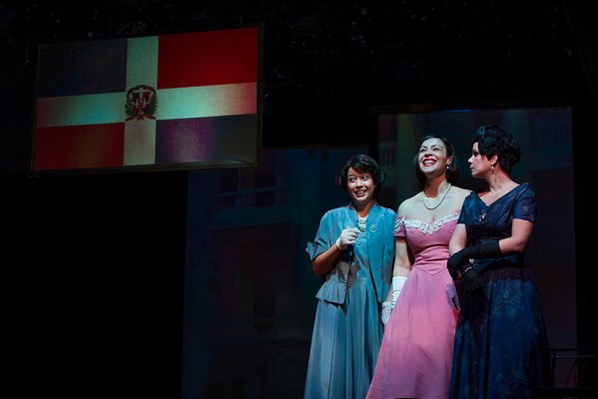 In New York, a Home for the Latino Experience
NEW YORK — The four actresses playing the Mirabal sisters wore light blue dresses, braids and buns decorating their hair, and teased each other in Spanish. They acted like kids, singing Dominican salsa tunes and goading the oldest one to dance. When a butterfly fluttered by, Minerva, the second youngest, caught it and stored it in a jar.
Later in life, and onstage, Minerva Mirabal would adopt the code-name "Butterfly." She would lead her sisters in the effort to overthrow the 30-year-reign of Dictator Rafael Trujillo in the Dominican Republic. And in 1960, three of the four Mirabal sisters would be hunted down and killed by Trujillo's minions.
The scene unfolding onstage marked the beginning of "In the Time of the Butterflies" — "En el tiempo de las mariposas," in Spanish — an adaptation of the historical novel by Julia Alvarez, which has enjoyed an uninterrupted run since 2011 at a compact theatre in the Gramercy neighborhood of Manhattan called Repertorio Español.
Since 1968, the award-winning Repertorio Español has functioned as a hub for Spanish and Latin American theatre in New York, bringing to life famous classics, contemporary plays, dance shows, musicals and stand-up routines. It draws an overwhelmingly Latino audience to watch performances dealing with Latin American concerns as well as the immigrant experience in the United States. With English-subtitle monitors available in every seat, the theatre also welcomes non-Spanish speakers who are curious to learn more about the culture and feelings shared by those in the community.
"We want Latino theater to expand to all," said Zulema Clares, who plays Dedé Mirabal in "Butterflies." "We want to give them our smells, our women, our tastes. You know, our café con leche."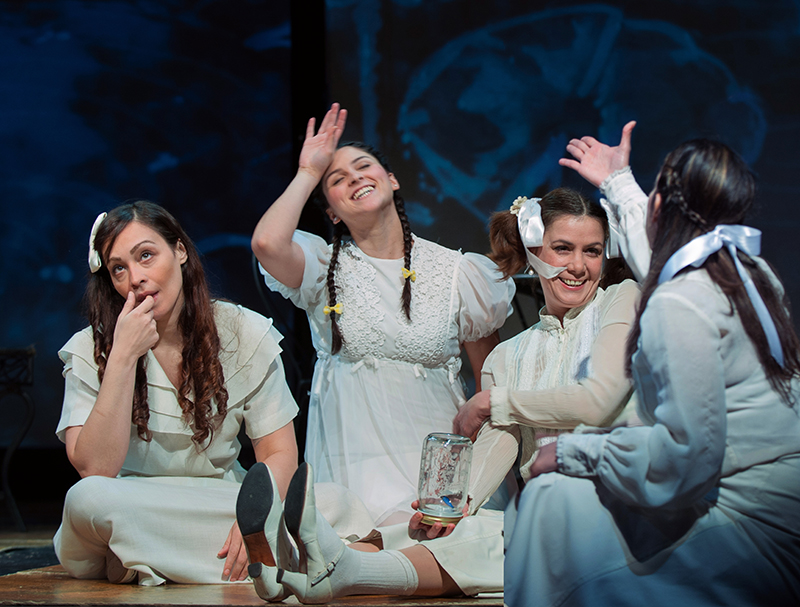 Dalia Davi, who plays Minerva Mirabal, is seated first from left. Zulema Clares, who plays Dedé Mirabal, is third from left. (Michael Palma for Repertorio Español)
As such, the stage adaptation of Alvarez's novel typifies the kind of original productions upon which Repertorio has made its name. The play's debut in 2011 marked the first time that the book was re-imagined as a theatre performance, according to the release announcing its world premiere. (The same playwright-director team responsible for "Butterflies" — Caridad Svich and José Zayas — had previously brought another classic novel to the the Repertorio stage: Isabel Allende's "The House of the Spirits.")
Clares, having joined Repertorio in 2006, one year after arriving in New York from her native Cuba, is representative of the diverse, if mostly native Spanish speakers that make up the company's permanent ensemble.
"In a single play you can have a cast that includes a Venezuelan, an Argentinian, a Dominican, a Puerto Rican," Clares said. "Latinos from all around."
The first time she visited Repertorio, Clares watched a Cuban play.
"And I felt like I was home," she said.
The sense of belonging informs her decision to remain, after more than a decade, with the company that The New York Times once called "a treasured theatrical resource" for "Spanish-speaking New Yorkers."
"I found a very Caribbean and Latino way of doing things. And here I have stayed because I'm interested in continuing doing Hispanic theater in the middle of New York," she said. "It is a very special thing."
Dalia Davi, who plays Minerva Mirabal, always knew she would work in theater. She didn't, however, expect to perform in Spanish. A native of the South Bronx, Davi arrived in the United States while still in her mother's belly — her mother was three months pregnant when she left the Dominican Republic with her Puerto Rican husband. She describes her grasp of Spanish as having come from church visits with her mother, where she was made to read passages from a Spanish Bible. But in 2011, Repertorio came calling: the actress slated to play Minerva was pregnant. Four days later, Davi was on set.
"For me it was fate," she said. "I came to Repertorio as a little girl. It is very surreal to have been in the audience and then end up working with them."
Seated next to Clares following a recent performance of "Butterflies," Davi echoed her co-star's sentiment that working with Repertorio carries a sense of duty.
"It feels like kind of a responsibility to maintain Latino theater and the Spanish tradition of theater," she said.
Repertorio Español not only stands out among New York houses for its exclusive focus on Spanish productions, but also for its format as a so-called repertory theatre. Such companies maintain several plays on rotation while adding variety to their calendars with limited-run productions. Repertorio's roster of regulars currently includes, among others, Federico García Lorca's "Doña Rosita the Spinster" and an adaptation of Gabriel García Márquez's "Love in the Time of Cholera" — as well as, of course, "In the Time of the Butterflies." But in April, the schedule made way for performances by Spanish Flamenco star Olga Pericet; she returns in November for another three-week run.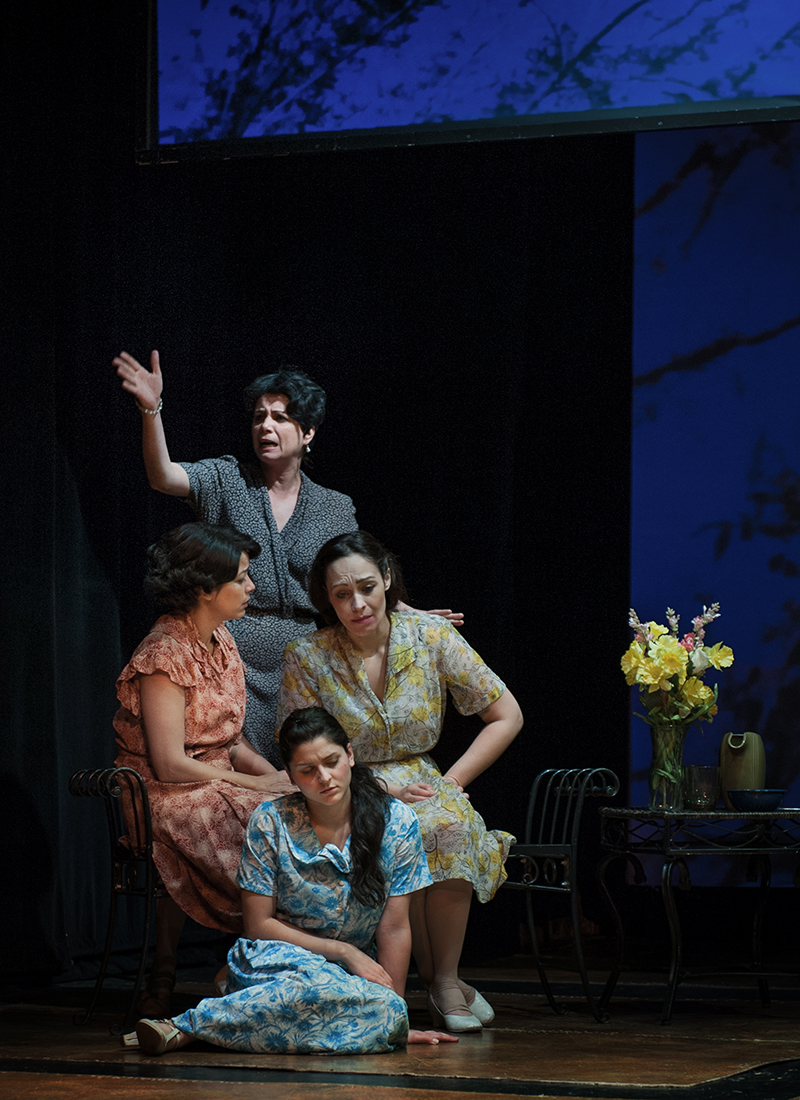 Dalia Davi, standing, plays Minerva Mirabal. Zulema Clares, right, in yellow, plays Dedé Mirabal. (Michael Palma for Repertorio Español)
"Our most popular productions will often sell out during its first few weeks. This is especially true for comedies and adaptations of well known literature," said Kevin Martínez, Repertorio's Public-Relations Associate. "If the demand for a play continues, we will slowly phase it into the repertory, where it will be presented less frequently and, if appropriate, for school groups during matinee performances."
There are 70 artists currently working for the company, according to Martínez. They all speak Spanish and are either immigrants, children of immigrants or have Hispanic roots of some sort. Each performs in more than one play at a time — sometimes more than seven. For actors like Clares and Davi, the work-day can sometimes include three entirely separate productions.
In "Butterflies," the sisters' narrative bursts forth through the recollections of Dedé Mirabal, the only surviving sister. Her memories are prompted by an American woman — a second-generation Dominican immigrant — who tracks Dedé down in the process of researching a book about the sisters.
The American character — with her deep sense of connection to the Dominican Republic, and guilt she feels about having grown up in America, and thus not being in her parents' country when everything happened — perhaps elucidates Julia Alvarez's own feelings: she was born in New York, but spent the first ten years of her childhood in the Dominican Republic. Her family fled the Caribbean country, nonetheless, when her father's anti-Trujillo activities placed them under threat. The Mirabal sisters were killed three months after the Alvarez family left.
Caridad Svich and José Zayas, the "Butterflies" writer-director duo, worked hard to provide the American character with a central role, in order to bring the immigrant experience to the forefront for Repertorio's audiences.
Dedé Mirabal was 85 years old when "Butterflies" debuted in New York. (She died on Feb. 1 2014.) When her children, joined by Alvarez, attended a staging, Clares and Davi had reason to feel nervous — Clares, after all, was playing Dedé, and this was Davi's inaugural play with Repertorio. Still, as Davi said, it was all the more reason to perform in a perfect, emotional and empathetic manner.
Rachelle Krygier is a Venezuelan journalist completing an undergraduate degree at New York University and currently interning at CNN Español. She has written for NYU Local, Venezuelan daily El Nacional and the blog Caracas Chronicles. Krygier is passionate about Latin American politics and likes to write features about immigrant life. She is on Twitter. More of her work can be found at www.rachellekrygier.com.