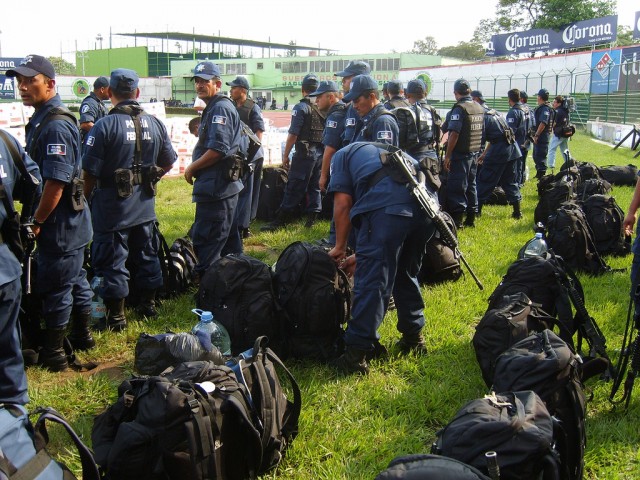 Mexican federal police.
Mexican Authorities Stand by Official Version of Deadly Shootout
May 26, 2015
By Staff
Top Story — Mexican authorities on Monday reaffirmed their earlier statement that a shootout Friday between federal police officers and suspected criminal gunmen was a legitimate engagement, in which not one of the 42 gunmen killed was executed.
Mexico's top federal police official, Enrique Galindo, said as much on Monday despite statements by people claiming to be family members of the victims that they doubted the official story, The Associated Press reported. Just one federal police officer was killed in the engagement, which took place in the municipality of Ecuandureo in the state of Michoacán, near the border with Jalisco state, the stronghold of the newly resurgent Cartel Jalisco Nueva Generación (CJNG).
Alleged family members told The Associated Press that some of the bodies showed signs of torture: a missing eye, broken teeth, a bruised face. One body had a gunshot wound to the top of the head.
In an effort to explain the high death toll, Mexico's National Security Commissioner said a helicopter had been deployed in Friday's operation, and that all of the dead were determined to have been shot from a distance which would preclude the possibility of executions. The CJNG was blamed for shooting down a military helicopter on May 1, a milestone in Mexico's nearly decade-long drug war.
The shootout is the deadliest incident in recent memory in Mexico, since 15 federal police officers were killed in an ambush attributed to the CJNG.
The case echoes an incident in June in which 22 suspected criminals died in a shootout with soldiers, who did not suffer any major casualties. Several troops were later investigated for the deaths after signs emerged of irregularities suggesting many of those killed had been executed after surrendering.
Just Published in Latin America News Dispatch
Since 1968, the award-winning Repertorio Español has functioned as a hub for Spanish and Latin American theatre in New York, bringing to life famous classics, contemporary plays, dance shows, musicals and stand-up routines. Rachelle Krygier reports on the space that draws an overwhelmingly Latino audience to watch performances dealing with Latin American concerns as well as the immigrant experience in the United States.
Headlines from the Western Hemisphere
North America
Caribbean
Central America
Andes
Southern Cone