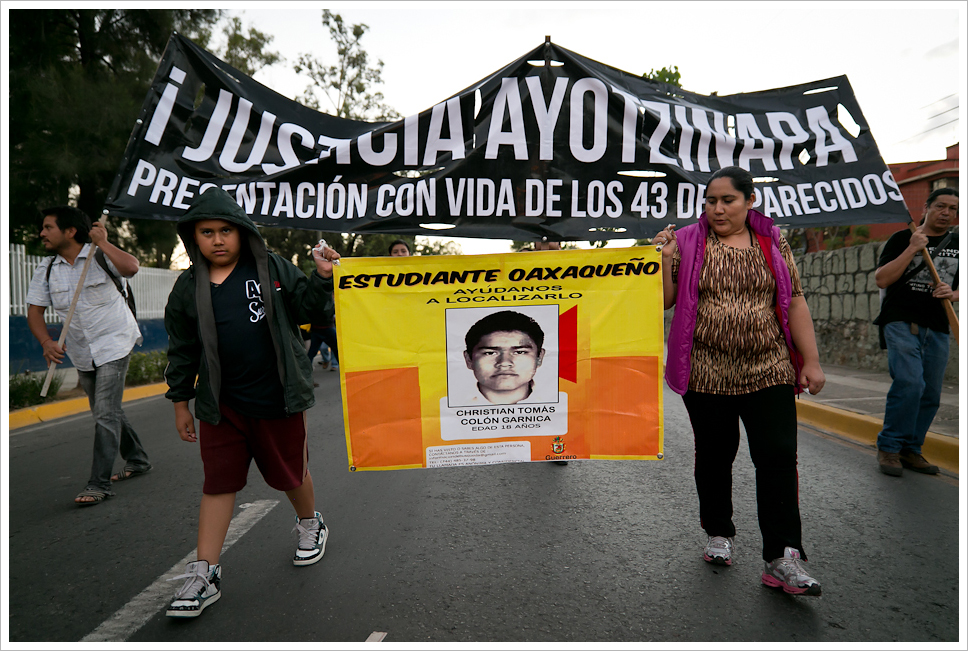 A protest over the Ayotzinapa disappearances in Oaxaca, Mexico. (Image:
Montecruz Foto
, CC BY-SA 2.0)
Mexico Marks Ayotzinapa Anniversary With Prosecutor for Disappeared
September 25, 2015
By Staff
Top Story — Mexico's President Enrique Peña Nieto on Thursday said he will appoint a special prosecutor to investigate the fates of thousands of missing people, days before the one-year anniversary of the disappearance of 43 students from a teacher-training school in the town of Iguala in Guerrero state.
A spokesman for Peña Nieto made the announcement after the president met with the families of the 43 students, the BBC reported.
During their Thursday meeting with the president, the family members made eight demands, including an international inquiry into the disappearances and a probe into the initial investigation led by then-Attorney General Jesús Murillo Karam, who stepped down following persistent criticism over his handling of the case, which some critics have described as deliberately misleading.
Peña Nieto reportedly told the family members he would consider these demands, The Associated Press reported. In the meantime, the president has promised to appoint a special prosecutor with a team of investigators to look into forced disappearances, a frequent subject of criticism in Mexico.
As the BBC notes, a probe by the Inter-American Court of Human Rights found several inconsistencies in Murillo Karam's account — that police detained the students in Iguala on their way to a demonstration and later handed over to a local gang, who killed them and incinerated their remains.
The family members also demanded a probe into the role, if any, of the army in the disappearance. Several investigations in the past year have suggested local military officers at least knew of, if not abetted, the students' abduction.
The students went missing one year ago on Saturday. Their case sparked nationwide protests over the tens of thousands of Mexicans who have gone missing and the near-total rates of impunity that murderers and kidnappers experience.
Just Published in Latin America News Dispatch
Headlines from the Western Hemisphere
North America
Caribbean
Central America
Andes
Southern Cone