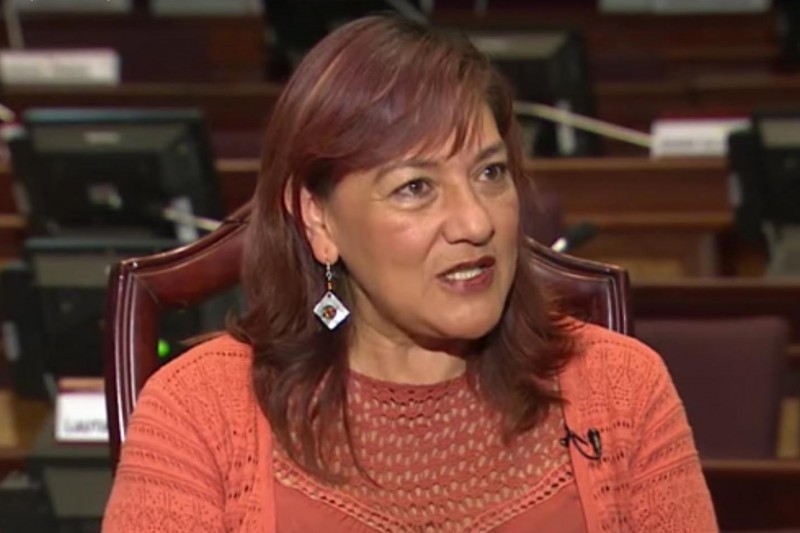 Susana Cajas, a former guerrilla and victim of the officers to be tried on Nov. 9. (Image:
YouTube
)
Ecuador Proceeds With Historic Rights Abuse Case Against Former Officers
November 9, 2015
By Staff
Top Story — Five former Ecuadorian military officers and an ex-police officer will face charges of human rights abuses as the country's first-ever trial for crimes against humanity begins today, reported the newspaper La Nación. The case concerns human rights violations committed against three leftist guerrillas between 1985 and 1988 during the presidency of León Febres Cordero. The trial is the result of a truth commission set up by President Rafael Correa in 2007.
Luis Vaca, Susana Cajas and Javier Jarrín, all members of the Alfaro Vive Carajo guerrilla group, reportedly endured physical and psychological torture and sexual abuse after being detained without a warrant by members of the military on Nov. 10 1985. Cajas and Jarrín spent 15 days in detention, while Vaca remained incarcerated for three years.
Officers were first arrested in connection with the case in 2013.
Incidences of torture and extrajudicial killings, among other human rights abuses, spiked during the Febres administration, according to a 1988 report by Americas Watch, which denounced the administration of then-U.S. President Ronald Reagan for turning a blind eye to the abuses in its support for Febres' market-oriented government. Before his death in 2008, Febres decried the human rights commission set up by Correa as an "inquisitional tribunal."
Headlines from the Western Hemisphere
North America
Mexico's National Human Rights Commission on Sunday rebuked the attorney general's office for its failure to address almost any of the problems previously identified in its earlier investigation into the fates of 43 disappeared students from Guerrero state.
Mexican President Enrique Peña Nieto met with Cuban leader Raúl Castro in the Mexican state of Mérida on Friday, a historic visit not only because Cubans are flooding through Mexico on their way to the U.S. in record numbers, but because relations have been strained between the two ever since the presidency of the pro-U.S. Vicente Fox from 2000-2006.
Caribbean
Republican presidential candidate Ben Carson on Sunday said he would support statehood for U.S. territory Puerto Rico for strategic defense reasons, although Reuters notes Carson's statement may be more likely related to the fact that the territory's residents can vote in primary elections.
Haitian authorities have located the 4-year-old boy kidnapped last month after the fatal shooting of a U.S. missionary near the foster home she ran and where the boy was raised on the outskirts of Port-au-Prince. Two suspects were also reportedly taken into custody.
Central America
Despite expectations last year when Guatemala's attorney general took office that she would uphold a status quo of corruption and impunity, Thelma Aldana has helped elevate the country to the status of a regional example in anti-corruption efforts, in part by supporting the U.N-backed investigative body CICIG, the Tico Times argues.
The Guardian released on Saturday an excerpt from a book about the ordeal of a Salvadoran fisherman who drifted at sea for 438 days before washing ashore and subsequently refusing most press requests for interviews until he ultimately sat for some 40 hours of interviews with the newspaper's Jonathan Franklin.
Andes
Venezuela's defense minister said on Sunday that a plane from the U.S. Coast Guard violated its airspace on Friday, implying that the alleged incursion was a mission to gather intelligence related to upcoming elections on Dec. 8.
Colombia's President Juan Manuel Santos apologized Friday for the government's role in the deaths in 1985 of some 100 people following a standoff with guerrillas who raided the Supreme Court, an incident highlighted last year by the Inter-American Court of Human Rights.
A Colombian paramilitary leader received a 16-year prison sentence on Friday for drug trafficking charges that he contested in a U.S. federal court, one of several cases that arose from the 2008 decision by then-President Álvaro Uribe to extradite over a dozen leaders of armed groups after the failure of peace talks.
Southern Cone
The cause of a deadly dam collapse at a mine in the Brazilian state of Minas Gerais on Thursday continued to elude authorities as of late Sunday, with 28 missing and four confirmed dead following an incident that has renewed the debate surrounding the regulation of mining, a key industry.
In Argentina, the relatively business-friendly presidential candidate Mauricio Macri has pulled ahead of Daniel Scioli, the chosen successor of incumbent Cristina Fernández de Kirchner, a poll suggested Sunday, two weeks before a scheduled run-off.
Officials in Argentina said Friday that they have reinforced border security in response to reports that the escaped Mexican cartel leader, Joaquín "El Chapo" Guzmán might have tried to cross the mountainous southern border with Chile.