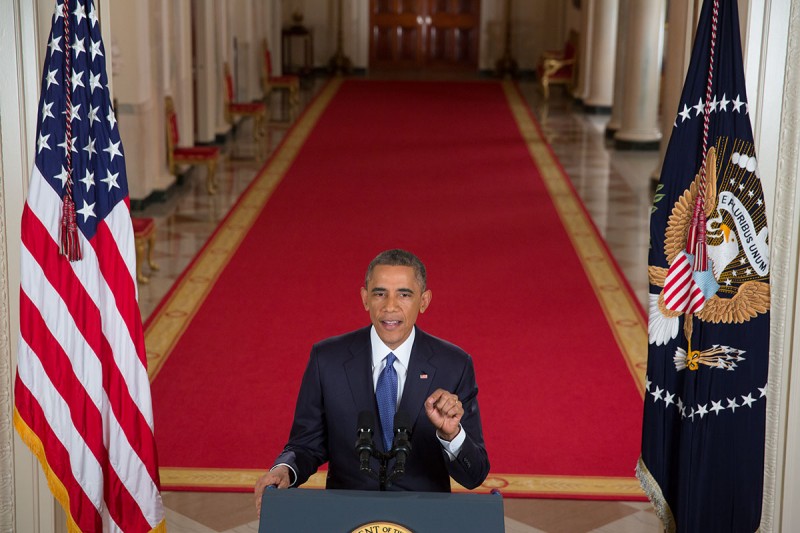 U.S. President Barack Obama announcing executive orders on immigration in 2014. (Image:
White House
, Public Domain)
Obama Sets Stage For Supreme Court Battle on Immigration
November 11, 2015
By Staff
Top Story — On Tuesday, the administration of U.S. President Barack Obama announced it will appeal a Monday ruling made by a federal appeals court that jeopardized the administration's plan to forestall the deportation of some 5 million people.
The appeal sets the stage for a potential summer Supreme Court hearing on the controversial immigration plans, the New York Times reported.
The U.S. Court of Appeals of the Fifth Circuit upheld a lower court's ruling by a two-to-one split in the case Texas v. United States, which resulted from a lawsuit by 26 states who argued that the administration's order would effectively rewrite U.S. immigration policy without passing legislation and would place an unfair financial burden on states by requiring them to issue driver's licenses to undocumented immigrants.
The two programs, Deferred Action for Parents of Americans and Deferred Action for Childhood Arrivals, would expand legal work rights for the parents of undocumented children as well as for undocumented immigrants who entered the country illegally as children.
The administration claims the programs are within the executive branch's discretionary power and would allow the Department of Homeland Security to focus on deporting criminal offenders rather than law-abiding groups with strong ties to the United States.
A successful appeal to the Supreme Court would provide DHS with a few months to register people under the programs before a new president takes office in 2017.
While the executive orders have come under fire from conservatives, the programs were met with relief by immigration advocates who welcomed the change in enforcement policy by an administration who had previously deported the highest number of immigrants in the country's history.
Headlines from the Western Hemisphere
North America
Caribbean
Central America
Andes
Southern Cone