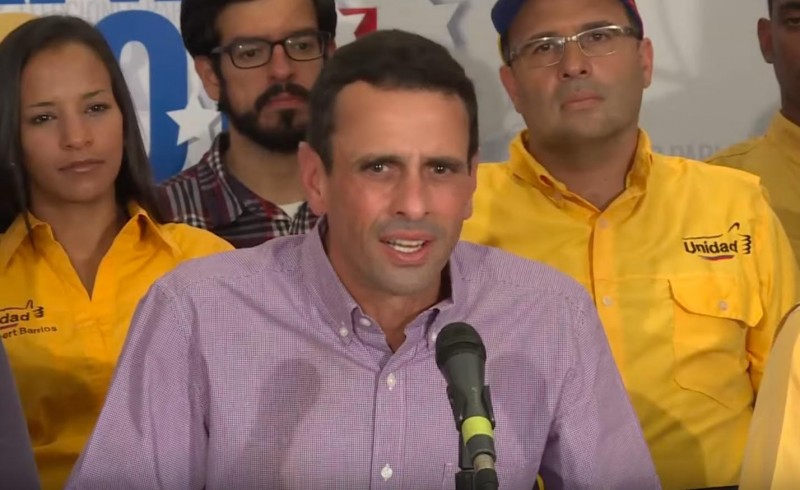 Venezuelan opposition leader Henrique Capriles. (Image:
Youtube
)
Venezuela Opposition Claims Legislative Supermajority, Promises Sweeping Changes
December 8, 2015
By Staff
Venezuelan opposition leaders announced Monday that they had secured the 112 seats necessary to form a two-thirds supermajority in the legislature following mid-term elections the day before, which could allow them to enact sweeping changes and even challenge the mandate of President Nicolás Maduro.
As of Tuesday morning the National Elections Council had yet to confirm the status of two seats, but if they go toward the National Unity Roundtable (as the coalition, known by its local acronym MUD predicts) it will have won a supermajority.
If confirmed, the opposition has promised to use their supermajority to to pass an amnesty law to free nearly 80 prisoners including leading opposition politician Leopoldo López who was controversially sentenced to 14 years in prison this September for allegedly fomenting violence during protests in 2014.
Opposition leaders have also pledged to affect key changes previously unthinkable under the Maduro led Chavista government including the ability to censure cabinet members, influence government spending and roll-back corporate nationalizations – threatening many of the social programs that have been a staple of Chavista support. Hardliners within the opposition are also clamoring to begin the recall process against Maduro next year. Maduro's current term runs until 2019.
With no major accusations of fraud, the elections were largely welcomed across the hemisphere, with U.S. Secretary of State John Kerry congratulation Venezuela voters for expressing their "overwhelming desire for a change in the direction of their country." Argentine President-elect Mauricio Macri backtracked from his previous call to oust Venezuela from the South American Mercosur trading bloc based on the results.
Maduro's political allies Raúl Castro of Cuba and Daniel Ortega of Nicaragua struck optimistic tones, Castro forecasting "new victories for the Bolivarian Chavista movement" that he said were sure to come under Maduro's continued leadership.
Opposition candidates, meanwhile, were forced to celebrate their victory and outline their plans amid a near total media blackout on Venezuelan national television, instead turning to a specially created YouTube channel to convey their messages.
Headlines from the Western Hemisphere
North America
Caribbean
Central America
Andes
Southern Cone