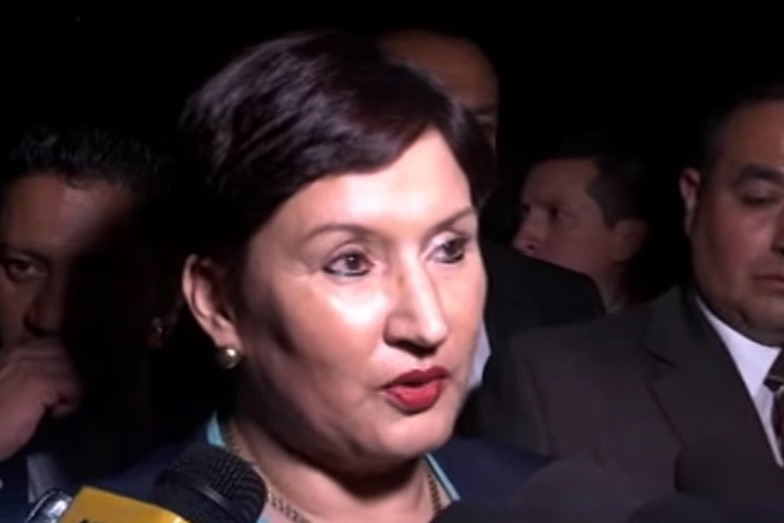 Guatemala Attorney General Thelma Aldana (Image: Canal Antigua,
YouTube
)
Guatemala, El Salvador Move Against Former Troops for Civil War Abuses
January 7, 2016
By Staff
Guatemalan authorities detained 18 former military officials over alleged human rights violations carried out during the country's 36-year civil war, the same day that officials in El Salvador announced that they would seek the arrest of 17 ex-soldiers linked to the 1989 murder of six Jesuit priests during its own 12-year civil war.
The 18 Guatemalan ex-military officials face charges related to the forced disappearance of 558 people between 1981 and 1988, Guatemalan Attorney General Thelma Aldana said during a Wednesday press conference. Among the detained ex-officials is former General Manuel Benedicto Lucas García, the brother of late President Fernando Romeo Lucas García and the man credited with establishing the Central American country's paramilitary groups, the BBC reported.
El Salvador presidential spokesman Eugenio Chicas announced on Wednesday that the Salvadoran government would cooperate with a petition by a Spanish judge ordering the arrest of 17 former soldiers allegedly involved in the murder of six Jesuit priests in 1989, five of whom were Spanish nationals. The murder of the priests, which caused an international outcry, was allegedly carried out due to their criticism of the human rights violations perpetrated by El Salvador's U.S.-backed military, Reuters reports. Efforts to prosecute the soldiers have fallen short; in 2011, a Salvadoran court ruled against extraditing them to Spain.
The Guatemalan civil war lasted between 1960 and 1996 and claimed over 200,000 lives, 82 percent of which were Mayan, according to a U.N.-backed Commission for Historical Clarification report released in 1999, which also determined that 93 percent of human rights abuses were carried out by state-backed groups.
The proceedings in Guatemala may put recently-elected President Jimmy Morales, who rode a wave of populist discontent into office, in a tight spot. The National Convergence Front which backed him was founded in 2004 with the purpose of rebuilding the military's prestige, according to a report by NACLA.
Headlines from the Western Hemisphere
North America
Caribbean
Central America
Andes
Southern Cone