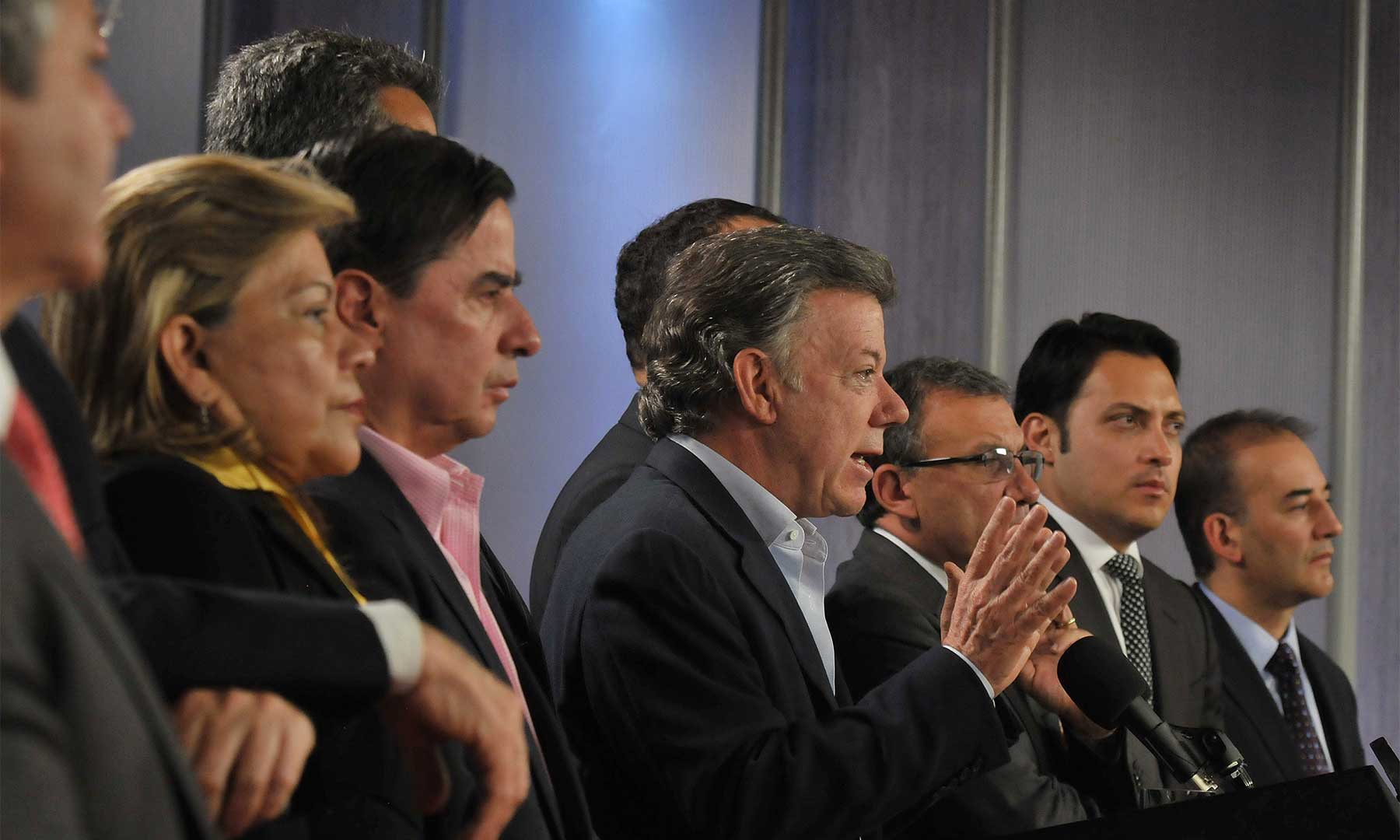 Colombian President Juan Manuel Santos announces Tuesday the request for a U.N. monitoring force to oversee a future ceasefire with FARC rebels. (Image:
César Carrión
, public domain)
Colombia, FARC Ask UN to Monitor Post-Ceasefire Disarmament
January 20, 2016
By Staff
Top Story — The Colombian government and FARC rebels jointly requested on Tuesday that the United Nations set up a monitoring body to oversee the demobilization process that would follow a peace agreement between the two sides. Negotiators for both parties billed the request as proof of their commitment to end the half century-long civil war — the longest-running in Latin America — by a self-imposed March 23 deadline.
"Today's announcement isn't only the start of an international process, it's the unequivocal demonstration of our desire to end confrontation," lead government delegate Humberto de la Calle said at the press conference in Havana, where peace talks have been held for the last three years.
"Peace in Colombia is possible," said the FARC's lead negotiator Iván Márquez, calling the joint request a "strong signal."
The government and the rebel group stipulated that the U.N. monitoring body be made up of unarmed representatives from Latin American and Caribbean countries. It should operate for the first 12 months following a final peace agreement to enforce adherence to a bilateral ceasefire and FARC's disarmament. The independent group would also be tasked with settling conflicts as they arise in the disarmament process and making recommendations.
Colombian President Juan Manuel Santos, who has staked his presidency on a successful peace agreement, made a formal plea to the U.N. Security Council hours after the Havana announcement. In a statement released on Wednesday, the European Union's diplomatic service urged the United Nations to honor the negotiators' request, writing that "opportunities for peace can't be missed." The United Nations has yet to respond.
The current round of peace talks between the Colombian government and the country's oldest, largest and most influential rebel group suffered a number of setbacks since their start in 2012. In September, however, the two sides reached a deal on the final discussion item in the agenda — the question of punishment for parties on both sides of the conflict — and committed to signing a final peace agreement within a six month period.
Headlines from the Western [Hemisphere
North America
Caribbean
Central America
Andes
Southern Cone