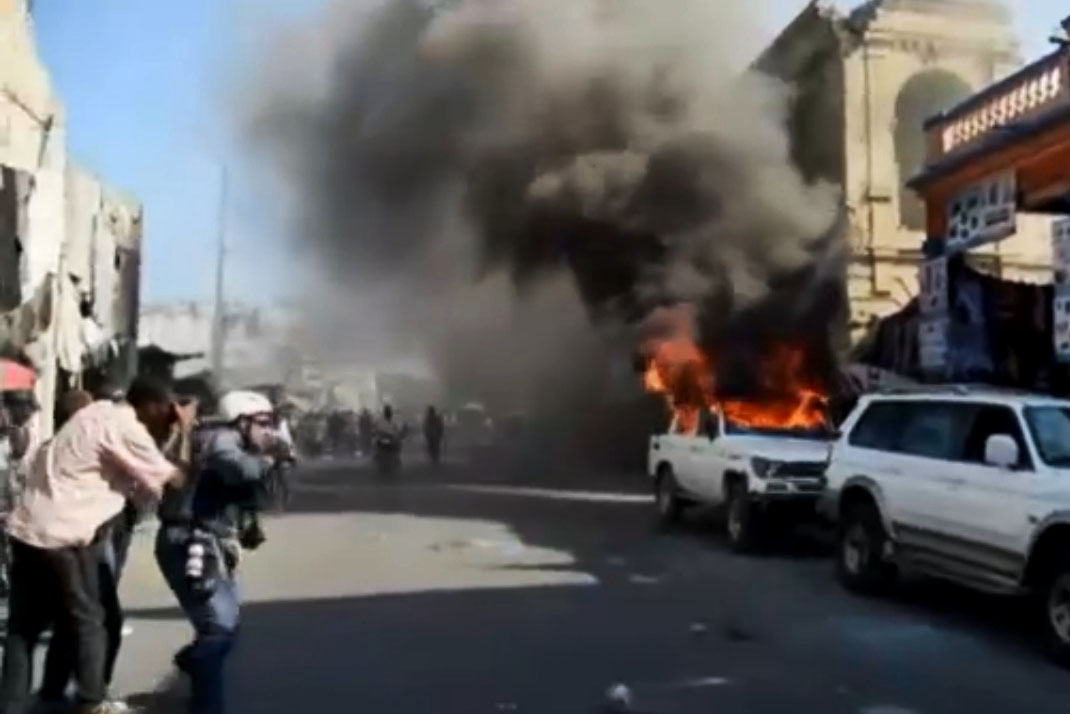 Protests in Port-au-Prince on Monday. (Image: Euronews,
YouTube
)
Protests Sweep Haiti Ahead of Presidential Runoff Election
January 19, 2016
By Staff
Top Story — About 2,000 protesters set up barricades, threw rocks and torched cars in the Haitian capital of Port-au-Prince on Monday ahead of a presidential and legislative runoff election scheduled for Jan. 24. Monday's protests came just hours after three electoral offices were set alight late on Sunday in provincial towns in the north.
The contentious electoral process has been beset with charges of widespread fraud since the first round of voting on Oct. 25. The opposition's presidential candidate, Jude Célestin, has refused to campaign, calling the results of the first round a "ridiculous farce."
An independent commission created by outgoing President Michel Martelly found that a series of irregularities plagued the first-round vote. The commission's report, published on Jan. 3, noted that 43 percent of score sheets had been altered and 60 percent of voters had been granted a proxy vote. The commission also found that 31 percent of voter registration numbers were missing from the partial voting list, while 47 percent of the numbers included were incorrect.
Despite its findings, the commission did not recommend that the runoff be postponed. The United Nations, the United States and the Organization of American States have all called for elections to be held in January, according to The Associated Press, so that a new president can be sworn in before the constitutional deadline on Feb. 7.
Célestin, in an interview with the AP, decried foreign leaders' over-involvement in Haiti's elections. He called them hypocrites for encouraging elections to take place in Haiti amid serious electoral problems that they would deem unacceptable in their own countries.
"It's as if they have one type of democracy for themselves, and they would like to apply another type for Haiti," he said.
Headlines from the Western Hemisphere
North America
Caribbean
Central America
Andes
Southern Cone
Subscribe to Today in Latin America by Email