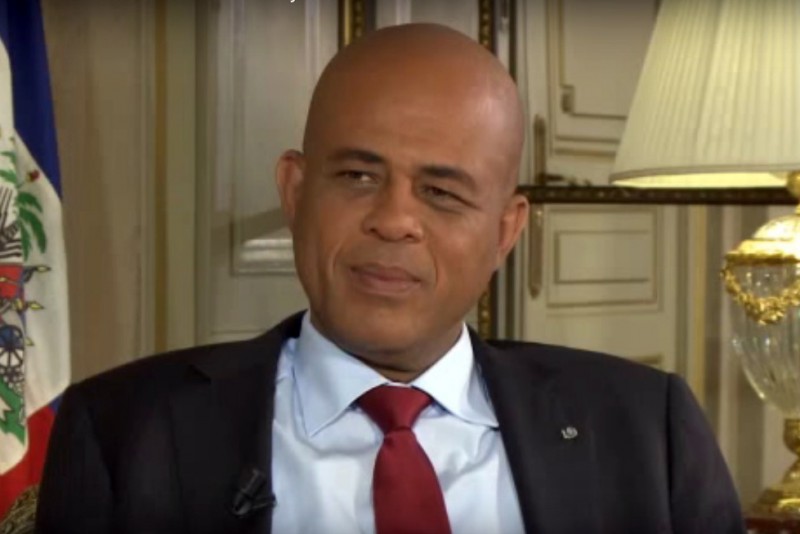 Outgoing Haitian President Michel Martelly. (Image:
Youtube
)
Haiti Opposition Rejects Martelly's Plan for Interim Government
February 3, 2016
By Staff
Top Story — Haitian opposition leaders on Tuesday rejected President Michel Martelly's proposal that an interim government, approved by parliament, take over when he leaves office in four days.
Haiti faces the prospect of becoming leaderless when Martelly steps down on Feb. 7. Presidential elections were postponed indefinitely in January after opposition candidate Jude Célestin refused to campaign, citing widespread fraud in the first round of voting. The political crisis has spilled into the streets, where demonstrators have staged increasingly violent protests calling for a resolution.
The interim government proposal submitted by Martelly would see Prime Minister Evans Paul resign and be replaced by a parliament-approved candidate, Reuters reported. The temporary prime minister would govern in conjunction with a council of ministers until presidential elections can be held.
Members of the opposition have rejected the proposal, arguing that only government allies were put forth as potential interim prime ministers. Several opposition parties, including that of presidential candidate Célestin, have demanded that a Supreme Court judge assemble the transitional government.
A special mission sent to Haiti by the Organization of American States announced its support for the proposal for an interim prime minister on Tuesday, following three days of meetings with the Martelly administration.
But members of the opposition reject the involvement of the OAS mission, which was requested by Martelly, in the resolution of the electoral crisis. An opposition spokesperson told The Associated Press that the OAS mission was "not welcome" in the country, and that "Martelly has no role he can play" in assembling an interim government.
On Sunday, with one week to go until the end of his presidential term, Martelly released a pop song mocking his critics, singling out an award-winning female journalist with sexually suggestive jibes. The song, "Give Them the Banana," is credited to Sweet Micky, the stage name Martelly used as a successful pop star before becoming Haiti's president.
Headlines from the Western Hemisphere
North America
Caribbean
Central America
Andes
Southern Cone