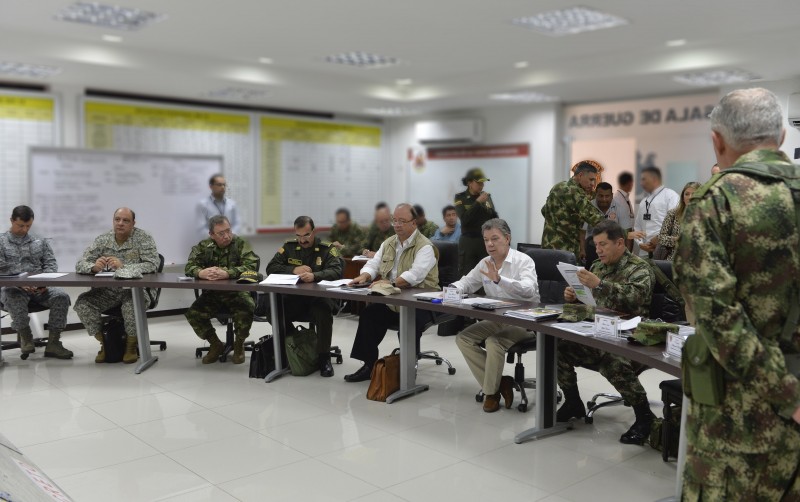 Colombian President Juan Manuel Santos, together with top generals and the minister of defense. (Image:
Efraín Herrera
, public domain)
Human Rights Watch Warns of Impunity Concerning Colombia's 'False Positives'
March 28, 2016
By Staff
Top Story — Days after Colombia's government and the rebels of the FARC postponed a key deadline for the resolution of peace talks, Human Rights Watch released an analysis today warning that a pending agreement could create impunity for notorious human rights abuses by the military.
The "false positives" scandal refers to the military's practice, between 2002 and 2008, of massacring civilians and dressing their remains in guerrilla uniforms, in order to inflate battlefield statistics. Human Rights Watch warns that an agreement with the Revolutionary Armed Forces of Colombia on the provision of justice could free most of the soldiers involved from prosecution or conviction. (According to the group, at least 3,000 "false positives" killings are under investigation by Colombian prosecutors.)
Specifically, Human Rights Watch warns that a so-called "Special Jurisdiction for Peace" team of prosecutors would, in its proposed form, operate under a definition of military command limiting the scope of responsibility for soldiers involved, especially at the lower ranks. That feature of a proposed peace agreement has already come under fire from the Inter-American Commission on Human Rights, which in its annual report, (see .pdf) released on March 17, also warned of impunity.
The International Criminal Court has said it may open its own investigation if Colombia's probe does not go far enough, according to Human Rights Watch.
Peace talks between the FARC and the government of President Juan Manuel Santos began in Havana, Cuba in 2012. When a key deadline for the resolution of the talks passed on March 23, a government negotiator downplayed the significance of the disagreement. At issue remains the question of how and over what timeframe the FARC will disarm and demobilize.
Earlier, on March 21, U.S. Secretary of State John Kerry met with FARC negotiators in Cuba during a visit by President Barack Obama. The meeting garnered both praise and criticism, because the FARC remains on the United States' list of state sponsors of terrorism.
Headlines from the Western Hemisphere
North America
Caribbean
Central America
Andes
Southern Cone