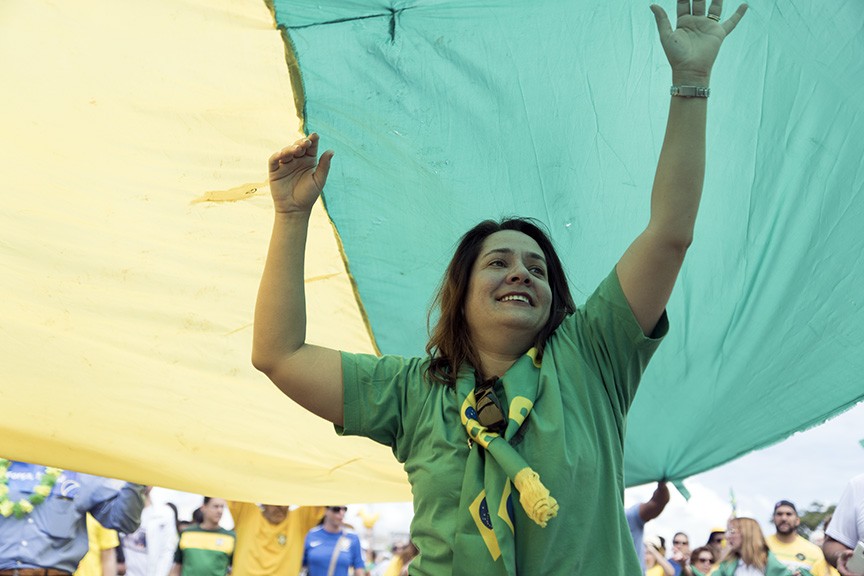 Vanisa Machado, 42, attended the march on Sunday. "I want Brazil to get back on track," she said.
In Brasília Protests, "Operation Carwash" Judge and Far-Right Congressman Emerge as Incompatible Heroes
BRASÍLIA, Brazil — On one side, the geeky, understated Brazilian judge overseeing the so-called Operation Carwash investigation into a massive kickback scheme at oil giant Petrobras. On the other, a pro-gun, anti-LGBT congressman who once told a female colleague that she was not worthy of getting raped by him.
Sunday's nationwide demonstrations solidified Judge Sergio Moro's status as a new kind of civic hero in Brazil. Protesters in Brasília, the nation's capital, brandished inflatable Moro dolls, masks and banners that read, "In Moro We Trust" and "Sergio Moro, Our Salvation." They praised the thoroughness with which the judge has pursued the country's once-untouchable business and political elite, and reiterated their trust in him as their chosen leader.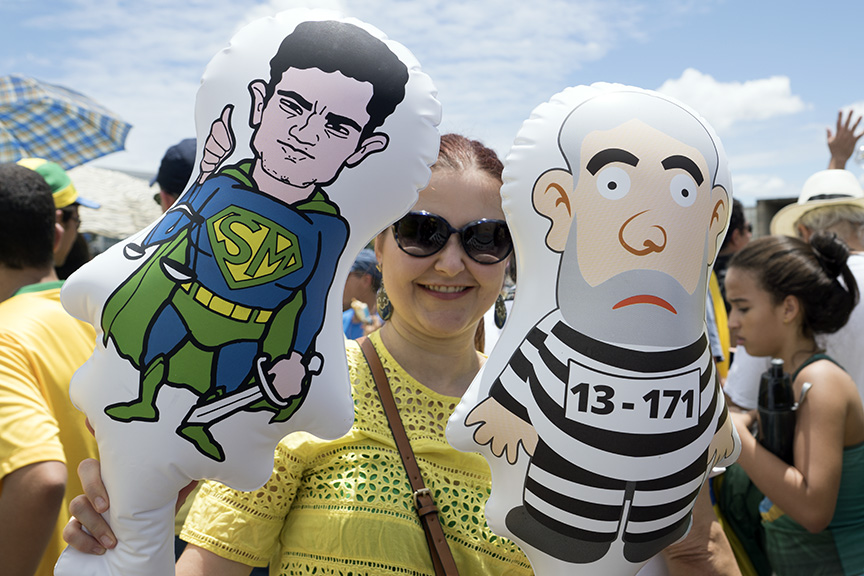 The treatment bestowed on Moro revealed an unprecedented faith, now shared by a growing number of Brazilians, in their justice system's capacity to effectively tackle corruption. But the protest along Brasília's Monumental Axis also exposed the public's swelling support for ultraconservative politicians like Congressman Jair Bolsonaro, who advocate for tough-on-crime policies and condemn liberal measures pertaining to civil rights.
"Bolsonaro defends Christian values, opposes gay marriage and is a strong leader for the opposition," said Fernanda Barbieri, 23, about her support for the congressman. During the protest in Brasília, Barbieri distributed T-shirts with a black-and-white portrait of him and the words "Bolsonaro President."
Following the official end to the protests, at noon, Bolsonaro addressed a cheering crowd from atop a float. He told them that the right would win big in the next presidential elections, and that the Education and Culture Ministries would implode. If it were up to him, Bolsonaro said, all men under God would have the right to own firearms, and farmers would greet land rights activists with assault rifles. His more incendiary statements — among them that openly gay Congressman Jean Wyllys would pay conjugal prison visits to former President Luiz Inácio Lula da Silva, once the latter got arrested — were followed by chants of "Legend! Legend! Legend!"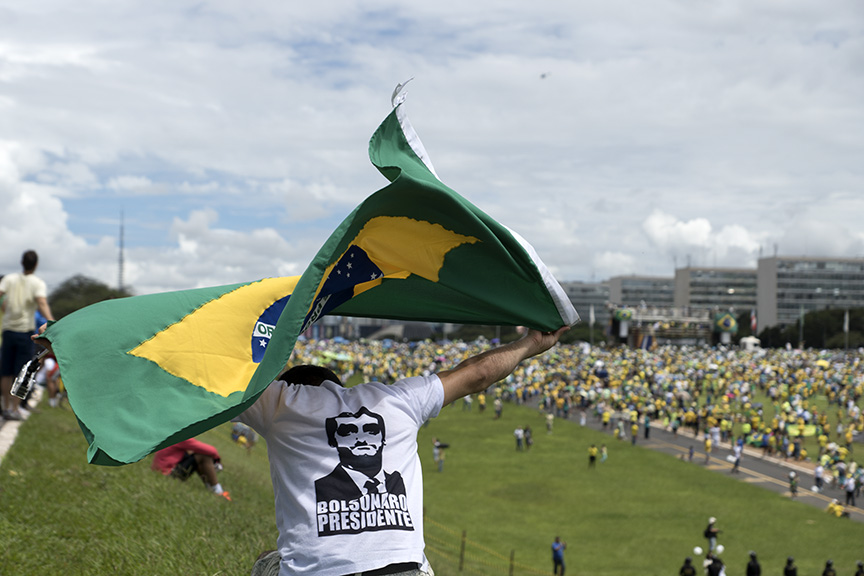 Bolsonaro's rising popularity, evident in Brasília on Sunday, is underpinned by a steady shift to the right among a population that has grown weary of its leftist leaders. Sixty-four percent of Brazilians disapprove of President Dilma Rousseff, with only 12 percent supporting her government, according to a figures released in February by polling institute Datafolha. The numbers present a stark contrast to the record-high approval ratings of 80 percent enjoyed by Rousseff's predecessor and political godfather, former President Luiz Inácio Lula da Silva, at the end of his second term.
Sunday's nationwide protests were among the largest ever recorded in Brazilian history, their scope placing further pressure on Rousseff. The numbers surpassed those seen in any of the four mass demonstrations of the past year, as well as those from the spontaneous uprisings of 2013.
Support for a national movement to oust the ruling Workers' Party, which has held power since 2003, increased with news that investigators were closing in on former leader Silva. During the past two weeks, authorities detained Silva for questioning, then formally requested his arrest, over his alleged involvement in a multi-billion kickback scheme at state-run oil firm Petrobras.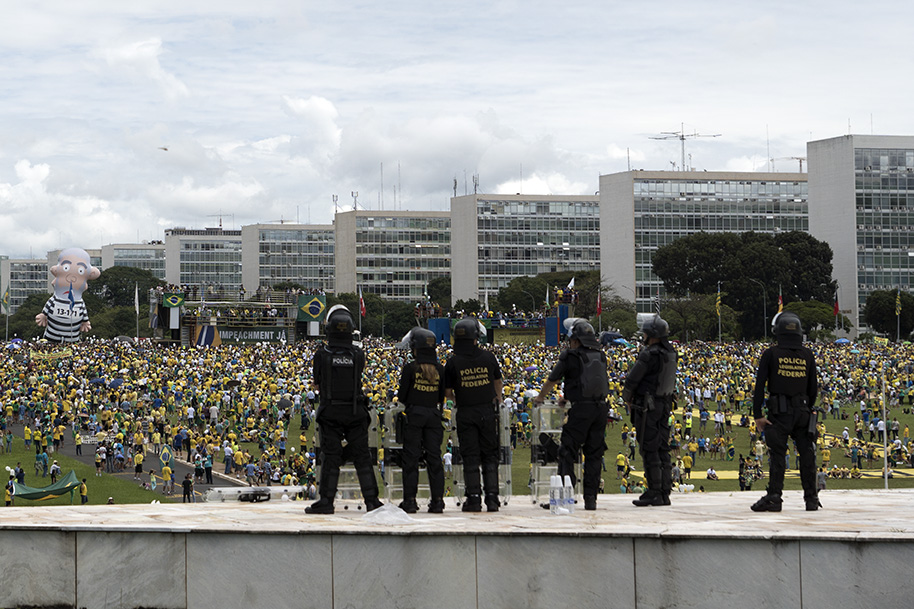 The conspiracy inside Petrobras forms the basis of the so-called Operation Carwash investigation, which has already toppled some of the country's most prominent industrialists and high-ranking members of the Workers' Party. Silva, a party co-founder, presided over Brazil during a period of unprecedented economic growth. But decisions made by Rousseff, as well as the ongoing scandal at Petrobras, have led to an economic recession.
In São Paulo, half a million people took to the streets to protest Rousseff's administration, according to Datafolha, making it that city's largest since a historic march in 1984 helped usher the end of Brazil's military dictatorship. The demonstration in Brasília also broke records, with 100,000 people congregating along the capital's Monumental Axis, according to estimates released by the Military Police. The police determined that protests took place in at least 121 cities across all Brazilian states, with over one million people in attendance.
"I have been to every [anti-Workers' Party] protest in Brasília, and this one feels like the largest by far," said Regina Macedo, 57. "We've had enough. Basta! There comes a point when we, as a country, can no longer put up with this much institutionalized corruption."
Cleuci de Oliveira is a New York City-based journalist from Brasília, Brazil.