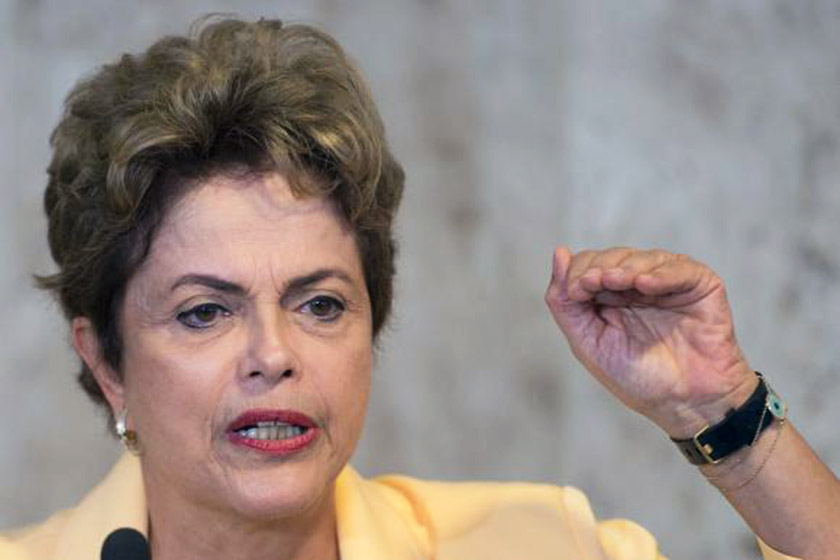 Brazilian Party to Split from Government Coalition, Increasing Likelihood of Rousseff's Impeachment
March 29, 2016
By Staff
Top Story — The Brazilian Democratic Movement Party is expected to officially split from President Dilma Rousseff's governing coalition on Tuesday, dealing a possibly fatal blow to her presidency.
PMDB officials have said that 70 to 80 percent of its voting members will formally decide to break with the Workers' Party, Reuters reported. The move will free PMDB party members to vote for Rousseff's ouster and will strip the president of 69 out of 513 votes in the lower house of Congress, where the first phase of an inevitable impeachment process will take place. On Monday night, Brazil's tourism minister handed Rousseff his resignation letter, becoming the first PMDB member to officially exit the coalition government.
The coalition's split will comprise the strongest indication yet that Rousseff is unlikely to survive impeachment proceedings. The expected dissolution could see Rousseff suspended from office by Congress while the Senate makes the final vote on her impeachment. Her suspension could come as early as May, according to Reuters, at which point the leader of the PMDB, Vice President Michel Temer, would take over.
On Monday, the Brazilian Bar Association filed an impeachment petition against Rousseff, charging the president with fiscal backpedaling, obstruction of justice and with according tax-exempt status to soccer governing body FIFA during the 2014 World Cup. The bar association petition joins a dozen others waiting to be reviewed by one of Rousseff's most vociferous critics, lower house Speaker Eduardo Cunha — himself the subject of an ongoing corruption investigation.
Rousseff has seen her approval ratings plummet as she struggles to contain a worsening economic recession and the fallout from a massive corruption probe that has tarnished leading figures in her Workers' Party, including her presidential predecessor and mentor, the once-extraordinarily popular Luiz Inácio Lula da Silva. The former Brazilian president left office in 2010 with an 80 percent approval rating, according to polling firm Ibope, but accusations that he knew about the multi-billion dollar kickback scheme involving the state-run oil company Petrobras and several of Brazil's leading construction firms have tarnished his reputation.
On March 3, Brazilian Federal Police detained the former president for questioning over a separate investigation into his alleged trading of political favors for personal construction projects. Rousseff's decision to nominate Silva as minister, on March 17, was perceived by Workers' Party critics as an attempt to shield Silva from the probe by providing him with the legal protection awarded to senior officials. Brazil's Supreme Court is expected to rule later this week on whether Silva can become a minister.
Brazilians have taken to the streets on an almost daily basis to both support and protest the current government. Few Brazilians, however, support a potential Temer presidency, despite Rousseff's free-falling approval ratings and the Workers' Party's crumbling reputation. Like many of Rousseff's rivals — including those who make up the impeachment committee — the vice president faces charges of corruption over his alleged involvement in an illegal ethanol-buying scheme. If a general election were to take place today, polling firm Datafolha found that only one percent of Brazilians would vote for Temer — a man once compared by an opponent to "a butler from a horror movie."
Headlines from the Western Hemisphere
North America
Caribbean
Central America
Andes
Southern Cone