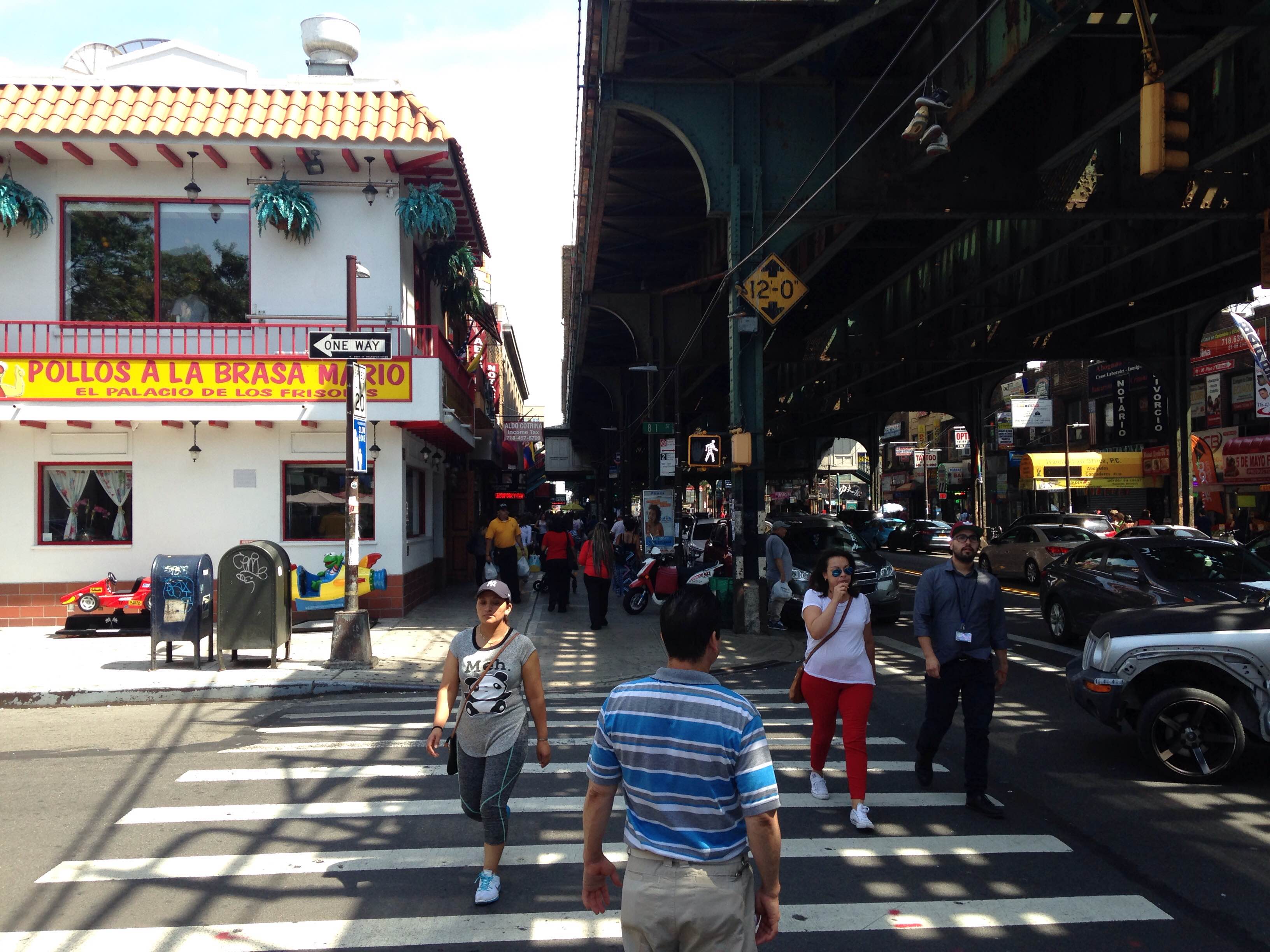 Jackson Heights, Queens. (Image: Dusty Christensen)
As Peace Referendum Approaches, Colombians Abroad Face Barriers to Voting
NEW YORK – Even in September, the Christmas lights and nativity scene that adorn the entrance of V&V Variety Store in Jackson Heights, Queens, do little to stand out. Down the street, Roosevelt Avenue is saturated with color — soccer jerseys and backpacks engulf entire storefronts, stuffed next to cell phone service shops, clothing outlets and floral vendors. On some blocks, businesses are piled on top of each other, almost at eye-level with the passing subway trains that clang along Roosevelt Ave, drowning out the sounds of reggaeton and salsa playing on opposite ends of the street.
Inside V&V Variety, Jorge Villegas can be found behind the counter. Villegas, 62, has lived in Jackson Heights for most of his life since he left Bogotá, Colombia, in 1980. Robust and well humored, he spends his time listening to his radio and talking with the customers that wander in and out of his shop.
"I am always up to date with the reality over there," he tells me, in reference to Colombian news, and, more specifically, the country's recent peace agreement. "In this moment, I would vote 'no.'"
After four years of negotiations, a peace deal between the Colombian government and the Revolutionary Armed Forces of Colombia, or FARC, was signed last month to end a bloody war that has lasted 52 years. Since the FARC rebels took up arms in 1964, the armed conflict has killed over 220,000 and displaced more than 7 million Colombians from their homes. Since the signing of the agreement in Havana, Cuba, Colombia has begun to prepare for a popular referendum on the deal, to take place on October 2 in the form of a simple yes-or-no vote. The deal will only be effective if at least 13 percent of registered voters participate, and if more than half vote "yes."
The upcoming plebiscite has been billed as a showdown of sorts between President Juan Manuel Santos and his predecessor, Álvaro Uribe. Uribe, who spearheads the "no" campaign, pushed for hard-nosed military operations against the FARC during his presidency from 2002 to 2010, and has been a vocal critic of President Santos since the peace talks were announced in 2012.
Recent polls in Colombia suggest that the majority of voters will support the peace agreement, but abroad, many Colombians, like Jorge, are weary of it. "The question is: where is the trap? There is no trust. There is no trust in [the FARC] or in the government," he says.
Mirian Martínez, owner of Expomoda, a Colombian clothing store on Roosevelt Avenue, agrees. Weaving around the racks of clothes in her shop, she rearranges a series of blouses as she explains that Colombia was in better hands under Uribe: "President Santos is ceding too much. He is giving [the FARC] too much while they are not giving anything up."
Investigative websites such as La Silla Vacía have shown that the FARC have also given up significant ground during the negotiations. At the beginning of the peace talks, the FARC were reluctant to admit their involvement in human rights abuses or in the drug trade, but the rebels have since committed to collaborating with the government on these fronts. Such changes have not been acknowledged by the opposition.
Uribe and his political party, the Democratic Center, have historically enjoyed the support of Colombians abroad. During the 2002 and 2006 presidential elections, Uribe won comfortably, obtaining 53 percent and then 62 percent of the Colombian vote, respectively. Outside of Colombia, he amassed over 84 percent of the abroad vote. In 2014, Oscar Ivan Zuluaga, Uribe's handpicked successor to challenge Santos, lost in a runoff election, but won 57 percent of the vote abroad.
Uribe's popularity among Colombian expats is common knowledge for Orlando Tobón, a prominent uribista — as Uribe's supporters are often called — within the Jackson Heights community. Tobón is 65 years old and immigrated into the United States in 1968, four years after the breakout of Colombia's armed conflict. He owns a travel agency on Roosevelt Avenue called Orlando Travel that was featured, along with Tobón, in the critically acclaimed 2004 film "Maria Full of Grace."
Tobón is well known in Queens for providing humanitarian support to Colombian immigrants that arrive to New York. He has supported Uribe since he became president in 2002, and credits the former president for helping improve Colombia's public image, but does not believe that support for the ex-president will automatically translate to a "no" vote. Within the uribista movement, there are a growing number of supporters that have decided to vote for the peace agreement — and Tobón is one of them. "I know it will cause problems within the uribista movement to say that I am voting 'yes'," he explained, "but it is a great opportunity to have peace after 55 years of killing each other."
Tobón's decision to vote "yes" comes as welcome news for another local movement in Jackson Heights: the Movement for Peace in Colombia, or MPC. Described by its members as a horizontal organization, MPC was founded 15 years ago during a different set of peace talks between the Colombian government and the FARC, under then-President Andrés Pastrana. That peace process eventually fell apart in 2002, but MPC continued to provide logistical support for human rights advocates, lawyers and victims of Colombia's armed conflict that arrived in New York.
Last week, MPC published an open letter in Queens Latino, an online publication based in Queens, reiterating its support for the peace process. Julio Bedoya, who has been a part of the organization since it began 15 years ago, wrote the letter. He believes that the movement is finally witnessing the results of its work.
"The 'yes' campaign is a campaign for only one month, so I don't know how many minds we can change now," he said. "The work that we have done all these years has contributed to certain values and a certain vision that has contributed to the 'yes' movement."
But as the October referendum approaches, the conversation does not end — or even begin — at "yes" or "no." Tobón says that many Colombians living in New York and elsewhere simply will not vote in October. Abstention rates for Colombians living abroad have been rising incrementally since Uribe was first elected president. In the 2002 presidential elections, 65 percent of the abroad electorate voted, according to a report by the Colombian government's Electoral Observation Mission, or MOE. Twelve years later, in 2014, less than 20 percent of eligible voters abroad participated in the presidential elections, which were largely considered to be a referendum on the country's ongoing peace talks. In comparison, 48 percent of the total Colombian electorate participated.
Why is voter turnout abroad so low? For Tobón, in the areas surrounding New York, long distances are the largest barriers to electoral participation. "We have a consulate in the center of Manhattan, and people from Pennsylvania, New Jersey or Queens have a hard time getting there," he explained. "We came [to the United States] to work, and going to the consulate to register to vote means losing $100 of work for that day."
Javier Urrea Cuellar, founder and president of the Association of Colombians in the Exterior, agrees. Before moving to Madrid, where he now works at a consulting firm and is pursuing a doctorate at the Complutense University, Urrea lived in Dublin, Ireland. The nearest consulate for him was across the sea, in London. Voting was a logistical nightmare.
According to the MOE, in the 2014 presidential elections only 64 Colombian consulates were habilitated for voters. Colombia's National Registry confirmed earlier last week that the same number of consulates will be opened for the October 2nd referendum, but Javier believes that is not nearly enough to cater to the 4.7 million citizens living abroad, what he calls Colombia's "invisible capital."
"Why do we have such high abstention?" he asked. "It is because there aren't enough channels for participation."
Maria Isabel Nieto, Consul General in New York, is well aware of such barriers. "Nothing is perfect," she said. "However, we have been making a greater effort to reach more Colombians, and to mobilize the consulate to different locations." She noted that a consulate had opened in Newark in 2012 to cater to the Colombian population in Elizabeth, New Jersey, and that seven voting areas will be opened in Connecticut and New York for the referendum.
But some Colombians living near voting areas still will not be able to vote in October. The government has set a two-month minimum limit for voter registration — including location change — before a major election. With less than a month until October referendum, voters would have to travel to the polling locations where they were most recently registered. For Colombians living abroad, that could require an intercontinental flight.
In efforts to tear down such physical barriers, the Association of Colombians in the Exterior has joined other organizations to fund a secure online database platform called Plebiscito Digital, or Digital Plebiscite, to provide an alternative for Colombians who will not be able to formally cast their ballot. The Digital Plebiscite will follow all of the official requirements of the Colombian government, but its voters will be able to cast a ballot online from anywhere in the world.
The digital vote will not be officially recognized by the Colombian government, but Felipe Álvarez, a representative of Redmocracia — one of the sponsoring organizations of the Digital Plebiscite — argues that the vote can amount to something more.
"It will be symbolic," he says "It will be the manifestation of a slew of Colombian citizens that wish to participate but will not be able to travel long distances to vote."
But at a time when President Santos is suffering abysmal approval ratings, the disillusionment of Colombians with their country's political class — at home and abroad — could be the real driving force behind growing abstention rates.
Back in his store, Jorge Villegas contemplates casting an empty ballot in protest. "I hope that, one day, all Colombians will make more than the minimum wage, that all Colombians will have access to education, that parents will be able to go to sleep with a full refrigerator."
He pauses as the train roars by. "That day, we will have peace. That day, I will vote."
Miguel Salazar is a writer based in Brooklyn, New York. He previously worked as a Research Associate for the Council on Hemispheric Affairs in Washington, DC, and is a graduate of Boston College, where he managed a student publication called The Other Americas.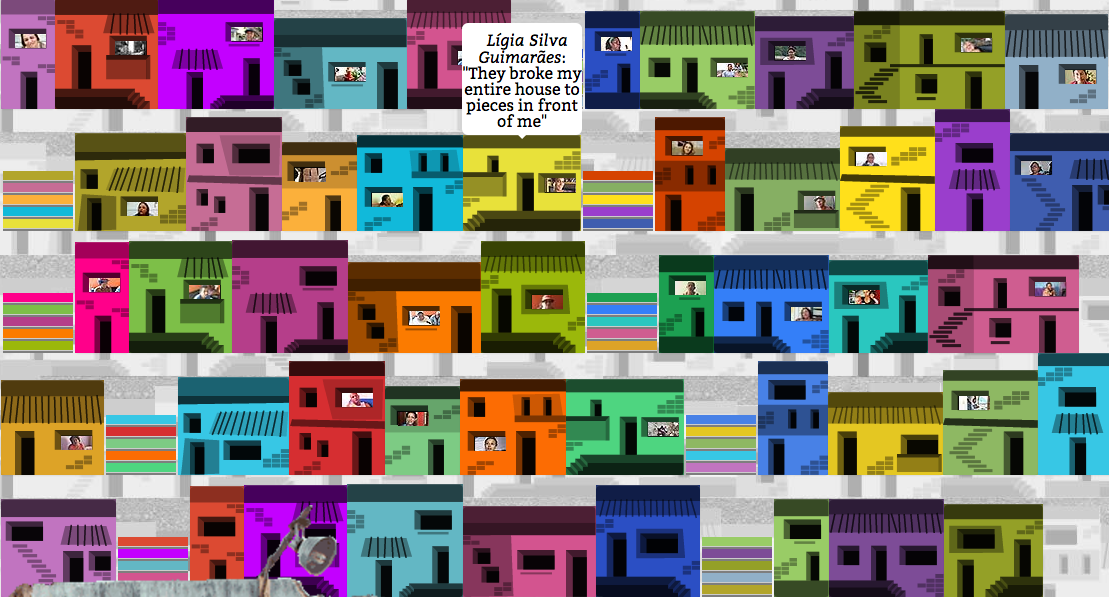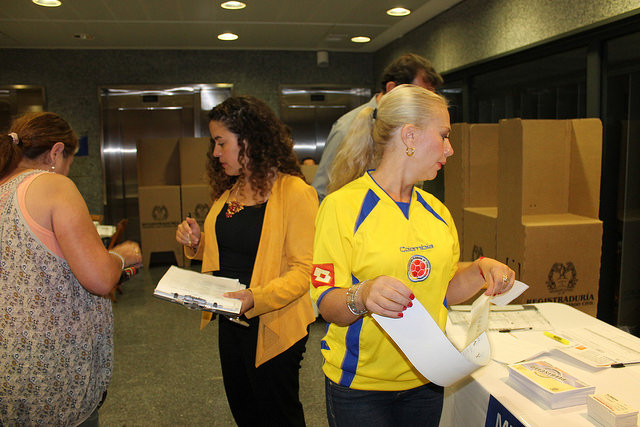 October 3, 2016 > Staff