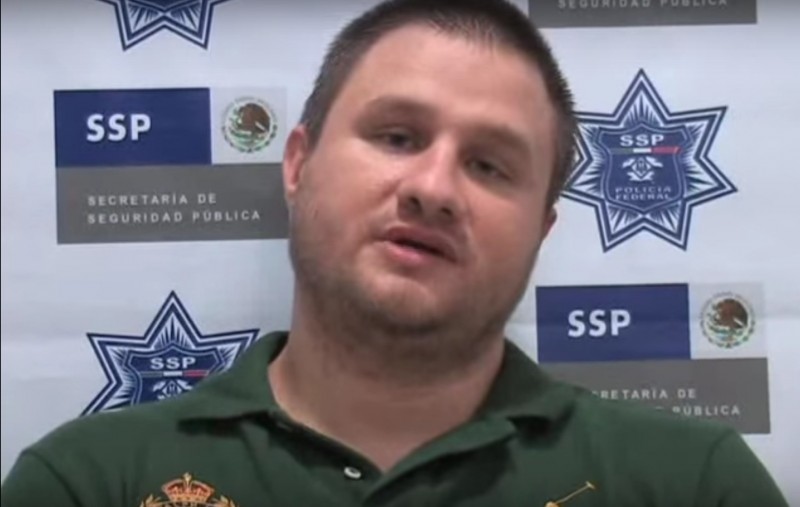 Édgar Valdez Villarreal, known as "La Barbie," after his 2010 arrest. (Image:
YouTube
, screenshot.)
In Policy Shift, Mexico Extradites Traffickers to United States
October 1, 2015
By Staff
Top Story — Mexico extradited 13 people to the United States on Wednesday as part of what The Associated Press called new efforts at coordination between the two countries in the fight against organized crime.
Those extradited include two high-profile drug lords, a man charged with killing a U.S. Customs and Enforcement Agent in 2011, and three men charged for their involvement in the 2010 murder of a U.S. consular official. While Mexican officials have refused to comment on whether the timing of the extraditions is related to the embarassing escape of drug kingpin Joaquín "El Chapo" Guzmán from a maximum prison earlier this year, experts suspect a link.
"My guess is that they're probably starting to make amends for El Chapo," Alejandro Hope, a Mexican security expert, told the AP. Weeks before Guzmán escaped from prison through a tunnel beneath his cell the United States had requested his extradition, which generated tension between the Mexican and U.S. governments upon Guzmán's escape.
Mexico's new approach to extradition is evidence of a "warming of relations," according to the New York Times.
One of the two major drug lords extradited, the U.S.-born Édgar Valdez Villarreal, known as "La Barbie" for his fair complexion, was once a Texas high school football star but came to lead his own division of the Beltrán-Leyva cartel and now faces drug-trafficking charges in three states. The other, Jorge Costilla Sánchez, known as "El Coss," was an alleged leader of both the Gulf Cartel and Los Zetas.
Headlines from the Western Hemisphere
North America
Caribbean
Central America
Andes
Southern Cone