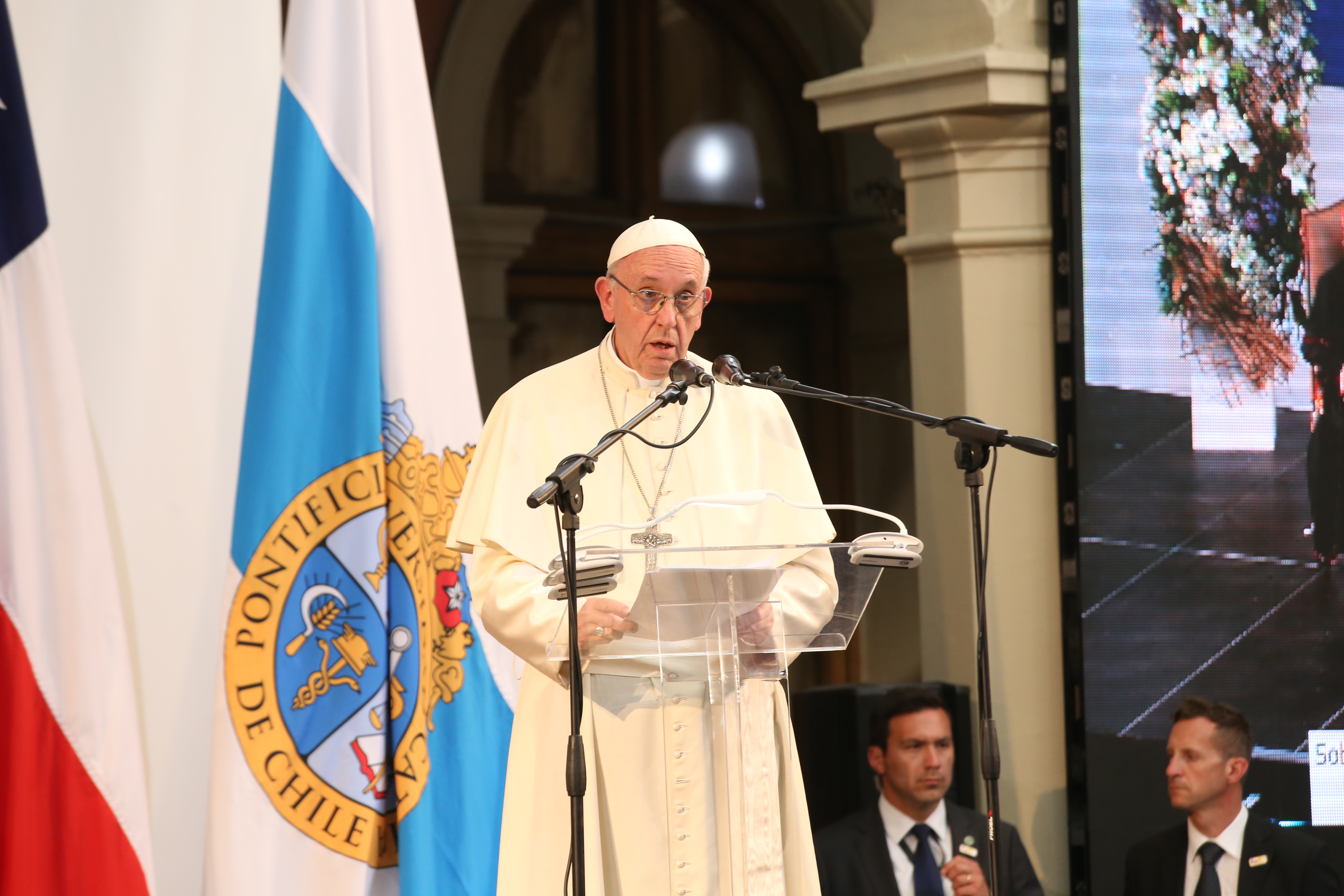 Pope Francis speaking at the Pontifical Catholic University of Chile on Jan. 17 2018 (photo from Pontificia Universidad Católica de Chile on Flickr)
Pope Francis recants on Chile abuse case, asks victims for forgiveness
April 12, 2018
By Staff
TODAY IN LATIN AMERICA
CHILE—Pope Francis issued a remarkable statement yesterday admitting to having made "grave errors" in his controversial judgement of Chile's sex abuse scandal and inviting the victims to visit Rome to personally ask for their forgiveness.
Francis drew anger in Chile during a visit to the country in January, when he defended Bishop Juan Barros, who allegedly hid sex crimes by a priest, and accused the victims of slander. The pope changed his stance this week after reading a 2,300-page dossier prepared by a special envoy he sent to Chile to investigate the case.  In the letter, he admitted to having "made serious mistakes in assessing and perceiving the situation, especially due to a lack of truthful and balanced information." He also summoned all of Chile's bishops for a rare emergency meeting in the Vatican to discuss ways to overcome the scandal.
HEADLINES FROM THE WESTERN HEMISPHERE
NORTH AMERICA
MEXICO—Maribel Barajas, a candidate for district deputy for Múgica, Michoacán, was found murdered in a ranch in the state's region of Tierra Caliente. Three other candidates for local positions in the same state have recently received death threats. Barajas, 25, was running for the Green Environmentalist Mexican Party, or  PVEM in Spanish. 

UNITED STATES—Gov. Jerry Brown from California agreed to accept funding from the White House for deploying 400 National Guard troops to the border. But wrote a letter to Homeland Security Secretary Kirstjen Nielsen and Defense Secretary James N. Mattis saying the guards would not enforce federal immigration law but "support operations targeting transnational criminal gangs, human traffickers and illegal firearm and drug smugglers."
CARIBBEAN
HAITI—The U.N extended its security mission in Haiti for another a year by decision of the Security Council on Tuesday, President Jovenel Moïse was reluctant to accept worrying it would scare away foreign investment. Russia and China abstained from the vote and the United States was criticized by other council members for its insistence on widening the scope of the deployment. In February, Moïse accused the U.N. of overstepping its role after the head of the mission, Sandra D. Page, issued a statement welcoming an inquiry into how $2 billion in oil loans from Venezuela was spent by former Haitian government officials.
CENTRAL AMERICA
NICARAGUA—A forest fire in Indio Maíz, one of the most important nature reserves in Nicaragua, has been burning out of control since April 2, destroying almost 12,400 acres (5,000 hectares). The fires are believed to have been started by illegal homesteaders, who were attempting to clear land for planting crops. A local environmentalist called it "the most dramatic ecological disaster ever experienced by Nicaragua." The country has received criticism for its response to the fire as it lacks equipment and expertise and has refused Costa Rican aid, presumably because of the border dispute between both countries, although Mexican help has been accepted.
PANAMA—Panama banned all Venezuelan airlines for 90 days in retaliation for Venezuela's diplomatic and trade bans announced last week. Venezuela delivered the trade ban after Panama put President Nicolas Maduro on a list of Venezuelan officials deemed at "high risk" for money laundering
ANDES
COLOMBIA—Eight police officers were killed yesterday in an explosion in northwestern Colombia, an attack that's been blamed on the Gulf Clan, the country's largest armed drug gang. The officers were escorting a group of government workers in charge of returning land to farmers in the Urabá region who had been dispossessed mainly by right-wing paramilitary groups of which the Gulf Clan are a rearmed dissidence. The Gulf Clan, also knows as Los Urabeños after the Urabá Gulf region, had declared a ceasefire in December of last year hoping to convince the government of initiating peace talks they have been requesting since 2015.
ECUADOR—A statement was released yesterday by the Oliver Sinisterra Front, a dissidence of the FARC, saying the three Ecuadorian journalists the were being held captive had died because of the increased military presence in the area along the border between Colombia and Ecuador. The Ecuadorean government asked for "responsibility and prudence" from the media saying it is working on verifying  the authenticity of the communiqué and the information in it.
SOUTHERN CONE
PARAGUAY—Just days before Paraguay elects a new president, the country's opposition candidate signed a pro-life pledge in front of journalists yesterday. Efraín Alegre, who leads the Liberal Party, vowed to protect life from the moment of conception and defend the "traditional" family, indicating he would oppose legalizing same-sex marriage despite a previous statement that implied otherwise. Elections are set for April 22.
NEW IN THE LATIN AMERICA NEWS DISPATCH
MEXICO—Ricky Ochoa-Kaup analyses a shift in the current campaign of Mexico's leading presidential candidate that belies his reputation as anti-business in "López Obrador broadens his base in an effort to win the presidency on his third attempt."