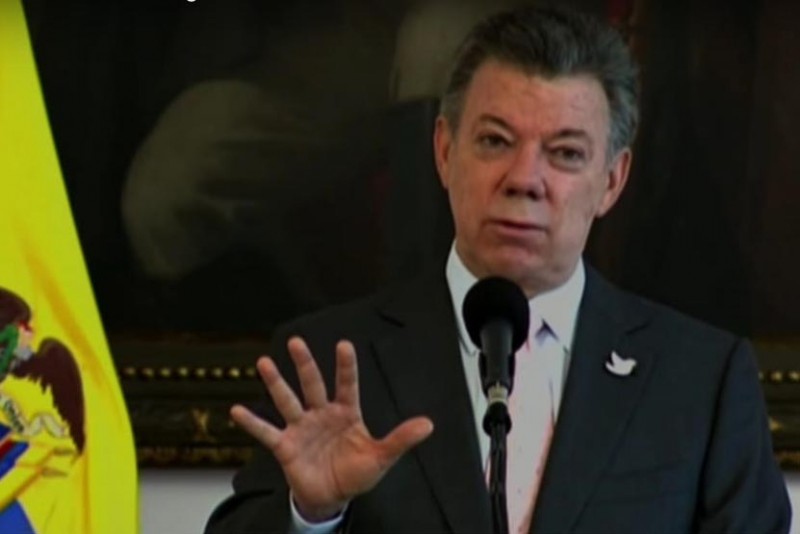 Colombian President Juan Manuel Santos announces a potential bilateral ceasefire to start on Jan. 1. (Image:
YouTube
, Screenshot)
Colombia Government May Call Cease-Fire in January
October 29, 2015
By Staff
Top Story —
Colombian President Juan Manuel Santos plans to call a bilateral ceasefire starting on the first day of 2016 if negotiators from the government and the Revolutionary Armed Forces of Colombia can agree on the fifth and final agenda item in ongoing peace talks— restitution for victims of the internal conflict.
Santos' announcement marks the first time that the government has agreed to enter a bilateral truce since the two sides began peace negotiations three years ago.
In September, Santos and the FARC's commander, Rodrigo Londoño Echeverri, alias Timochenko shook hands for the first time after setting a deadline of March 23, 2016 for all items on the agenda to be resolved, and for the final agreement to be put to a vote by Colombian constituents. The leaders also agreed that FARC rebels would disarm within 60 days of the deal being signed.
The FARC have observed a unilateral ceasefire since July; they have called for the same measure by the government since talks began in 2012. To date, the Santos administration has refused, citing past failed negotiations in which the rebels took advantage of truces to re-arm.
Government and rebels negotiators have recently resolved several points on the agenda, the most delicate of them concerning the punishment of rebels accused of committing crimes. The two sides have also reached agreements over land rights, drug trafficking and the political participation of rebels after the peace process. They have also vowed to work together to clear minefields and search for the estimated 25,000 people who have gone missing since the conflict began in 1964.
Colombia's 51-year-old internal conflict has claimed 220,000 lives and displaced five million people, according to The Associated Press.
Headlines from the Western Hemisphere
North America
Caribbean
Central America
Andes
Southern Cone