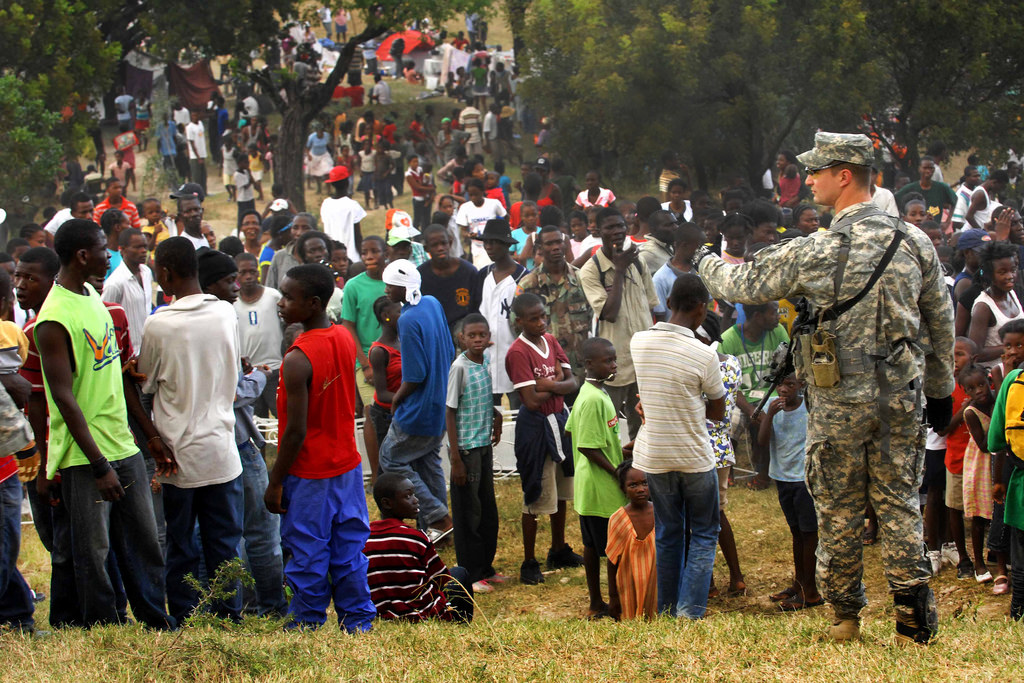 Military relief efforts in Haiti after the earthquake, taken on January 16, 2010. Creative commons.


In Haiti Cholera victims have only received 2% of promised U.N. relief aid
May 1, 2018
By Staff
TODAY IN LATIN AMERICA
HAITI: Haitians suffering from cholera caused by United Nations peacekeepers have only received two percent of promised relief funds halfway through the fund's projected three-year term, according to campaigners.  Haiti was free of cholera until a group of U.N. peacekeepers accidentally dumped infected waste into a river while providing relief after the devastating 2010 earthquake, which left at least 220,000 dead and 1.5 million initially displaced.
Since the infection of the river, more than 800,000 Haitians have been exposed to Cholera and approximately 9,750 Haitians have died of the disease. The U.N. has never admitted legal responsibility for the epidemic, but in 2016 former U.N. Secretary General Ban Ki-moon apologized on behalf of the organization and promised $400 million of relief funds. The U.S.-based Institute for Justice and Democracy in Haiti (IJDH) filed a lawsuit against the U.N. on behalf of Haitian cholera victims, but the U.N. was granted immunity from the damages by a U.S. federal appeals court in 2016.
Post-earthquake aid workers have also recently been scrutinized amid criticism over the cover up of sexual misconduct by Oxfam staff members, and in February Haiti temporarily suspended Oxfam Great Britain from operating in the country.     
HEADLINES FROM THE WESTERN HEMISPHERE
NORTH AMERICA
PUERTO RICO-U.S.: U.S. politicians have started targeting Puerto Ricans who have recently relocated to U.S. mainland territory in the wake of Hurricane María. Puerto Ricans are not able to participate in U.S. presidential elections when they are residents of the U.S. territory, but once they move to the mainland they are able to participate fully as U.S. citizens. U.S. Democrats and Republicans alike are pushing to win over relocated Puerto Ricans whose party affiliations may be up for grabs.      
MEXICO-U.S.: Yesterday, members of the Central American migrant caravan began handing themselves over to U.S. authorities at the Tijuana-San Diego border to seek asylum. U.S. immigration lawyers warned that those seeking asylum risk detention and separation from their children for months. Homeland Security Secretary Kirstjen Nielsen also warned that any migrants making false asylum claims risk prosecution. If authorities continue to say that there is not enough space to accommodate the nearly 200 migrants seeking to cross the border, organizers of the caravan plan to send women with children and children traveling alone first.      
CARIBBEAN
REGIONAL: An international police operation freed close to 350 human trafficking victims found in 13 countries in Central America, the Southern Cone and the Caribbean, in a series of Interpol-coordinated raids that took place earlier this month. The security agency revealed yesterday that traffickers are targeting the most marginalized sectors of society, such as migrants crossing borders desperate for a better life. Victims rescued included minors who worked in remote areas and in inhospitable conditions in night clubs, farms, mines, factories or open-air markets. Twenty-two people were also arrested.
DOMINICAN REPUBLIC-TAIWAN-CHINA: The Dominican Republic switched its alliance to China, after almost 80 years of maintaining diplomatic relations with Taiwan. The news is a blow to the self-ruled island, seen by China as its territory, since it is now left with only 19 international allies, most of them located in the Caribbean and Central America. Earlier in the month, Taiwan's "Friendship Flotilla" arrived in Nicaragua for a three-month tour of its diplomatic allies in the region.
CENTRAL AMERICA
NICARAGUA: Nicaragua's National Assembly approved the creation of a truth commission that will have three months to investigate and present its findings on the government crackdown on nationwide protests earlier this month that left over 60 dead, according to estimates of independent organizations. Additionally, the country's Public Prosecutor announced an investigation into the deaths of students and security forces.
NORTH EAST OF SOUTH AMERICA
SURINAME: Authorities said Monday that 16 missing fishermen are presumed dead after pirates forced them to jump overboard into the Atlantic last week. According to four survivors, who managed to swim ashore, the pirates' accents suggested they were from neighboring Guayana.
ANDES
COLOMBIA: At daybreak yesterday, a dissident group of EPL rebels ended a two-week "armed strike," which had severely restricted mobility and commerce in the northeast region of Catatumbo. Since FARC rebels demobilized last year, the EPL dissidence, which itself emerged from a previous peace process with the government, has been engaged in a deadly fight with the ELN rebel group over control of the region's drug trade.  
ECUADOR: The leader of a dissident Colombian rebel faction reportedly released a communique Monday offering to return two kidnapped Ecuadorians and repatriate the bodies of three murdered journalists. The communique, the authenticity of which has not yet been confirmed by either government, calls for the creation of a "humanitarian corridor" along the shared border and the release of rebels and collaborators imprisoned in both countries. It was signed in the name of the FARC's Oliver Sinisterra Front, which refused to participate in the group's demobilization last year, and by its leader Walter Patricio Arizala, an Ecuadorian citizen known by the alias Guacho.
SOUTHERN CONE
PARAGUAY: In an unprecedented move, President Horacio Cartes is currently preparing to resign office so that he can assume his newly-elected congressional seat in June. Cartes's presidential term will expire in August, but Paraguayan law prohibits lawmakers from holding simultaneous positions in government. Congress is expected to approve former Supreme Court President Alicia Pucheta as Cartes's successor, making her Paraguay's first female vice president and subsequently first female president. Pucheta will be the president of Paraguay until Aug. 15, when the current president-elect Mario Abdo Benítez assumes the presidency.
BRAZIL: Forty athletes and former athletes say that former Olympic gymnastics coach Fernando de Carvalho Lopes sexually abused them as children. Carvalho was fired from the Brazilian team shortly before the 2016 Rio Olympics when a 13-year-old told his parents that the coach had touched his genitalia. On Sunday, he was fired by the São Paolo-based community center where he worked for 20 years. Police say they are investigating the new accusations but have not provided further details.