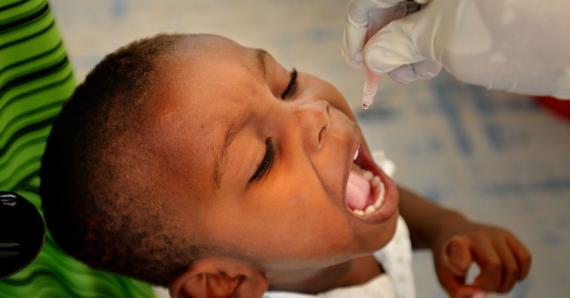 A young boy receives an oral polio vaccine in Port-au-Prince, Haiti. Photo by Kendra Helmer for USAID
First case of polio detected in Venezuela since 1989
June 11, 2018
By Staff
TODAY IN LATIN AMERICA
VENEZUELA: A case of polio was confirmed on Saturday in the Delta Amacuro state of northeastern Venezuela by a report from the Pan-American Health Organization. This is the first case of polio in Venezuela since the disease was eradicated from the country in 1989. The Venezuelan Society of Public Health, a non-governmental doctors' association, had announced it had identified three suspected cases in an indigenous community  and was waiting for confirmation from exams.
The reappearance of the disease suggests flailing vaccination rates and unsanitary conditions and coincides with a sharp rise of cases of measles (85 percent of cases reported across Latin America and the Caribbean over the past year were in Venezuela) and malaria (cases in Venezuela have risen 70 percent since 2016, the steepest rise anywhere in the world).
HEADLINES FROM THE WESTERN HEMISPHERE
NORTH AMERICA
MEXICO: A congressional candidate for the PRI was killed on Friday in the city of Piedras Negras in the northern state of Coahuila on the U.S. border. Fernando Purón was the first candidate running on the federal level murdered but with him the death toll of candidates or politicians killed since the launch of Mexico's electoral campaign in September has reached 112.
CARIBBEAN
CUBA: Two more staff members from the U.S. embassy in Havana were removed from the island and are being tested for brain injuries that could be related to a new sonic attack, U.S. officials said on Friday. Last year, 24 staff members of the Cuba embassy suffered brain-injury-like symptoms after hearing strange sounds and earlier last week the U.S. removed 10 diplomats from the a consulate in the southern Chinese city of Guangzhou for similar symptoms. The Cuban government, who has denied any involvement in the attacks, released a report on Sunday reiterating its commitment to cooperate with U.S. authorities but saying no evidence of the alleged incidents had been presented. The United States hasn't accused Cuba of being behind the attack.
CENTRAL AMERICA
NICARAGUA: On Sunday, the Nicaraguan Center for Human Rights reported that three adult men and one boy had been killed during the weekend in Managua, Masaya and Jinotega. These deaths, like many others, were caused by wounds to the head, neck and torso by high caliber bullets, which led the Inter-American Commission of Human Rights to release a preliminary report accusing the Nicaraguan police and paramilitary government forces of possible extrajudicial executions. The total death toll from the protests has reached 139. On Saturday,  dozens of highway blockades at key points connecting Nicaragua's capital Managua  with the Caribbean coast left about 6,000 transport trucks carrying goods to other Central American countries stranded.
GUATEMALA: The Volcán de Fuego erupted again on Saturday releasing a flow of mud, debris, water and pyroclastic material known as a lahar. There were no new victims but the lahar led to the a rise in the Pantaleón river and the evacuation of 72 people from the community of Santa Lucía Cotzumalguapa. The number of dead people from last week's eruption has now reached 110 plus there are 200 missing and more than 4,000 still living in shelters.
PANAMA: The U.S. Department of State approved on Friday a request to extradite former Panama president Ricardo Martinelli, who is accused of using public funds to illegally wiretap on more than 150 people and of corruption. In 2015,a year after he stepped down from power, Panama's Supreme Court ordered Martinelli's arrest but he had flown to the U.S. just days before the investigation against him was launched. An extradition request was issued by Panama in June 2017 and Martinelli was taken into custody in Florida and applied for political asylum arguing the accusations were politically motivated.
EL SALVADOR: Authorities ordered on Friday the arrest of former President Mauricio Funes for allegedly stealing $351 million. Another 31 people close to Funes, including his long-time partner Ada Mitchelle Guzmán Siguenza, his ex-wife Regina Canas and two of his sons were also on the arrest order. Funes,who has been living in exile in Nicaragua since 2016, has accused current president Salvador Sánchez Cerén of persecution even though both of them belong to the same party, the former leftist guerrilla Farabundo Martí National Liberation Front.
ANDES
COLOMBIA: The presidential campaign closed officially yesterday, a week ahead of the second round of presidential elections, with the right-wing candidate Iván Duque leading by 13 to 20 points according to different polls. Colombia's electoral system requires a candidate win the presidency with over 50 percent of the vote, if no one achieves this a second round is held where only the two leading candidates participate. The candidates fighting for Sunday's election are Iván Duque, a young and relatively unknown former congressman who was chosen by former president Álvaro Uribe as his heir and who has promised to revise the peace treaty signed last year with the FARC guerrilla army, and Gustavo Petro, a left-wing former mayor of Bogotá who was part of the M-19 rebel group.
SOUTHERN CONE
BRAZIL: After shootouts on Friday and Saturday between armed men and police by the Rio de Janeiro tourist area of the Pão de Açúcar, on Sunday rescue teams found the bodies of seven people in the forest at the foot of the mountain. Police said those found were gang members who had taken part in the shootouts, while families said they were not found by the police but murdered after they had given themselves up. The incident took place in Urca, one of the safest and most exclusive neighborhoods of the city. One police officer was injured.
ARGENTINA: An Argentine bishop who was assassinated during the country's military dictatorship in 1976 was recognized as a martyr killed for his faith by Pope Francis on Saturday. This will allow Enrique Angelelli to be beatified, which is a step before sainthood, without having a miracle attributed to him (although a miracle will still be necessary if he is to be declared a saint).