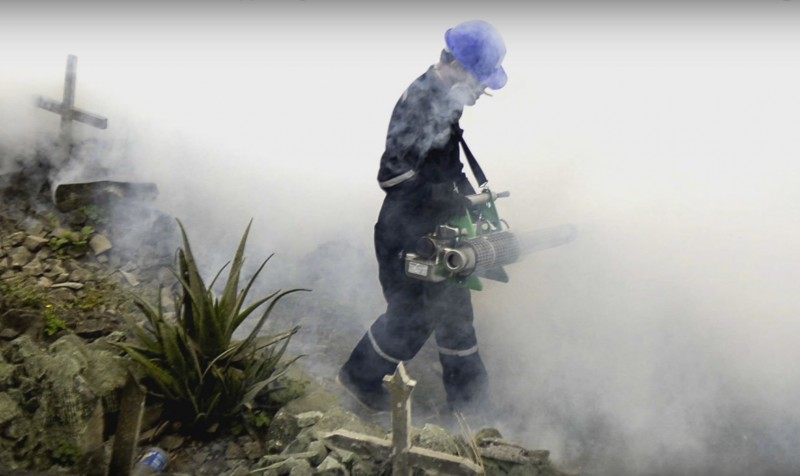 A worker fumigates in an effort to kill mosquitoes that spread the Zika virus. (Image:
Youtube
)
Zika Virus Prompts Brazil and El Salvador to Warn Pregnant Women
January 22, 2016
By Staff
Top Story — The mosquito-borne Zika virus is wreaking havoc throughout Latin America and the Caribbean, most prominently in El Salvador and Brazil, prompting both nation's leaders to issue warnings on Thursday about its possible connection to a rare birth defect.
In a televised address on Thursday, Brazilian President Dilma Rousseff urged the population to work together to "remove the conditions under which the mosquito reproduces," while scientists continue to work on a vaccine for the Zika virus.
Since October, Brazil has seen a surge in cases of microcephaly, a rare condition where infants are born with an abnormally small brain that may be linked to the virus, though the link has not been confirmed. The poorer northeastern states of Paraiba, Pernambuco and Bahia have been the most affected, some areas seeing rates as high as one in 100 cases of microcephaly in all newborns.
Salvadoran health officials cautioned women to delay pregnancies for up to two years in order to avoid possible Zika-related birth defects. They advised women who are already pregnant to stay covered outdoors. Like Brazil, El Salvador has also launched an anti-mosquito campaign to curb infections from Zika as well as other mosquito-borne viruses such as dengue and chikungunya.
Though Zika virus is usually mild and generally only causes symptoms in one in five people, in some individuals it can cause the rare Guillain-Barré syndrome, which can lead to paralysis and potentially death. The virus has been sweeping across Latin America, prompting U.S. officials to issue a warning last week advising pregnant women against traveling to Puerto Rico and 13 other Latin American and Caribbean countries until further notice.
Headlines from the Western [Hemisphere
North America
Caribbean
Central America
Andes
Southern Cone