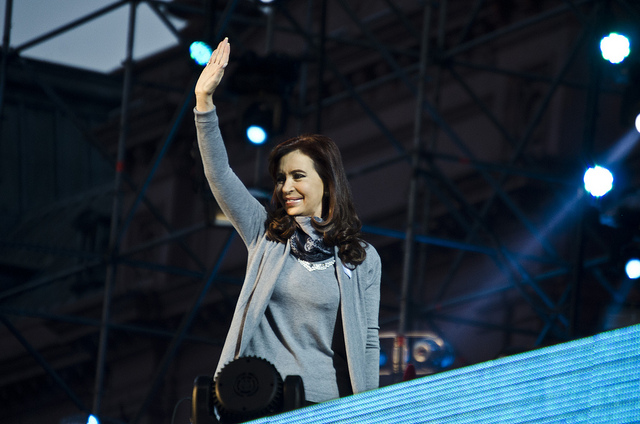 Cristina Kirchner at a public event in May 2014. Photo taken from Flickr, Ministerio de Cultura de la Nación Argentina. (CC BY-SA 2.0)
Ex President Kirchner was charged in corruption scandal
September 18, 2018
By Staff
TODAY IN LATIN AMERICA
ARGENTINA – Former President Cristina Kirchner was charged yesterday in a corruption scandal in which she is accused of heading an illicit organization involved in a bribery scheme. According to the indictment, Kirchner collected bribes from construction companies in exchange for public works contracts. The corruption scheme began with Kirchner's former husband, Néstor Kirchner, who died in 2010, according to the indictment. After his death, Cristina Kirchner took the helm of the organization.
The Argentine newspaper La Nación uncovered the scandal in August when it published notebooks kept by a chauffeur of an official in the Kirchner administration. The notebooks contained damning details, such as a record of at least 87 times when the illicit organization delivered bags of cash to Kirchner's private residence in Buenos Aires.
Kirchner, who is currently serving in the senate, is not likely to be arrested due to the immunity bestowed on senators. She could, however, be prosecuted.
HEADLINES FROM THE WESTERN HEMISPHERE
NORTH AMERICA
MEXICO – Saturated by the amount of murders resulting from the ongoing war against drugs, Jalisco state authorities resorted to a "mobile morgue" – a refrigerated semi-trailer truck – to store about 150 bodies. The truck has been moving between towns, after residents in the outskirts of Guadalajara city complained about the powerful stench. The truck has been moved to a warehouse near the state prosecutor's office. The state's General Secretary, Roberto López, told local media that a new facility that can hold 700 bodies is underway.
MEXICO / U.S. – Federal government lawyers have stated that a 14-year-old leak in the Gulf of Mexico is causing more damage than they had previously stated, and that could it could get worse. A court filing from Sept. 14 published that 10,000 to 30,000 gallons (37,000 to 113,000 liters) are leaking daily into the ocean from multiple platforms and wells that capsized during hurricane Ivan in 2004. The case involving the U.S. government and Taylor Energy Co. continues, as leak estimates reported in 2011 and 2015 were significantly smaller than was later revealed.
UNITED STATES – After a week of erroneous statements from Washington, fact-checkers confirmed that there are no advances or continuous construction of the border wall. The additional $1.6 billion requested by the Trump administration to add 65 miles along the Rio Grande Valley has not been given. Regarding Puerto Rico, a study commissioned by Gov. Ricardo Rosselló associated more than 2,975 deaths to Hurricane Maria in the six months after the hurricane hit.
CARIBBEAN
CUBA – Miguel Díaz-Canel gave his first interview since becoming Cuba's president this past April. He told Venezuela's outlet Telesur on Sunday the U.S.'s economic blockade represents "the foremost obstacle for the development of the country," and denied that the Cuban government caused the mysterious health problems of about two dozen U.S. diplomats. Diaz-Canel also spoke about efforts to update his country's constitution in a public referendum February 2019. Among the updates is the recognition of same-sex marriage.
CENTRAL AMERICA
GUATEMALA – Defying a court ruling, government officials have refused to let Iván Velásquez, the leader of an anti-corruption commission, re-enter the country. On Sunday, the Constitutional Court decided unanimously that President Jimmy Morales' administration should allow the U.N. investigator to return. The commission has resulted in the prosecution of former presidents and other top officials, and is waiting on action from lawmakers to pursue an investigation of Morales.
NICARAGUA – Two protestors were arrested during a march Sunday in Nicaragua's capital city, Managua. Javier Espinosa and Norwin Gutiérrez were among thousands of demonstrators who continue to demand the release of more than 300 political prisoners and the resignation of President Daniel Ortega. No one was seriously injured in this latest march. Since April, hundreds have died in clashes between protestors, pro-government paramilitary groups, and police.
ANDES
PERU – President Martín Vizcarra announced he will hold a special session with lawmakers Wednesday to debate his proposal on anti-corruption measures. If the opposition-leaning congress votes to block the measures, Vizcarra could dissolve congress, which he has previously threatened of doing. If he does, Vizcarra would be the first Peruvian president to do so since former dictator Alberto Fujimori in 1992.
VENEZUELA – Politicians and organizations across Latin America are denouncing a comment made last week by Secretary General of the Organization of American States, or OAS, Luis Almagro that military intervention should not be ruled out in Venezuela. Bolivian President Evo Morales is among the leaders who spoke out against Almagro, along with the Cuban embassy in Venezuela, the Bolivarian Alliance for the Peoples of Our America – People's Trade Treaty and the Communist Party of Uruguay. Almagro's comment comes after the New York Times revealed that U.S. officials met with a group of Venezuelans to discuss overthrowing President Nicolás Maduro.
SOUTHERN CONE
BRAZIL – Brazilian authorities seized more than $16 million in cash and luxury watches from the delegation of Equatorial Guinea Vice President Teodorin Nguema Obiang, who is the son of the African country's president. No one is allowed to enter Brazil with more than $2,400 in cash. The Equatorial Guinea embassy told Brazilian authorities that Obiang, who is known for his luxurious lifestyle, was in the country for medical reasons.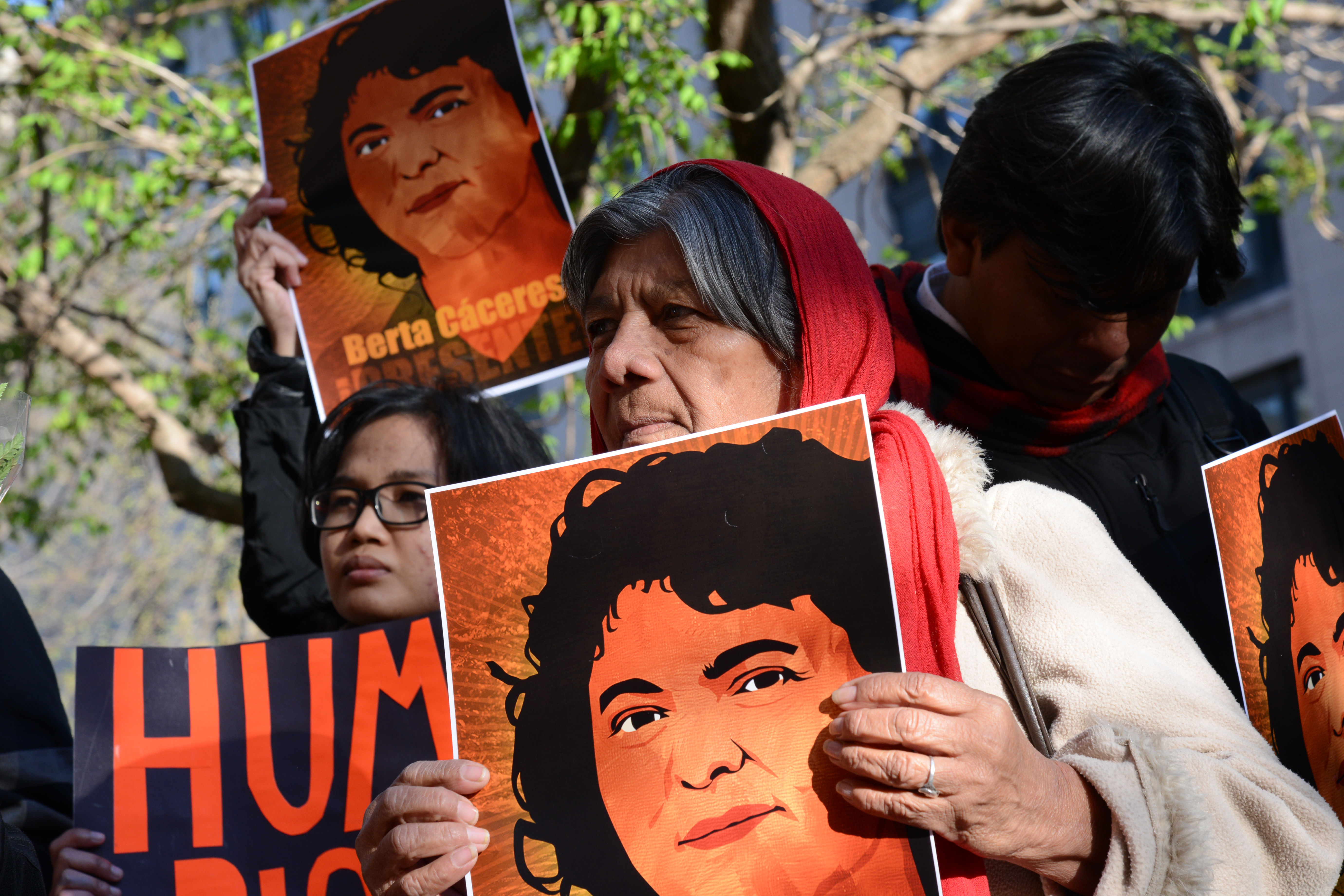 September 17, 2018
> Staff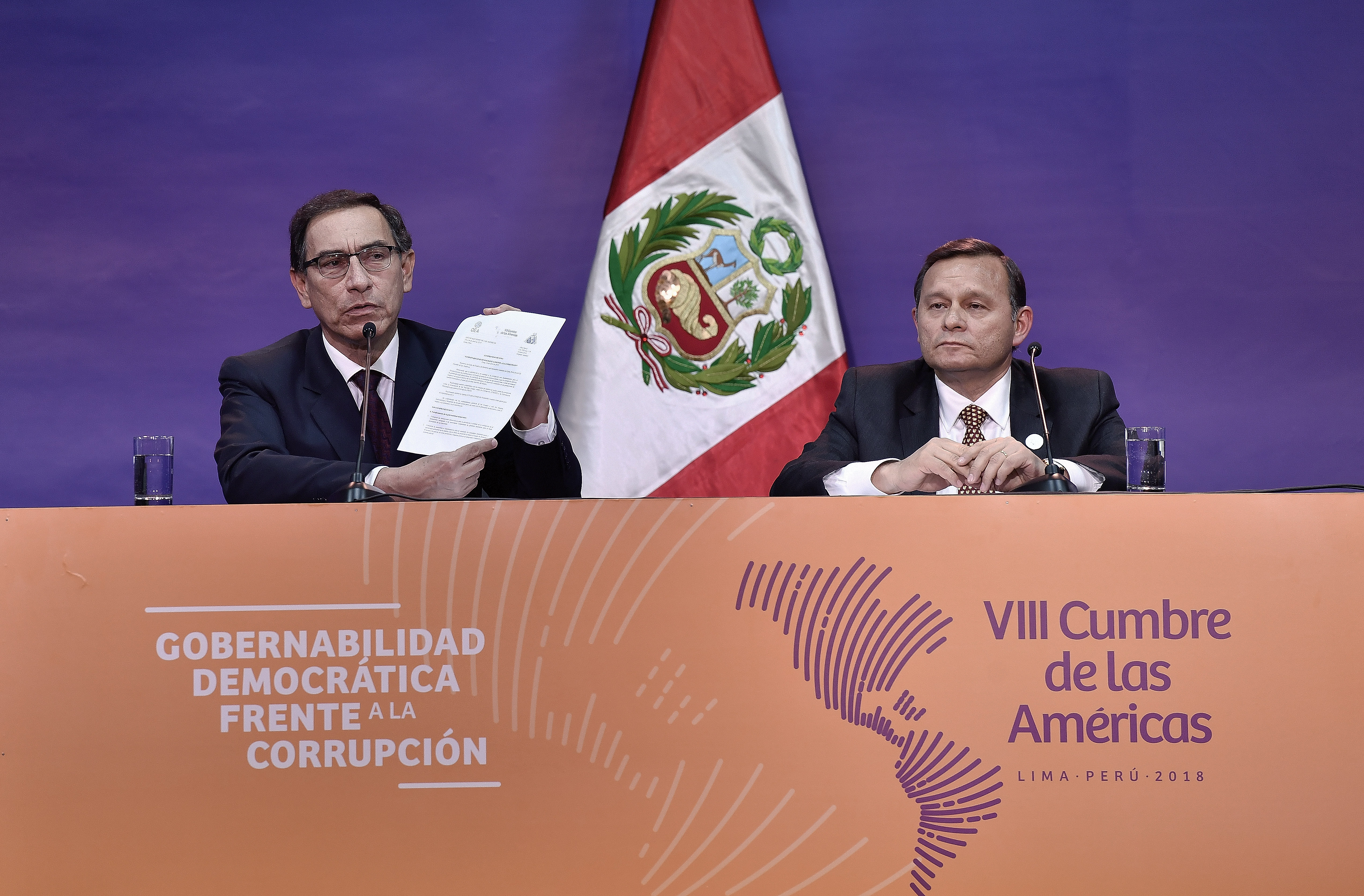 September 19, 2018
> Staff