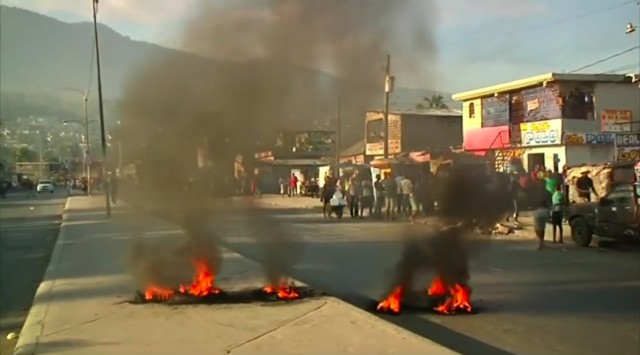 Protests Over Fuel Prices Erupt in Haiti
February 10, 2015
By Staff
Top Story — A two-day strike in protest of high fuel prices in Haiti left the streets of Port-au-Prince abnormally deserted on Monday, after organizers told citizens they would be risking their lives if they drove on the streets.
An influential minibus drivers' union teamed up with anti-government protesters to call for the two-day strike over energy prices. Strikers also set up blockades of burning tires along the thoroughfares. The protesters demand that fuel prices — which have recently been reduced by the government — be slashed by another 50 percent, in light of the significant drop in global oil prices since November.
The police reportedly arrested 20 people during the protests. One police officer was stabbed while attempting to move a burning tire in the Cité Soleil slum. The protests and violence come as many Haitians are preparing for the annual Carnival, normally a festive and peaceful time in the country.
In a statement responding to the protests, Prime Minister Evans Paul said that the government "cannot lower the price of petrol. It's not that we do not want to, it's because we are not able to."
Anger over fuel prices is just the latest reason why thousands of Haitians have taken to the streets in the past several months. The bulk of protests have centered around delayed elections for local offices, the Chamber of Deputies and most of the Senate, which were meant to take place in 2011. President Michel Martelly's administration and members of the opposition were unable to reach a consensus over the delayed elections by the Jan. 12 deadline, after which Martelly began to rule by decree.
Headlines from the Western Hemisphere
North America
The office of Mexican Attorney General Jesús Murillo Karam has challenged the validity of claims made by an Argentine team of forensics experts, whose most recent findings cast doubt on the government's claims that all 43 students missing from Iguala since September were burned in a trash dump in nearby Cocula.
This latest turn in the case of the missing students comes as Proceso magazine published a report showing that an average of 13 people went missing every day in Mexico during President Enrique Peña Nieto's term in office, more than twice the rate under previous president Felipe Calderón.
The Centers for Disease Control and Prevention released new figures on Monday that identify a total of 121 cases of measles in the United States, an outbreak that experts say began with unvaccinated visitors at Disneyland amusement park and has since spread across the country and to six states of Mexico.
Caribbean
A federal court in Puerto Rico has struck down the island's debt restructuring law, complicating Puerto Rico's debt overhaul efforts as the U.S. commonwealth struggles with more than $70 billion in debt.
Netflix announced the launch of a $7.99 per month steaming service in Cuba on Monday, despite an average monthly income of only $17 on the island and a paucity of broadband internet accounts.
Central America
A law protecting wetlands in Panama went into effect on Monday, banning construction and the cutting down of vegetation on more than 200,000 hectares of land endangered by a recent real estate boom in Panama City.
Officials in Panama have expressed mixed reactions to news regarding the planned construction of an interoceanic canal in Nicaragua, a project that comes at a time when Panama is doubling the capacity of its own canal.
Andes
Southern Cone
Public health officials in Brazil are resorting to novel measures to prevent the spread of sexually-transmitted infections during Carnival, including the creation of fake online dating profiles which outwardly display a willingness to engage in unprotected sex and, when contacted, respond with an automatic message encouraging condom use.
A captain in Paraguay's army has been arrested for suspected drug trafficking, the latest example of official corruption and involvement in the narcotics trade catalogued by InSight Crime.
An Argentine investigator has revealed that, before he died of a suspicious gunshot wound to the head, crusading prosecutor Alberto Nisman made a call to the phone owned by ex-spy-chief Antonio Stiuso, who has disappeared despite calls from legislators to testify.
Image:Washington Post video, screengrab