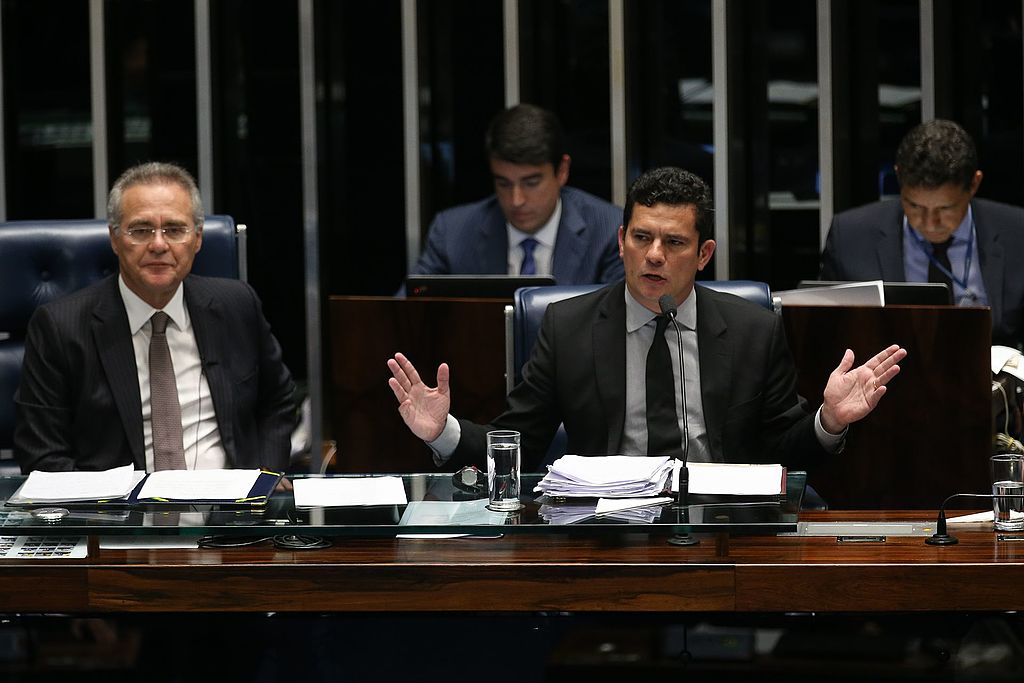 Justice Minister Sergio Moro (right), accused of overstepping his duties as a judge during the case against former president Luíz Inácio 'Lula' da Silva, at a hearing held at the Brazilian Senate in 2016 when he was a federal judge. (Photo by Agência Brasil via Wikimedia Commons).
Leaks Reveal Politicized Prosecution Against Lula, PT In Brazil
June 11, 2019
By Staff
TODAY IN LATIN AMERICA
BRAZIL: Leaked text messages published by The Intercept show how prosecutors investigating the Lava Jato ('Operation Car Wash') scandal attempted to prevent former President Luiz Inácio 'Lula' da Silva and the Partido dos Trabalhadores (PT) party from winning the Brazilian elections in 2018. Using a vast trove of materials provided by an anonymous source, the online publication shows how the current Minister of Justice Sergio Moro and other federal judges corresponded via Telegram, an encrypted messaging platform, where Moro allegedly guided the focus, pace, and sequence of the investigation that jailed hundreds of politicians and businessmen in Brazil.
Yesterday, Moro said he "does not see" any wrongdoing in the content of the leaked texts. For Moro, the illegality lies in the "invasion of privacy" used to hack into the prosecutors' messages. Former President Luiz Inácio Lula da Silva, who was poised to win in the 2018 elections, was given a 9-year prison sentence by Moro, who ruled that the former president had taken bribes from oil giant Petrobras. The Brazilian Bar Association has demanded that Moro and the implicated judges resign, alleging judicial overreach.
Headlines from the western hemisphere
NORTH AMERICA
UNITED STATES: Yesterday, the U.S. Supreme Court rejected a challenge to indefinitely detain prisoners without trial at Guantánamo Bay military prison in Cuba. Detainee Moath Hamza Ahmed Al-Alwi, a Yemeni man who was captured in Pakistan, said that he is effectively "consigned to life in prison" ever since his arrival to Guantánamo Bay in 2002. Although Al-Alwi's appeal was denied, Justice Stephen J. Breyer said his case "raises questions" regarding the nature of the American legal system "on autopilot" at Guantánamo.
MEXICO: Following the death of a 10-year-old Guatemalan girl, a Mexican court has ruled against the detention of migrants at a facility in Mexico City. The ruling demands that unaccompanied minors should be identified appropriately upon arrival, as well as receiving legal representation for their asylum applications. On May 13, the Guatemalan minor was transported from a detention facility in Chihuahua with her mother, where she would die the following day.
CARIBBEAN
ST. VINCENT AND THE GRENADINES: Over the weekend, the twin-island nation broke a diplomatic record at the United Nations, becoming the smallest country to hold a seat in the Security Council. Every five years, new members are elected into the Security Council, with five seats rotating among U.N. member states and the remaining ten being permanent. After securing 185 votes over El Salvador's 6, St. Vincent and the Grenadines were elected as the delegation representing Latin America and the Caribbean for a two-year term that begins on Jan. 1, 2020. Estonia, Niger, Vietnam, and Tunisia were also admitted as part of the 2019 cohort.
HAITI: On the second day of a nationwide anti-corruption protest, Haiti remains at a standstill as demonstrators clashed with police and built roadblocks throughout Port-au-Prince. Two deaths and several injuries have been reported. The protesters demand the ouster of President Jovenel Moïse and further investigation into government funds from subsidized oil shipments from Venezuela's PetroCaribe program. Schools and businesses remained closed yesterday.
CENTRAL AMERICA
NICARAGUA: The Nicaraguan government has released 50 more political prisoners after Congress approved the amnesty bill over the weekend. Prisoners released yesterday morning included journalists, students, and trade unionists from all across Nicaragua, who according to the government had committed crimes "against public safety." Before the liberation of these fifty Nicaraguans yesterday, the Committee to Free Political Prisoners said that 105 people were still imprisoned by the regime at the start of June. Peace talks between the opposition and Daniel Ortega's government remain stalled.
COSTA RICA: President Carlos Alvarado enacted a decree on Saturday, aimed at protecting Costa Rica's coral reefs. The law, signed on the occasion of World Oceans Day, promotes the restoration and conservation of maritime wildlife and establishes guidelines to recover existing coral reefs. Over 90% of the country's 970 km of coral reefs on both coasts are being threatened by human activity and climate change according to Costa Rican environmental agencies.
ANDES
VENEZUELA: Diplomatic tensions with Canada have led the Venezuelan government to temporarily close its consulates in Vancouver, Toronto, and Montréal. The Venezuelan embassy in the Canadian capital, Ottawa, will handle all consular services until relations normalize. The decision comes a week after Canadian Foreign Minister Chrysita Freeland announced that the North American country would suspend the services at its embassy in Caracas, following the rejection of diplomatic visas for Canadian delegates.
PERU: Peruvian officials have declared a health emergency over Guillain-Barré syndrome (SGB) outbreak. The Ministry of Health has announced that 151 cases of the auto-immune disorder, which mainly attacks the central nervous system, have been detected in the country. SGB takes from two to four weeks to develop, also affecting the respiratory system, with a recovery that may take up to six months. Following the emergency declaration, patients experiencing symptoms who are not enrolled in any health insurance will be able to receive free medical attention.
SOUTHERN CONE
ARGENTINA: Yesterday, President Mauricio Macri hosted his Colombian counterpart Iván Duque in Buenos Aires. In a joint statement given at the Casa Rosada, Argentina's presidential palace, the right-wing presidents coincided that "democracy must be restored" in Venezuela. Duque also expressed his support for Macri's reelection in October, when the incumbent will seek a second term, calling his victory "vital for Latin America."