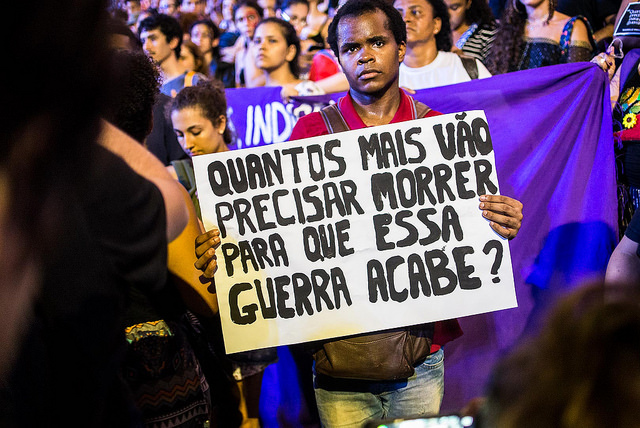 Protestor holds sign at public vigil for Marielle Franco, Photo: Bernardo G., via Flickr 
Warrants Served on Eve of 9-Month Anniversary of Marielle's Murder
December 14, 2018
By Staff
TODAY IN LATIN AMERICA
BRAZIL: Police served arrest, search, and seizure warrants yesterday related to the assassination of Rio de Janeiro Councilwoman Marielle Franco, who was shot dead nine months ago today, along with her driver Anderson Pedro Gomes. Details of the "extremely complex" investigation have yet to be released, but police did say the warrants cover 15 locations throughout the state of Rio, as well as a municipality in neighboring Minas Gerais.
Marielle, as Franco was commonly known, and Gomes were driving on a busy Rio thoroughfare when they were gunned down by motorcycle assassins, in what all evidence suggests was a coordinated hit. In an editorial published yesterday, Marielle's sister Anielle Silva called her shooting a "political killing," related to Marielle's activism around LGBT issues, corruption, inequality, racism, and police brutality. Supporters and human rights groups suspect police officers and hostile political interests were involved in the plot, though authorities have attempted to shift blame to urban "militias." At least one testifying witness has accused a city councilor and jailed former police official of planning the assassination.
HEADLINES FROM THE WESTERN HEMISPHERE
NORTH AMERICA
MEXICO: President Andrés Manuel López Obrador said yesterday he would not give up his salary, because his family depends on the income. The announcement comes amid a fight over AMLO's campaign promise to reduce the salaries of high government officials, while raising the salaries of low-ranking employees. The incoming secretary of the interior said Wednesday that she would donate her federal salary to a home for children with disabilities.
UNITED STATES/MEXICO: In a tweet yesterday, President Donald Trump argued that Mexico would still be paying for a border wall constructed with U.S. tax dollars, once savings from a renegotiated NAFTA trade agreement have been factored in. AMLO told reporters yesterday that he and President Trump, who has threatened to shut down the U.S. government over border security funding, never discussed the wall in their phone call earlier this week. Trump campaigned on a promise to force Mexico to finance the project.
CARIBBEAN
TRINIDAD AND TOBAGO: Authorities say they will not allow a weekend-long "sex island" party slated to start today on yachts and an undisclosed private location off the coast. British organizers of the controversial event, now in its second iteration, advertise unlimited sex and extravagant substance consumption to paying male tourists. Police Commissioner Gary Griffith said police, immigration, and coast guard officials will be on high alert, warning that human trafficking is a serious crime.
CENTRAL AMERICA
HONDURAS: After irregular charges that accumulated over six months, the National Electrical Energy Company of Honduras will return nearly $5 million to some 60,000 users, Honduran President Juan Orlando Hernández announced yesterday. Problems like excessive collections, bad billing, and erroneous averages attributed to a change in meters will be reversed, Hernández said. In turn, these charges will be reflected as credits in the December invoice of affected users. In average, each user will receive roughly $75.
ANDES
VENEZUELA: El Nacional, Venezuela's last nationally circulated, opposition newspaper, announced yesterday that it will stop publishing its print edition, with Friday marking its last printing. President and CEO Miguel Otero cited government pressure and paper shortages as the reason for the closure, saying, "We've endured longer than the others, but in the end we could not persist."
COLOMBIA: The full chamber of the Supreme Court of Justice voted to appoint Leonardo Espinosa Quintero as the new ad-hoc prosecutor for investigations related to the Odebrecht corruption scandal, choosing him over a shortlist of three candidates. The appointment comes amid increased scrutiny over Attorney General Néstor Humberto Martínez's ties to Grupo Aval, Colombia's largest banking group, which partnered with the Brazilian construction giant on a major infrastructure project. Martínez previously represented Grupo Aval but did not recuse himself until evidence emerged last month indicating he knew about the bribery of public officials.
SOUTHERN CONE
ARGENTINA: The International Monetary Fund announced yesterday that its executive board would meet in December for a second review of Argentina's three-year, $56 billion financing deal. While the IMF had certified Argentina to receive an additional $7.6 billion last month, following the passage of a controversial austerity budget, the executive board's final approval is still required. The IMF also announced yesterday that it is reviewing economic data from Venezuela, after the body officially censured the country last May for refusing to turn over information.