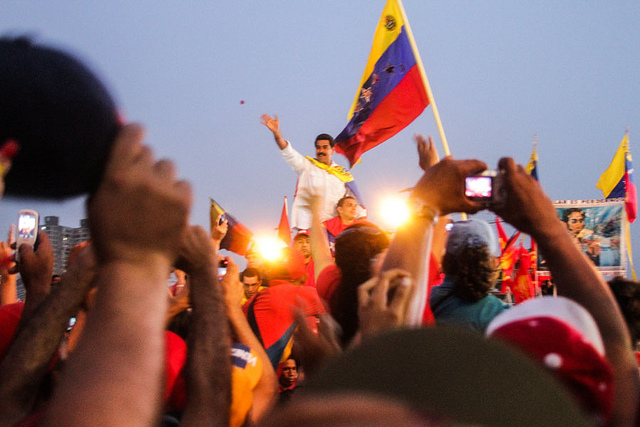 Venezuelan President Nicolás Maduro, shown here in 2013, was inaugurated for his second six-year term yesterday. (Photo courtesy of Joka Madruga via Flickr)
Venezuela's Maduro Begins 2nd Term Amid Widespread Criticism
January 11, 2019
By Staff
TODAY IN LATIN AMERICA
VENEZUELA: President Nicolás Maduro began his second term as president yesterday in an inauguration ceremony that was widely criticized by other nations. The governments of Paraguay and Peru announced they will withdraw diplomats to Venezuela. The two nations were also among eight countries that presented a resolution not to recognize Maduro's presidency in the Organization of American States (OAS). The measure passed. United States Secretary of State Mike Pompeo pledged that his country would continue putting pressure on Maduro to move Venezuela toward democracy. U.S. banks are prohibited from financial dealings with Venezuela, and Pompeo earlier this week announced sanctions on a media mogul with political connections.
Leftists in Brazil are debating how to respond to Maduro, who has received heavy criticism from their own president, Jair Bolsonaro. The head of the leftist Worker's Party, Senator Gleisi Hoffman, attended the inauguration, frustrating some members of the Brazilian opposition. Bolivian President Evo Morales and Cuban President Miguel Díaz-Canel were also present at the event. Morales' opponents in the 2019 presidential race brought Venezuela into national politics, denouncing Morales' support for Maduro.
Maduro's second term is contentious because the last election excluded some candidates, and it was boycotted by others. Venezuelans are suffering from a worsening economic crisis that has caused more than 2 million people to flee the country.
HEADLINES FROM THE WESTERN HEMISPHERE
NORTH AMERICA
MEXICO/UNITED STATES: The bodies of 21 men were found among several burned-out vehicles in the northern Mexican state of Tamaulipas, which borders the United States. The men were killed in an apparent drug gang feud. Just 50 miles away, President Donald Trump was visiting the U.S. border town of McAllen, Texas. Speaking at a press conference about border security, Trump was flanked by bags of drugs and cash seized at the border. As the government shutdown continues over disagreement about funding the border wall, Trump reiterated his pledge to build a "powerful steel barrier."
MEXICO: Testimony at the trial for Joaquín "El Chapo" Guzmán on Wednesday revealed that he spied on his wife and mistresses using an encrypted communications system, even as he relied on the women in his life to help with his business. Private text messages between Guzmán and his wife, Emma Coronel Aispuro, obtained by the FBI and presented at the trial, show the couple discussing everything from the cuteness of their twin baby daughters to whether Guzmán's soldiers survived a gunfight.
MEXICO: Fishermen on several small boats attacked an environmental group's boat in Mexico's Gulf of California Wednesday. The fishermen threw lead weights at the boat and attempted to pour gasoline on the vessel and the water around it, according to Sea Shepherd, the environmental group that owns the boat. Some fishermen also threw a net at the boat's propellers and then boarded it, stealing items. Sea Shepherd patrols the waters in the gulf looking for illegal nets used to catch the totoaba fish. The nets, however, have also threatened the vaquita, a small and endangered porpoise.
CENTRAL AMERICA
GUATEMALA: The Guatemalan Conference of Bishops condemned the political crisis in the country, alleging that the rule of law is endangered. This adds the Catholic Church to a list of groups that have condemned President Jimmy Morales' decision to unilaterally terminate the mandate for CICIG, a unique U.N.-backed anti-graft body. American legislators and human rights organizations have denounced Guatemala's "worrying lack of willingness" to fight for transparency and justice.
CARIBBEAN
CUBA: Although still divisive, a new poll suggests that support for the embargo has risen among Cuban Americans in Florida. The telephone survey administered by Florida International University (FIU) to 1,001 randomly selected Cuban-Americans residing in the Miami-Dade County states that 45 percent support the embargo, while 44 percent oppose it. First conducted in 1991, the 2018 FIU Cuba Poll finds a retrenchment of hardline views of foreign policy towards the island, rising by 10 percent compared to the 2016 results.
PUERTO RICO: Kevin Fret, an openly gay trap artist and advocate for the LGBTQ community on the island, was murdered yesterday morning in San Juan. Fret, 24, was shot on his motorcycle in the Santurce neighborhood around 5:30 a.m. while riding his motorcycle. Puerto Rico has experienced a wave of violence, with Fret becoming the 22nd homicide of 2019, according to police authorities.  
ANDES
COLOMBIA: Six community leaders have been killed in Colombia since 2019 began less than two weeks ago.  Each of these individuals lived in rural areas where armed groups are still fighting, according to the Colombian news outlet La Silla Vacía. Three worked at the local level carrying out aspects of the peace agreement with the Revolutionary Armed Forces of Colombia-People's Army (FARC-EP). Since that accord was signed in 2016, armed groups have moved into territories the FARC-EP used to control, bringing violence. The NGO Frontline Defenders reported that last year more human rights defenders were murdered in Colombia than in any other country. The six people that have already died this year do not include a man who was killed in the last hours of Dec. 31, 2018.
SOUTHERN CONE
CHILE: Interior Minister Andrés Chadwick met with farmer organizations and violence victims about security this week in the Araucánia region. Some farmers' groups have asked the government to use "all constitutional means to restore the rule of law." Protesters have called for Chadwick's resignation and the end to militarization in the region, in particular to the Jungle Commando police force. A member of that unit shot a 24-year-old Mapuche man named Camilo Catrillanca in November.  Chadwick is not visiting Mapuche communities, though El Mostrador reported the agenda may include meetings with the Association of Mapuche Mayors. Leaders from the indigenous group called Chadwick's presence "a symbol of state terrorism and an open provocation."