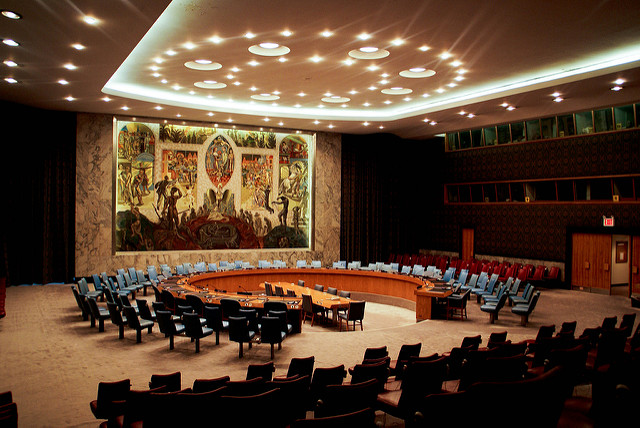 UN Security Council Rejects Venezuela Resolutions from US and Russia
March 1, 2019
By Staff
TODAY IN LATIN AMERICA
VENEZUELA: The U.N. Security Council rejected separate resolutions on Venezuela proposed by the United States and Russia yesterday. China and Russia vetoed the U.S. proposal to establish new presidential elections. The U.S. draft in support of self-declared interim president Juan Guaidó called for "the peaceful restoration of democracy," while Russia's draft supported Venezuela President Nicolás Maduro, emphasizing the Venezuelan government's right to accept or refuse international aid. The U.S. draft resolution garnered the minimum nine votes and the Russian draft only received four votes.
Meanwhile, Guaidó announced his plans to return to Caracas, despite threats awaiting him and his family in Venezuela. After receiving a pledge of support from Brazil's right-wing president Jair Bolsonaro this week, the head of Venezuela's congress will travel to Paraguay today and meet with President Mario Abdo.
HEADLINES FROM THE WESTERN HEMISPHERE
NORTH AMERICA
UNITED STATES: The Department of Homeland Security announced the decision yesterday to extend temporary protected status (TPS) for U.S. residents from Sudan, El Salvador, Nicaragua and Haiti. The extension of the program protecting migrants fleeing natural and man-made disasters comes after a California judge blocked termination of TPS for the affected countries this past fall. House Democrats are expected to reintroduce a Dream Act next month that will include protection of TPS  for recipients from all countries within the program. TPS for Sudan, El Salvador, Nicaragua and Haiti is now set to expire on Jan. 2, 2020.
UNITED STATES: A group of Latino workers filed a lawsuit against ICE after agents allegedly used excessive force during a raid in a Tennessee slaughterhouse. In the lawsuit, the workers said that Homeland Security officers questioned the Latinos present while ignoring white workers during the April 2018 raid. One officer reportedly assaulted a worker, and several others allegedly shoved firearms in the workers' faces.
MEXICO: President Andrés Manuel López Obrador sought to calm demands for wage increases from union organizers yesterday. Soon after his election, AMLO increased the minimum wage to over 176 pesos, over 9 dollars, for communities along the U.S. border, causing union groups to strike for higher wages. AMLO agreed that wages should rise but contended that "we shouldn't create an atmosphere of labor instability." The president also met with businessmen this week to reassure them his policies will be "business friendly."
CARIBBEAN
PUERTO RICO: A federal board overseeing Puerto Rico's finances filed an appeal to the U.S. Supreme Court yesterday on a recent ruling that considers the appointment of board members unconstitutional.  Known as PROMESA, the board will appeal the Feb. 15 decision by the 1st Circuit U.S. Court of Appeals that states board appointees were federal officers. PROMESA argues that the board is "an entity within the government of Puerto Rico." Additionally, PROMESA expects to put a hold on a ruling that gives President Donald Trump a 90-day period to reconstitute the board. If taken up by the Supreme Court, the appeal would be heard the next term, which starts in this October and ends June 2020.  
CENTRAL AMERICA
GUATEMALA: On Wednesday, the Supreme Court of Guatemala announced that a presidential candidate under investigation will continue to have immunity from legal persecution. Former first lady Sandra Torres Casanova was under investigation for allegedly not disclosing $2.5 million in campaign finance to electoral authorities during her 2015 presidential run. Torres Casanova has called the probe a "political attack" on her candidacy.
NICARAGUA: Without the participation of President Daniel Ortega and behind closed doors, talks between the government and the opposition entered the second day. Ortega sent several military assets to represent his government yesterday, whereas the opposition, consolidated under the Civic Alliance, is made up of business leaders and civil society organizations. The government has vetoed the participation of Nicaragua's bishop Rolando Álvarez and opposes the mediation of the Organization of American States.
ANDES
PERU: A landslide caused by intense rain left two people dead in the central city of Huancavelica, bringing the total to 50 people killed by El Niño storms since September 2018. Hospitals, schools, roads and bridges are inundated and the homes of thousands of families have been damaged. The Navy and The National Institute of Civil Defense have sent equipment and machinery to Porta, the northwest port which has endured the worst flooding.
SOUTHERN CONE
ARGENTINA: Former President Carlos Menem was acquitted alongside four other former officials on charges of interfering with investigations into the 1994 bombing of a Jewish center. While Menem was cleared of charges from the 2015 trial, several of his co-defendants were convicted on charges including embezzlement and malfeasance, including former federal judge Juan José Galeano, who led the original bombing investigation.