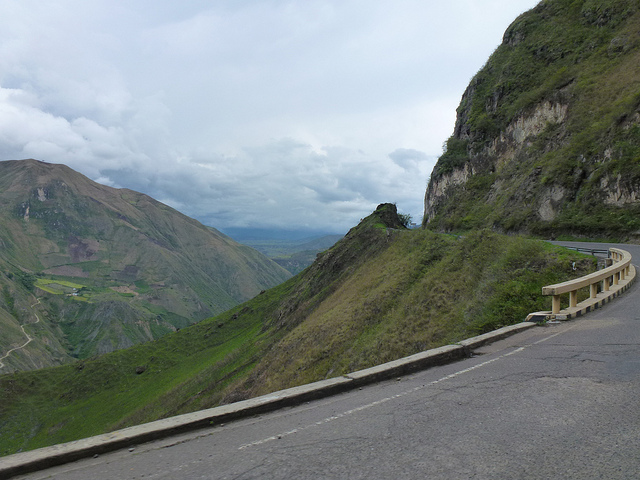 Indigenous groups in Colombia have shut down the Pan-American Highway for several days in protest. (Photo by tacowitte via Flickr)
Indigenous Communities in Colombia Shut Down Pan-American Highway
March 21, 2019
By Staff
TODAY IN LATIN AMERICA
COLOMBIA: President Iván Duque sent his interior minister to talk with a delegation from Indigenous communities after they shut down the Pan-American Highway eight days ago. The blockade of the continent's most important highway has cost millions of dollars and left one officer dead and 16 people injured in the wake of a violent crackdown. The Indigenous authorities have demanded to speak directly with Duque in an attempt to get him to comply with past agreements made between the state and Indigenous communities.
Indigenous groups in Cauca, who were wary of Duque's presidency from the outset, want to speak to the president about his administration's failure to implement policies from the peace accords. Cauca, a former stronghold of the Revolutionary Armed Forces of Colombia (FARC), has struggled in the wake of the agreement. On Tuesday, Duque claimed that the Indigenous protesters had been "infiltrated by armed groups."
HEADLINES FROM THE WESTERN HEMISPHERE
NORTH AMERICA
MEXICO: Mexico's Supreme Court ruled that government officials who use social media accounts for work cannot block citizens at will. While some officials justified the action due to their right to privacy, the court ruled that blocking people is a violation of public access to information and freedom of speech. The court voted to back Mexican journalist Miguel Ángel León Carmona, who was blocked on Twitter by the attorney general of the state of Veracruz, Jorge Winckler. A bill now establishes that the right to information should prevail over the right to privacy. Threatening the safety of a government official, however, remains grounds for blocking.
UNITED STATES: Mexico's new ambassador to the United States, Martha Bárcena, highlighted  the countries' close ties during a visit to Phoenix on Tuesday. She and Arizona Gov. Doug Ducey discussed the proposed United States-Mexico-Canada trade agreement and urged American lawmakers to approve it. The trade agreement would make some changes to the 1994 North American Free Trade Agreement. Mexico is Arizona's largest trading partner, and Canada is third after China. Although President Donald Trump and Mexican and Canadian leaders have already accepted the U.S.-Mexico-Canada agreement, it is still pending consent from legislators in each country to make it valid.
MEXICO: The internet watchdog group Citizen Lab reported yesterday that the widow of Mexican journalist Javier Valdez, well-known for reporting on drug trafficking out of Sinaloa, was targeted in an attempted spyware attack 10 days after his death. The Toronto-based group said that the attempt to spy on Griselda Triana, Valdez's widow, with Pegasus, a software licensed by the Israeli company NSO, brought the number of known cases related to spyware in Mexico up to 25. Two other attempted hacks took place the day after Valdez's murder on May 15, 2017, although it is not clear who carried them out or why.
CARIBBEAN
PUERTO RICO: An island off of Puerto Rico's coast will finally be connected to electricity, becoming the last part of the territory to reconnect to the power grid after Hurricane Maria. Generators will be turned off and the island of Culebra will be connected to Puerto Rico's power grid through an underwater cable coming from Vieques, a small neighboring island. With a population of a little over 1,800, Culebra has been relying on generators since September 2017.
HAITI: U.S. mercenaries detained in Haiti last month were allegedly hired to move $80 million for beleaguered president Jovenel Moïse. Among the detainees were two former Navy SEALs, a former Blackwater-trained contractor and two Serbian mercenaries who lived in the United States, according to The Intercept. Their mission involved accompanying a presidential aide to a bank in Port-au-Prince, where he would electronically transfer $80 million to a government fund only accessible to Moïse. The military operatives were captured on Feb. 20 driving around with high-caliber weapons during the recent anti-government protests.
CENTRAL AMERICA
GUATEMALA: Yesterday, a Guatemalan judge issued an arrest warrant for Thelma Aldana, a former attorney general and presidential candidate. Guatemala's electoral tribunal said that Aldana's enrollment in the upcoming June 16 elections is not guaranteed, meaning that Aldana will not enjoy immunity from prosecution. Charges include embezzlement, lying and tax fraud. Aldana said that President Jimmy Morales and her detractors are behind the warrant, stating that "they are afraid of my participation" because of her ongoing fight against corruption. Aldana returns to the country today after a scheduled visit to El Salvador.
ANDES
VENEZUELA: Michelle Bachelet, the United Nations' high commissioner for human rights, warned yesterday that the United States' sanctions on Venezuela could worsen the South American country's economic crisis. In attempt to encourage President Nicolás Maduro to step down, the United States has sanctioned Maduro and several others in his administration. In January, the U.S. Treasury sanctioned Venezuela's state-run oil company PDVSA. Bachelet said the latter sanctions will have "possible repercussions on people's basic rights and wellbeing."
SOUTHERN CONE
BRAZIL: Rio de Janeiro's mayor, Marcelo Crivella, came under fire after linking police to corruption during a meeting with public officials. Rio's police released a communique criticizing the "absurd statements" that offended a "legion of 45,000 military police." Crivella responded, saying that his words were taken out of context and that he referred only to a small minority. Crivella also called the tram system built for the 2016 World Olympics a "piece of junk" and the city he runs "a complete mess."
URUGUAY: Investors from Canada and United States have injected millions of dollars into the cannabis industry in an attempt to make Uruguay a hub for the export of the drug to Europe, the United States and Canada. Uruguay was the first country to legalize the marijuana trade in 2013 and is slowly on its way to becoming the first to reach $1 billion dollars in annual exports of medicinal marijuana.