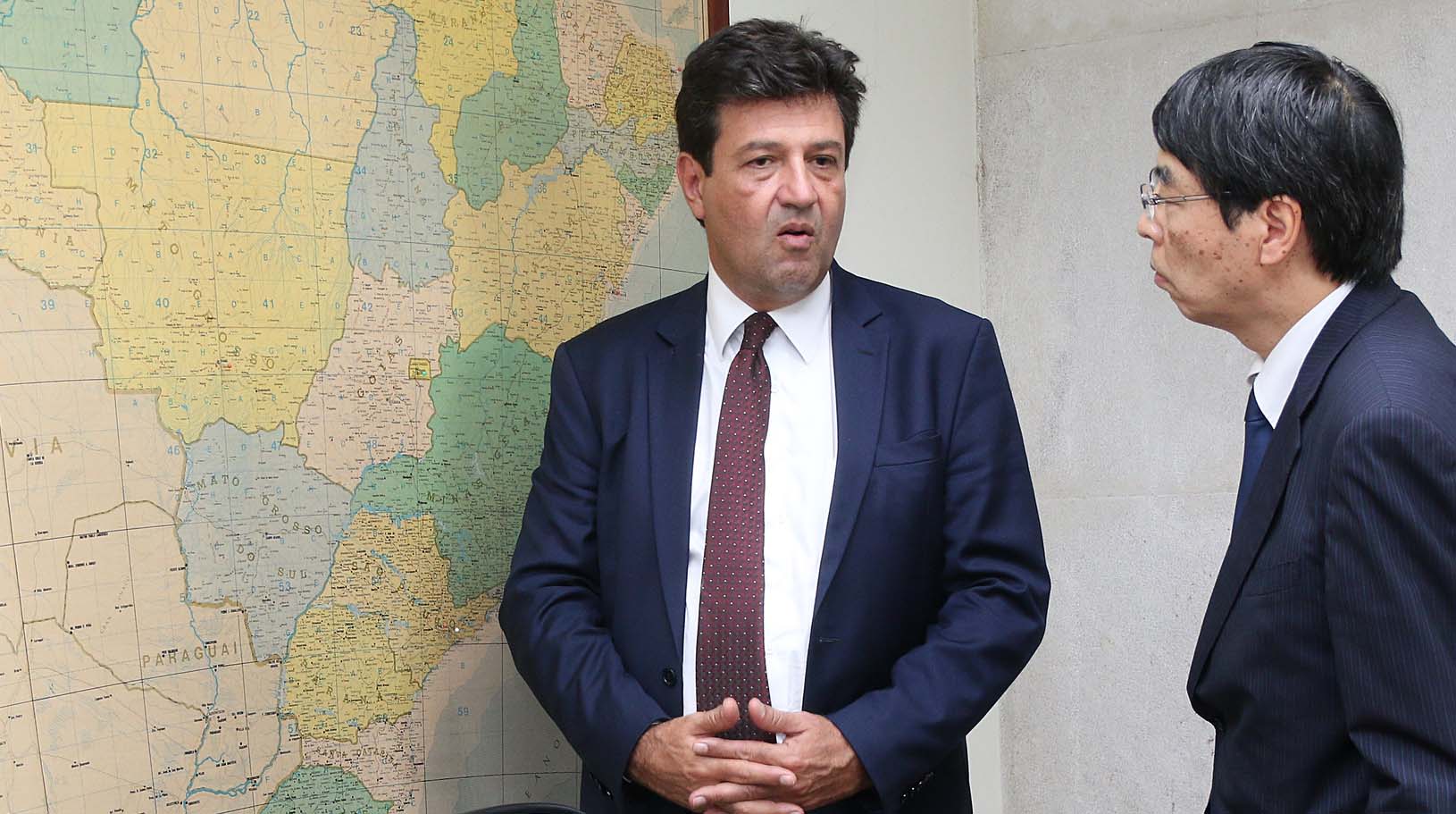 Minister of Health Luiz Henrique Mandetta was fired on Thursday after weeks of disagreements with President Jair Bolsonaro over how to handle the coronavirus. (Photo credit: Erasmo Salomão/MS)
Bolsonaro Fires Health Minister as Brazil's Death Toll Rises
April 17, 2020
By Staff
TODAY IN LATIN AMERICA
BRAZIL: President Jair Bolsonaro fired Health Minister Luiz Enrique Mandetta after weeks of disputes over the handling of the coronavirus crisis. He will be replaced by oncologist Nelson Teich. Mandetta had publicly criticized Bolsonaro's failure to abide by the health ministry's recommendations. Bolsonaro has downplayed the pandemic, defended the use of unproven drugs, and has publicly deemed social distancing measures as unwarranted and economically dangerous.

Mandetta tweeted Thursday afternoon, "I just received notice from President Jair Bolsonaro of my resignation from the Ministry of Health." Mandetta assured Brazilians he would help his replacement with the transition. Bolsonaro and Teich met Thursday morning before the decision was made public. Teich commented that he didn't promise an "abrupt decision" over social distancing guidelines.
During a televised speech, Bolsonaro said Mandetta did not fully understand the importance of saving Brazilian jobs. He said the government could not keep subsidizing emergency aid for Brazil's most economically vulnerable populations. While Mandetta's popularity soared, Bolsonaro's approval rating hit an all time low of 28%. 
Brazil is second only to the United States in novel coronavirus cases in the Americas. So far, there are over 30,000 confirmed cases and at least 1,947 COVID-19 deaths.
Headlines from the western hemisphere
SOUTHERN CONE
ARGENTINA: The government of Alberto Fernández announced its proposal to international bondholders and creditors to restructure the public debt and defer  payments. Argentina and other Latin American countries are facing budget shortfalls as they respond to the coronavirus and must continue to pay off international debts. Argentina's offer includes a 62 percent decrease ($37.9 billion) in the interest rate and a three-year grace period. Fernández said the government considers a "sustainable debt" one that doesn't forsake the necessities of Argentinians.  According to Economic Minister Martin Guzmán, "Argentina today cannot pay anything. During some years it cannot pay anything."
ANDES
COLOMBIA: Colombian engineers have been rushing to make affordable ventilators due to the shortage of devices to treat COVID-19 patients. Engineers from Bogota's Sabana University have already developed a ventilator the size of a small television that costs only $2,000. The ventilator must undergo further tests on animals and humans. At least five other local universities have been working on creating other prototypes. Three more ventilators have been created and are currently being tested to make sure they abide by national regulations. Colombia's military said it would use a factory traditionally used to make military equipment to make the emergency ventilators.
ECUADOR: The public health crisis in the province of Guayas might be worse than experts first thought.  Authorities confirmed there was a discrepancy of 5,700 deaths in the province during the first half of April. According to the army, there are around 2,000 monthly deaths in the province and  in the first two weeks of this month, there have already been 6,700 deaths. President Lenín Moreno had dispatched the army in mid-March to Guayaquil to manage the crisis.
CARIBBEAN
CUBA: Caribbean nations are asking Cuba for help as they are overwhelmed by the increasing number of coronavirus cases. The U.S. State Department calls the Cuban medical program is "exploitative" and "abusive." But the country has mobilized one of its biggest deployment of doctors in a matter of eight days, as part of its solidarity medical mission to various Caribbean nations. A group of 140 frontline workers were sent to Jamaica, and hundreds of workers were deployed to St. Lucia and Barbados. Brazil, Ecuador, and Bolivia sent thousands of Cuban doctors home after diplomatic pressure from the United States. There are over 1,000 Cuban healthcare workers now working in 18 countries on three continents since the outbreak of the coronavirus, marking a diplomatic victory for the island nation.
PUERTO RICO: Governor Wanda Vázquez ordered all contracts awarded to companies and individuals connected to the local and federal investigation of $38 million worth of COVID-19 testing kits be cancelled. The contract to buy one million testing kits from Apex General Contractors has come under intense scrutiny. The Puerto Rican government will be able to recuperate the $19 million deposit made on the order. It remains unclear as to who originally approved the cancelled purchase.
CENTRAL AMERICA
EL SALVADOR: President Nayib Bukele tweeted that he will not accept rulings from El Salvador's Supreme Court that would block him from enacting measures to contain the spread of the coronavirus. His statements come after Wednesday's unanimous rulings that the government cannot arrest people who are found to have violated the mandatory quarantine, nor can it confiscate their vehicles or property. The court ruled these measures would be violations of the constitution. Authorities have arrested 2,073 people accused of violating the home quarantine order, and human rights groups have criticized Bukele's administration of abuse of authority, calling the arrests arbitrary. 
GUATEMALA:  Health Minister Hugo Monroy says that deportations from the U.S. are spreading the coronvirus to Guatemala. During a congressional hearing, Monroy said that 75 percent of the deportees arriving on one flight in March tested positive for the virus, but he did not specify which flight. He said that at least half of the 200 cases in the country came from migrants deported from the U.S. It is unclear why Monroy's statements conflict with the official number of deportees with COVID-19, which the Foreign Ministry has said are only four.

HONDURAS: A 6.3 magnitude earthquake hit Honduras on Thursday, but there were no immediate reports of fatalities or damage. The quake's epicenter was off the Northern coast of the country, but shakes were registered as far as southern Mexico. There have been no warnings for tsunamis
NORTH AMERICA
MEXICO: In at least 15 states, health care workers say they may strike due to the lack of adequate personal protective equipment for COVID-19. Mexican Social Security Institute (IMSS) hospital employees have given Zoé Robledo, the director of the IMSS, a week to respond to the union's demands. If the strike doesn't get health workers the equipment they need, then the union will also consider legal action. "We are going to proceed criminally against [director] Zoé Robledo because of the enormous number of doctors and nurses in the country who are getting coronavirus due to the lack of equipment to protect them while doing their work," said Armando Rosales Torres, a neurosurgeon and leader of the union. 
MEXICO: Businesses that refuse to comply with coronavirus closure orders will be shut down, according to deputy health minister Hugo López-Gatell. At least 15 percent of businesses throughout the country continue to operate as usual. Of the 15 percent of companies that have refused to shut, 26 percent are in the automotive sector, 21 percent sell or distribute nonessential products, 18 percent are in the textile industry and 9 percent are in the lumber industry, López-Gatell said.