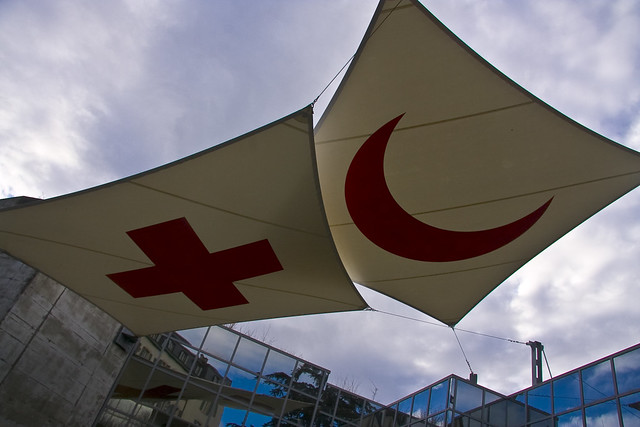 The International Committee of the Red Cross secured access to Venezuela's prisons yesterday. (Photo courtesy of Michael Dawes via Flickr)
Red Cross Secures Access to Venezuelan Prisons
April 11, 2019
By Staff
TODAY IN LATIN AMERICA
VENEZUELA: The International Committee of the Red Cross secured access to Venezuela's prisons and permission to send humanitarian aid to the deeply divided country on Wednesday. Red Cross President Peter Maurer completed a five-day visit to Venezuela yesterday and met directly with Venezuelan President Nicolás Maduro Tuesday night. Maduro's willingness to accept aid is a sign of hope for the country devastated by sanctions and energy blackouts.
Maduro granted the Red Cross access to Venezuela's detention facilities, including military centers like the Ramo Verde military prison where dozens of political prisoners and military personnel accused of attempting to overthrow Maduro are being held. Venezuela had banned the Red Cross and other international organizations from visiting prisons in 2012.
HEADLINES FROM THE WESTERN HEMISPHERE
NORTH AMERICA
UNITED STATES: The White House filed a one-sentence appeal with the 9th U.S. Circuit Court of Appeals yesterday to refute a judge's decision to block the Trump administration from returning asylum seekers to Mexico while they await a court date. Judge Richard Seeborg gave the Trump administration until the end of this week to file a stay of his Monday ruling to halt the new asylum practice while the lawsuit proceeds, as requested by civil liberties groups. Seeborg stated that the administration's policy violated U.S. law by overlooking the dangers migrants are exposed to in Mexico.
MEXICO: Thirteen Indigenous inmates have been on a hunger strike for 26 days in three Chiapas detention centers. They have been detained for over a decade on confessions made under torture and are requesting to be immediately released with unconditional freedom. "The strike does not only represent them, but all Indigenous people who have been unjustly locked up," the families of the inmates said in a interview with Animal Político.
MEXICO: Yesterday marked the 100th anniversary of the assassination of Emiliano Zapata, a hero of the Mexican Revolution who was murdered by government soldiers. Zapata was known for leading the peasant revolution in the state of Morelos and inspired the Zapatista movement of Chiapas. Speaking at a commemoration ceremony, Mexican President Andrés Manuel López Obrador, who has said many times that he identifies with Zapata, said that it is vital to "understand the importance that the land holds for the rural people of the south." AMLO has also declared 2019 as the year of Zapata.
CARIBBEAN
CUBA: In his first speech in three months, Raúl Castro warned Cubans to brace for shortages due to U.S. policies in Venezuela. Goods such as flour, cooking oil and eggs are expected to be scarce around the island, largely due to a lack of hard currency. Castro accused the United States of "blackmail" over Venezuela and stated that Cuba would "never abandon" its South American allies.
HAITI: Haitian government officials are trying to extend the application deadline for a $229 million loan granted by the International Monetary Fund (IMF). After meeting with IMF representatives in Washington, D.C. on Tuesday, the Governor of the Bank of Haiti, Jean Baden Dubois, and other members of the Haitian government were able to delay ratification until June. The initial deadline to submit the three-year, 0 percent interest loan was set for April 24.  
CENTRAL AMERICA
NICARAGUA: Pope Francis has called Nicaragua's bishop to Rome as threats against him increase. Managua's auxiliary bishop, Monsignor Silvio Báez Ortega, departed for Italy yesterday after being summoned by the Pope. Monsignor Báez has been an outspoken critic of Daniel Ortega's regime, calling for all political prisoners to be released on multiple occasions.
ANDES
BOLIVIA: President Evo Morales concluded his first visit to Turkey on Tuesday, eyeing stronger diplomatic and economic ties with the Middle Eastern nation. Turkish Airlines hopes to begin operating direct flights to Bolivia in 2020 to encourage travel and business between the two countries. Bolivia also plans to accelerate the opening of an embassy in Ankara. Morales expressed desires for increased military cooperation to combat smuggling. He also took advantage of the international visit to criticize U.S. President Donald Trump's approach to the crisis in Venezuela and U.S. support of Venezuelan opposition leader Juan Guaidó, saying, "appointing presidents today was like the appointment of governors during the colonization era." Turkish Prime Minister Recep Tayyip Erdoğan praised Bolivian foreign policy, especially regarding Palestine and the Golan Heights.
SOUTHERN CONE
BRAZIL: Energy Minister Bento Albuquerque announced Tuesday that the Brazilian government will pay the Petrobras oil giant $6 billion to open deep-water oil drilling to international oil companies. The settlement ended years of negotiations and freed the last obstacle for an Oct. 28 auction of a massive deep-water oil reserve. The October auction of the crude oil reserve is expected to raise as much as $26 billion, filling a massive budget deficit in the midst of an economic recession. The settlement comes as a major win for President Jair Bolsonaro's government, succeeding where his two predecessors had failed.
ARGENTINA: The Grandmothers of the Plaza de Mayo, a human rights organization dedicated to locating and reuniting the families of the children who disappeared during the Argentine dictatorship, told press that they found "granddaughter 129" on Tuesday. The DNA of a 42-year-old woman in Spain was a match to Carlos Alberto Solsona whose wife gave birth to a child in a military dungeon during the country's military dictatorship in 1977. Solsona never met his daughter and does not want to rush a reunion for fear of "hurting her." Granddaughter 129 is one of over 500 children born in military dungeons decades ago. According to the organization, these babies were generally separated from their parents and given to military families.