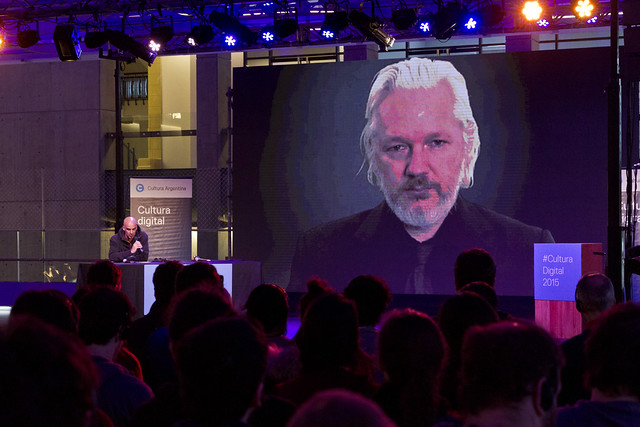 Assange at a conference in 2015. (Photo courtesy of Romina Santarelli via Flickr)
After Assange Arrest in London, Ecuador's Moreno Calls Him a 'Spoiled Brat'
April 12, 2019
By Staff
TODAY IN LATIN AMERICA
ECUADOR: Yesterday morning, Ecuador allowed police to arrest Wikileaks founder Julian Assange in its embassy in London after years of tense relations between the government and the computer programmer. Foreign minister José Valencia presented nine reasons to the Ecuadorian parliament yesterday on why Assange's asylum was revoked. The list included Assange's alleged interference with Ecuador's foreign relations and mistreating embassy staff.
In an address yesterday, President Lenín Moreno accused Assange of violating the terms of his asylum. He described Assange as a "spoiled brat" hours after Britain law officials forcibly removed Assange from the embassy. In 2012, Assange moved into the Ecuadorian embassy after former leftist President Rafael Correa gave his support to the hacker's publishing of confidential U.S. documents on WikiLeaks.   
HEADLINES FROM THE WESTERN HEMISPHERE
NORTH AMERICA
MEXICO: Yesterday, President Andrés Manuel López Obrador (AMLO) appointed a veteran army general to lead the new and contentious National Guard. Brig. Gen. Luis Rodríguez Bucio will lead the security force tasked with curbing gang violence. The new force, composed of members of the military and federal police, has received heavy criticism due to its ties to the military. Rodríguez Bucio said he is in the process of retiring from the armed forces and will start his new post immediately.
MEXICO: On Wednesday, President Andrés Manuel López Obrador (AMLO) said his administration's efforts to eliminate fuel theft have been successful. While the daily loss of gasoline was averaging 81,000 barrels as recently as November, official figures suggest that the new average is down to 5,000 barrels per day in the first week of April. AMLO said the numbers serve as proof his government's anti-corruption stance. Fuel theft has been prominent in Mexico in recent years with thieves extracting gasoline by illegally tapping pipelines.
BORDER: In a brief to the Supreme Court filed yesterday, the Trump administration argued that that the families of Mexican teenagers shot and killed by border agents should not be allowed to sue for damages in U.S. courts. The administration suggested the justices take up the case and rule in favor of two border agents who killed two teenagers when they fired their guns across the U.S.-Mexico border in two separate incidents. One incident took place between El Paso, Texas, and Ciudad Juarez, Mexico, and the other near Nogales, Arizona. The incident near Nogales resulted in the agent shooting a 16-year-old in Mexico 10 times. Both Border Patrol agents justified the shootings, stating that they were being attacked by people throwing rocks from Mexico's side of the border.
CARIBBEAN
DOMINICAN REPUBLIC: A New York couple who was missing for two weeks in the Dominican Republic have been presumed dead from a car accident, according to authorities. Two unidentified bodies were found in Santo Domingo matching the description of Portia Ravenelle and Orlando Moore and were sent for post-mortem tests to confirm their identities. The couple is believed to have crashed their rental car on March 27 on their way to the Santo Domingo airport and plunged into the Caribbean Sea. A woman, who was later identified as Ravanelle, was found on the day of the accident and taken to the hospital for intensive care where she died six days later.
CENTRAL AMERICA
HONDURAS: On Wednesday, a new caravan of hundreds of Hondurans gathered in the city of San Pedro Sula and set out for the United States. According to Honduran immigration officials, over a 1,000 people are part of this caravan. Guatemalan President Jimmy Morales said he would confront the caravans through legal means. They come at a time where the U.S. immigration system and its border facilities have been reported to be overwhelmed with the record levels of immigration, leaving the system unable to provide basic humanitarian relief or control the flow.
EL SALVADOR: California Gov. Gavin Newsom and El Salvador President-elect Nayib Bukele agreed on Tuesday to work together to expand surfing in El Salvador to boost tourism and economic opportunities. Bukele created an initiative called "Surf City" to encourage investing in beaches across El Salvador to increase tourism. California's tourism organization Visit California is interested in working with El Salvador to this effect. Newsom encouraged California businesses to invest in the country and spoke about having Salvadoran business leaders come to California for a visit.
ANDES
BOLIVIA: A new census in Bolivia is attempting to collect information on the prison population of the country. According to Bolivian Minister of Justice Héctor Acre, one of the main goals of the census is to determine how many people are currently unjustly detained in prisons. Some of the 12 institutions involved in creating the census are the Ministry of Justice and Government, the Public Ministry and the University System. Inmates will be asked to answer a survey composed of 83 questions, which will be proctored by university students. Approximately 18,000 inmates are currently in prisons all over the country.
SOUTHERN CONE
ARGENTINA: Yesterday, the International Monetary Fund (IMF) encouraged presidential candidates in Argentina to continue supporting an IMF-supported economic program after elections in October. Amid the country's recent economic difficulties, including the devaluation of the Argentine peso, Argentina was compelled to seek a record financing deal with IMF. Some Argentines blame policies introduced by IMF for the country's disastrous economic crisis of 2001. Managing Director of IMF Christine Lagarde said it "would be foolish" to abandon the $56 billion program because of the protections it provides for those in poverty.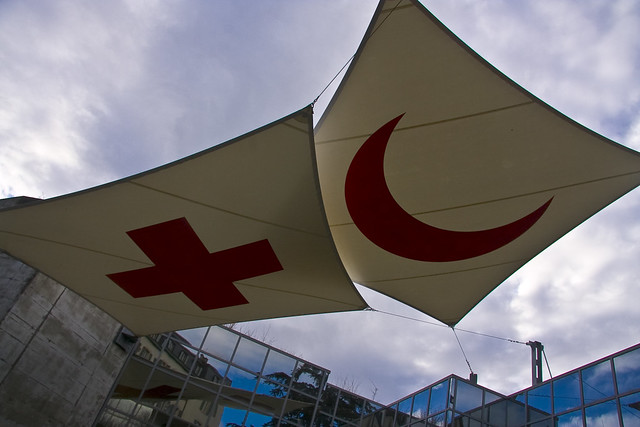 April 11, 2019
> Staff