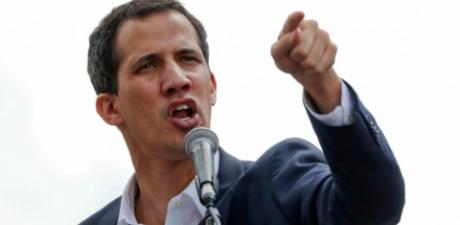 Juan Guaidó, shown in 2019. (Photo by HazteOir.org via Flickr)
Quechua Translation: 4 Killed, Hundreds Injured in Venezuelan Border Clashes
RUNASIMIPI: Quechua, an Andean language, is the most commonly spoken Indigenous language in the Americas, with thousands of speakers. Quechua is not actually called "Quechua" by speakers of the language. They call it "Runasimi" — which means "idoma de la gente" or "language of the people."
The news below was translated from Spanish and English into Quechua by Jacquelyn Kovarik. She translated it for the capstone for her independent study project with Dr. Odi Gonzales, the director of the NYU Quechua Language Studies program while completing her dual Masters in Journalism and Latin American and Caribbean Studies. Visit our Quechua page to see more translations and stories related to the Quechua language.
The news originally came out Feb. 23, 2019.
Quechua
Wañuy, muchuy ima Venezuelaq Fronterankunapi
Qayna fin de semana ñisqapi (Feb 22, 23, 24pi ima), Venezuelaq iskay fronterankunapi, Colombia, Brazilneqpi ima, askha runakuna maqanakuranku. Kinsantin p'unchaynintin, Venezuelaq ejérciton, GNB ñisqa, wesq'aran fronterakunata, mana ayuda hawamanta chayananpaq Venezuelakama. Chayrayku, Maduroq masinkuna awqanakuran chay activista ñisqakunawan. Chay violencia ñisqarayku, tawa runakuna wañupuranku Brazil fronterapi, yaqa kinsa pachaq runakunataq iskaynintin fronterapi k'irichikuranku.

Brazil suyupi, Roraima llaqtapi, Santa Elena de Uarién fronterata Maduro wesq'aqtin, iskay activistakunata wañuchiranku, iskay chunka hoqniyuqtataq k'irisqaku. Chay violencia tukuqtin, Roraimaq gobernadornin ñisqa, "kay llaqta kapun estado de emergenciapi," nispa.

Domingo p'unchaypi, oposiciónpa umalliqñin Juan Guaidó niran, "Kunanmantapacha EEUU munasqanta ruwayta atin," nispa. Vicepresidente EEUUmanta Mike Pence, Guaidó ima tuparanku Colombia suyupi lunes p'unchaypi, Feb 25pi. Maduroq masinkuna ruwaranku huk conciertota "Hands Off Venezuela" ñisqa ("Lloqsiychis Venezuelamanta", runasimipi), viernes p'unchaypi. Chay runakuna niranku, "EEUUmi huchayuq," nispa. Hinaña iskay camión mikhunantin, medicinantin ima haykuran Venezuelaman, wakin ayuda EEUUmanta Europamanta ima kashanraq hark'asqa fronterakunapi. Chayllan chay.  
English
4 killed, hundreds injured in Venezuelan border clashes
Over the weekend, border clashes between Venezuelan government forces and opposition activists resulted in four dead and hundreds injured. Starting on Friday, the Venezuelan national guard (GNB) blocked humanitarian aid from entering the country, resulting in several standoffs at the Simón Bolívar Bridge on the Colombian border. GNB fired tear gas at crowds, and 285 people were reportedly injured on Saturday.
In the northern Brazilian province of Roraima, two demonstrators were killed and 21 injured after Venezuelan President Nicolás Maduro closed the border with Brazil in an effort to prevent humanitarian aid coming from coming in the Santa Elena de Uarién port of entry, located in southeastern Venezuela. Following the conflicts, the governor of Roraima declared a "state of emergency."
Yesterday, opposition leader Juan Guaidó affirmed that "all options" remain open in resolving the country's ongoing crisis. U.S. Vice President Mike Pence will meet with Guaidó in Colombia today. Loyalists of Maduro, who held a music festival on Friday called "Hands Off Venezuela," increased their military rhetoric and condemned an alleged military incursion perpetrated by the United States. Although two trucks entered Venezuela, most of the humanitarian aid sent by the United States and some European Union countries remains stockpiled in warehouses at the borders with Colombia and Brazil.
Español
4 muertos, cientos de heridos en choques en las fronteras venezolanas
Durante el fin de semana (22, 23, 24 de febrero), ocurrieron choques en la frontera entre fuerzas del gobierno venezolano y activistas de la oposición en los que hubieron cuatro muertos y cientos de heridos. Empezando el viernes, las fuerzas armadas venezolanas (Guardia Nacional Bolivariana, GNB) bloquearon la frontera para que la ayuda humanitaria no entrara al país, resultando un callejón sin salida entre el puente Simón Bolívar y la frontera con Colombia. La GNB disparó gas lacrimógeno a las multitudes. 285 personas han quedado presuntamente heridas el sábado.
En la frontera norteña con Brasil, en la provincia de Roraima, dos manifestantes fueron victimados, y hubieron 21 heridos después que el presidente Nicolás Maduro cerrara la frontera con Brasil con el propósito de impedir que llegara la ayuda humanitaria que venía del puerto Santa Elena de Uarién, ubicado al sureste de Venezuela. Después de los conflictos, el gobernador de Roraima declaró un "estado de emergencia."
El líder de la oposición, Juan Guaidó afirmó que "todas las opciones" se mantienen abiertas, para resolver la crisis en curso que padece el país. El lunes 25 de febrero, el vicepresidente de EEUU Mike Pence se reunió con Guaidó en Colombia. Los partidarios de Maduro, que organizaron un festival de música el viernes 22 llamado "Hands Off Venezuela," aumentaron su retórica violentista y condenaron la incursión militar perpetrada por los EEUU. Aunque dos camiones lograron entrar a Venezuela, la mayor parte de la ayuda humanitaria enviada por los EEUU y algunos países de la UE continúa almacenada en depósitos en las fronteras con Colombia y Brasil.
Jacquelyn is currently a Foreign Language Area Studies Fellow at New York University, where she is studying Quechua and pursuing a masters degree in Latin American Studies and Journalism. Her research focuses on contemporary social change in Bolivia and Peru, with an emphasis on transitional justice and initiatives for well-being and resilience in Andean communities. In 2016 she filmed and produced a documentary about families fighting for reconciliation in a post-dictatorship Bolivian society.