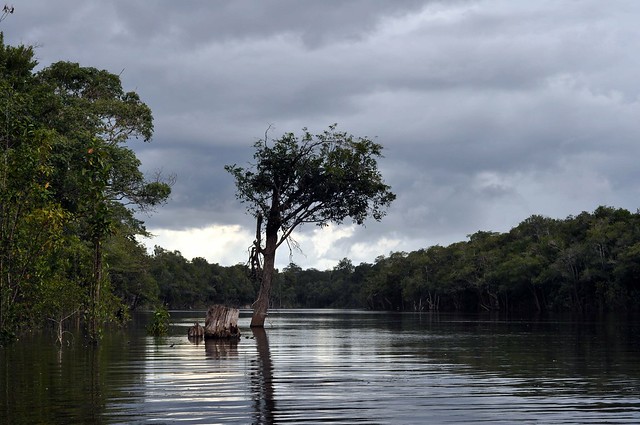 A new study shows that millions of hectares of tropical forests in Brazil's Amazon were lost in 2018. (Photo courtesy of Amauri Aguiar via Flickr)
Brazil Sees Major Rainforest Loss, Study Says
April 26, 2019
By Staff
TODAY IN LATIN AMERICA
BRAZIL: A new study shows that millions of hectares of tropical forests in Brazil's Amazon were lost in 2018. The main causes of these losses include the cultivation of beef, chocolate and palm oil. The report by Global Forest Watch said that though last year's losses were less than those of 2016 and 2017, deforestation in the region continues to trend upward, in part due to deadly forest fires and environmental policies.
Under Jair Bolsonaro's presidency, forest protection has already been weakened, which is expected to also greatly affect this year's numbers on deforestation. Colombia, Bolivia and Peru all saw increased levels of forest deforestation, according to the study.
HEADLINES FROM THE WESTERN HEMISPHERE
NORTH AMERICA
MEXICO: Mexico City lawmaker Lourdes Paz Reyes introduced a motion that would prohibit the sale of cold beers at convenience stores. Paz Reyes specifically targeted cold beverages that have an alcohol content of 7% or less. The new law would also require Mexico City's numerous mom-and-pop stores to have signs that notify customers of penalties for public drinking. New stipulations aim to eliminate "chelerías," which are known for selling liters of beer at low prices. Residents have taken to social media to ask that their beer not be prohibited, using the hashtag #ConLasCervezasNo (Not with the beers) trending on Twitter.
MEXICO: The mayor of Mixtla de Altamirano in the state of Veracruz, Maricela Vallejo, was shot dead while riding in a municipal vehicle on Wednesday night, according to Mexican authorities. The mayor's husband and their driver were also murdered when shots went through several sides of their SUV, producing at least 31 bullet casings. Records show that homicide rates have peaked in Mexico, currently up 9.6% when compared to this period, last year.
MEXICO: Yesterday, Mexico's new government committed to end the torture of detainees. A two-day review of Mexico's record regarding its compliance with an international treaty banning torture was initiated by the U.N. Committee Against Torture. In a joint statement on Wednesday, 120 activist groups commented that asphyxiation, electric shocks and sexual violence are used as torture tactics by the nation's security authorities. The groups added that out of 8,335 investigations on the torture of detainees, the federal special prosecutor's office reported it had brought charges to only 17 cases last year.
CENTRAL AMERICA
NICARAGUA: A Nicaraguan bank requested to end operations from the the country's banking regulator after the United States imposed sanctions for its alleged financial involvement with Venezuela's state-owned oil company. Bancorp filed for a "voluntary dissolution" after the Trump administration announced new sanctions against the bank on April 17. These new sanctions were added to the already existing sanctions against the bank for its ties with Venezuela. Bancorp was a subsidiary of Alba de Nicaragua, which is a joint venture between Petróleos de Venezuela, S.A. and Nicaragua's own state-controlled Petroleos de Nicaragua.
CARIBBEAN
PUERTO RICO: On Wednesday, Gov. Ricardo Rosselló delivered his third State of the Commonwealth address in the island's House of Representatives. In order to restore the island after Hurricane Maria, Rosselló presented his "Agenda for Puerto Rico" composed of five pillars: opening up the island for business, expanding innovation in the island and stopping as well as reverting the emigration of Puerto Ricans to the the mainland United States. Rosselló also criticized President Donald Trump for his administration's response to Hurricane Maria, citing the discrimination Puerto Ricans have faced by the U.S. government and the difficulty of obtaining federal funds for recovery efforts.
HAITI: On Wednesday evening, gang members shot and killed five and injured seven people in the neighborhood of Carrefour-Feuilles in the capital of Port-au-Prince. While the motive remains unknown, witnesses at the scene said that members from Tije Gang were looking for a police officer and when they did not find him, the gang members opened fire on all bystanders. No arrests have been made, and the investigation is ongoing. Prime Minister Jean-Michel Lapin has described the incident as unacceptable and has vowed to take action.
ANDES
VENEZUELA: Twenty-five Venezuelans are believed to be missing after a boat in the Caribbean heading to the island of Trinidad sank. At least nine people have been pulled out of waters alive, with some found as far as 34 miles from where the boat initially sank. Officials discovered that several people onboard were not listed as official crewmembers or passengers soon after the search party began. A similar sinking occured in January of 2018 when two dozen migrants disappeared after a Venezuelan boat sank as a result of crashing into hard rocks on the nearby coast of Curaçao.   
SOUTHERN CONE
BRAZIL: Yesterday, 150 Indigenous leaders met with lawmakers to discuss land rights and protections of the environment. The meetings come after protests led by Indigenous leaders against the policies of far-right President Jair Bolsonaro. Discussions between lawmakers and Indigenous leaders began during the second day of the Free Land Encampment, a three-day protest led annually by Indigenous groups in the capital of Brasilia. More than 1,000 Indigenous demonstrators set up camp outside the congressional building against Bolsonaro's promises to expand harmful practices of mining and industrial farming in traditionally protected Indigenous areas.