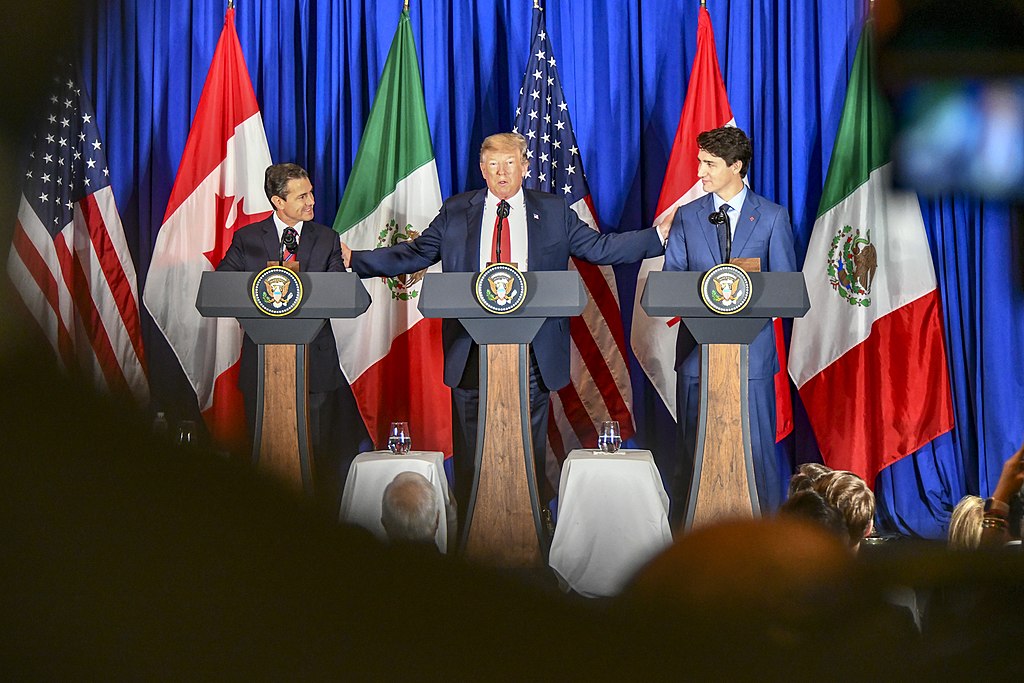 President Trump delivers remarks with Canadian President Trudeau (right) and Mexican President Enrique Peña Nieto (left) at the signing the USMCA trade agreement on the margins of the G-20 Leaders' Summit in Buenos Aires, Argentina on November 30, 2018. (State Department photo by Ron Przysucha via Wikimedia Commons).
US, Mexico Seek To Ratify Pact Amid Trade, Border Tensions
June 4, 2019
By Staff
TODAY IN LATIN AMERICA
REGION: U.S., Mexican and Canadian officials began talks towards the ratification process of the new multilateral trade pact known as the United States-Mexico-Canada Agreement (USMCA) this week. The negotiations are occurring with President Donald Trump's threat to slap a 5% tariff on all goods coming into the U.S. from Mexico, and rising numbers of migrants crossing the southern border as a backdrop. Trump said that the tariff will "gradually increase until the migration problem is remedied."
Yesterday, during a press conference in Washington, D.C., Mexican Foreign Minister Marcelo Ebrard said that "punitive actions alone will not work" in decreasing migration from Central America. In an act of defiance, Congressional Republicans have begun discussing the possibility of blocking Trump's proposed tariffs on Mexico.
Headlines from the western hemisphere
NORTH AMERICA
BORDER: A federal judge has denied the House Democrats' petition to block the construction of a segment of the border wall. Following a three-hour hearing earlier this month, Judge Trevor McFadden, appointed by the Trump administration, said yesterday that the court "declines to take sides between the House of Representatives and the President." The lawsuit asked the court to stop the reprogramming $2.5 billion set to be given to counter-drug initiatives at the Department of Defense, $600 million from the Treasury Forfeiture Fund, and $3.6 billion in military construction funds to build the border wall.
MEXICO: Around twenty thousand members of the National Movement of Taxi Drivers (MNT) congregated in major thoroughfares of the city yesterday, calling for the ban of apps like Uber, Cabify, and Didi. Taxi drivers argue that they are expected to invest 40 thousand pesos (US$2,000) in their vehicle that ride-share drivers are exempted from paying by lack of regulation. Claudia Sheinbaum, Mayor of Mexico City, said that the city has "an open dialogue" with the taxi drivers, who have "some legitimate concerns."
MEXICO: President Andrés Manuel López Obrador's party, the leftist National Regeneration Movement (Morena), consolidated its power after unseating two conservative governors in local elections held over the weekend. Voters in Baja California elected Jaime Bonilla as their next governor, ending a 30-year rule by the National Action Party (PAN) in the northern state. Pueblans voted for Luis Miguel Barbosa to assume the role of governor, who also defeated a PAN candidate. Morena now has seven governorships out of Mexico's 31 states and legislative majorities in 23.
CARIBBEAN
PUERTO RICO: Affidavits released yesterday by the Federal Bureau of Investigation (FBI) accused an American company of pocketing aid money destined to the island after Hurricane Maria. An FBI criminal investigation into Textile Corporation of America (TCA) found that the Tennessee-based company fabricated financial documents and wire transfers in order to receive more than a million dollars intended for contracting services in Puerto Rico. The Oct. 2018 and Feb. 2019 affidavits sought to seize the embezzled money TCA's owners. No criminal charges have been filed yet, according to The Daily Beast.
CENTRAL AMERICA
HONDURAS: Despite the cancellation of laws that health and education workers feared would lead to layoffs, anti-government protests in Honduras continued yesterday, reaching their fifth consecutive day. A military official said that protesters "looted and burned" around 62 shipping containers carrying fruit over the weekend. The containers are said to belong to Dole Fruit Company, who have estimated to have lost 38 million lempiras (approximately US$1.2 million), according to a company spokesperson. More nationwide protests are expected today.
ANDES
VENEZUELA: Two international groups concerned with resolving the crisis in Venezuela gave a statement at the United Nations yesterday in which they urged the international community to "play a more active role in supporting a prompt return to democracy" in the country. The 12-nation regional bloc known as the Lima Group and the European Union-led contact group for Venezuela did not have any specific details in their joint declaration. Both groups recognize opposition leader Juan Guaidó as the president of Venezuela.
SOUTHERN CONE
BRAZIL: Brazil's Ministry of Agriculture said yesterday that the country would temporarily halt all beef exports to China after a case of mad cow disease was confirmed in a state farm in Mato Grosso. China bought $1.5 billion in beef from Brazil in 2018, totaling 20% of the country's total production. According to the Ministry, the disease manifests "spontaneously and sporadically" and has nothing to do with the quality of the meat. Meat sales are expected to be resumed "shortly" according to the Ministry.
ARGENTINA: Thousands of Argentines mobilized yesterday to protest femicide and violence against women in the country. On the fifth anniversary of Ni Una Menos, a grassroots feminist organization formed in 2015 after a series of murders against women, demonstrators focused on the right to abortion and the prohibitive costs of maternal care in a crippling economy. Women's rights activists also demanded that the government offered "the full implementation of comprehensive sex education" that is secular and feminist "for all educational levels throughout the country."