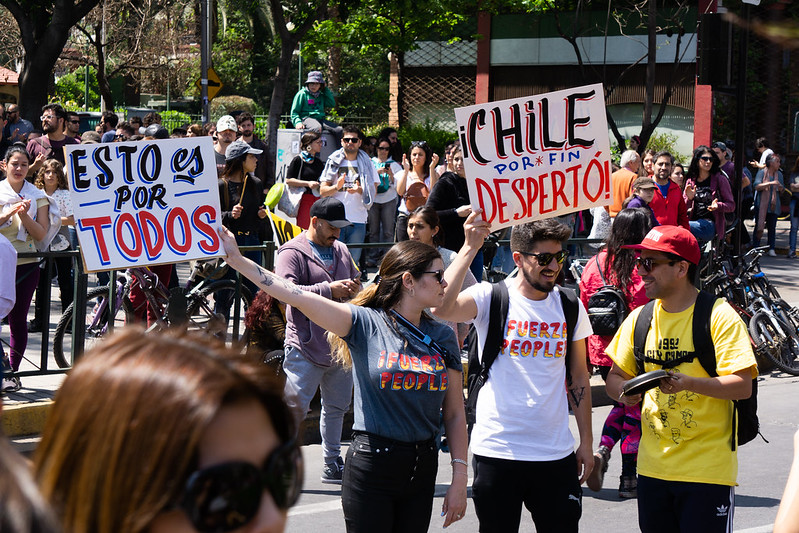 Chilean demonstrators in October 2019. Photo courtesy of Diego Correa via Flickr.
New Safety Measures Passed For Chile's Upcoming Plebiscite
August 20, 2020
By Staff
TODAY IN LATIN AMERICA
CHILE: Congress passed a measure to ensure that safety protocols will be regulated at voting booths during the plebiscite this October. The measure states that the Electoral Service will dictate safety rules regarding social distancing for voting throughout the country. The Electoral Service will also have the power to implement stricter regulations in areas hard-hit by the pandemic. 
The executive branch is expected to make a decision on the measure quickly in order to ensure that all protocols are ready by October. The plebiscite, which was delayed in April due to the pandemic, will ask Chileans if they want a new constitution drafted by members of Congress or a committee made up of Senators and citizens. A second vote in April 2021 will include candidates for local and national elections, as well as a referendum on whether or not Chileans approve of the new constitution. The plebiscite comes after months of protests against the government which began in 2019.

Headlines from the western hemisphere
SOUTHERN CONE
ARGENTINA: A new report indicates that nine out of 10 children conducting school virtually need the help of their parents to do their school work. The report, conducted by education specialists, stated that the need for help with schoolwork requires more demand from parents than under normal circumstances, and creates unequal opportunities for students in crowded households or with parents that did not complete their education. Around four out of 10 students also consistently need aid when learning virtually, and only 4.4% are able to do the schoolwork alone. The majority of households which participated in the study also found that the parents facilitating education were women, including mothers and older siblings.
BRAZIL:  More than 67 million people have received emergency aid from the government, or a third of Brazil's population. The aid includes five installments of R $600, totaling an expense of R $254 billion for the government. The aid program was created to help informal workers who have been unable to work during the pandemic. Aid can also be received by unemployed individuals. Officials plan on extending the aid until December. 
PARAGUAY: Demonstrators held a protest with heavy police presence in front of Banco Basa, a business owned by former president Horacio Cartes. The protestors convened after two youth leaders were arrested for allegedly tampering with evidence at a crime scene in 2017. Cartes was president at the time of large riots and protests in 2017. Protestors marched from Banco Basa to Cartes' residence, chanting that Cartes was the one in charge of a corrupt police system. More than 150 anti-riot police reinforcements were deployed for a demonstration of around 50 protestors. 
ANDES
BOLIVIA: The Vice Minister of Internal Regime announced that arrest warrants have been approved for several leaders in charge of the blockades occurring around the country. The warrants include charges on crimes of armed uprising and instigation of violence. Police are currently attempting to locate said leaders. The blockade leaders were also accused of not allowing medical supplies to pass into cities to aid COVID-19 patients, but they have denied these claims. 
VENEZUELA: People at gas stations have reported waiting in line for days to receive gasoline, only to either be turned away by military personnel or forced to pay bribes to secure a place in line. The gasoline shortage has gone on for months, and has been exacerbated by U.S. sanctions. Long queues of people attempting to fill their cars have been reported in recent weeks. Opposition leaders denounced the bribes back in April when they were first reported. President Nicolás Maduro stated that an investigation will be conducted to see which officials are behind the abuses of power. 
CARIBBEAN
PUERTO RICO: Governor Wanda Vázquez passed a new executive order on Wednesday which imposes stricter lockdown measures in an attempt to stop COVID-19 infections. A 24-hour lockdown will be enforced every Sunday, and restaurants will only be allowed to serve at 25% capacity. Businesses that do not comply with these rules will be forced to shut down for a month. Only people buying essential supplies or going to medical appointments will be allowed outside after the curfew. Businesses will also be required to report any COVID-19 cases among staff and personnel. The curfew is expected to be in place until September 11. 
CENTRAL AMERICA
EL SALVADOR: In-person classes will not be conducted until the end of this year, according to the Minister of Education. In a statement, officials confirmed that all public and private schools will not allow students to return, including universities. Private schools must continue virtual learning for the remainder of the 2020-2021 school year. More than 300,000 guides are being printed to help aid students who do not have access to online resources. Only teachers and administrators are currently allowed to enter educational facilities. Universities have the option of conducting certain in-person activities so long as safety measures are followed. 
HONDURAS: Around 2,000 nurses have tested positive for COVID-19 across the country since the beginning of the pandemic. The National Association of Nurses stated that 19 nurses have died of coronavirus. Only 39 nurses are currently infected with COVID-19, and 17 of them are hospitalized. The association encouraged hospitals to allow more home visits of potential patients in order to find contagion sources of the coronavirus more quickly. Honduras currently has more than 50,000 COVID-19 cases and more than 1,500 deaths.
NORTH AMERICA
MEXICO: The Ministry of Health reported that Mexico now has more than 58,000 deceased from COVID-19 complications. However, officials state that the daily total of cases have been decreasing for three weeks in a row. Around 39% of hospital beds are currently being occupied, and around 33% of ventilators in hospitals are being used. Mexico currently ranks third in the world of coronavirus deaths, behind only Brazil and the United States. The country has a total of 537,031 cases and 58,481 deaths.