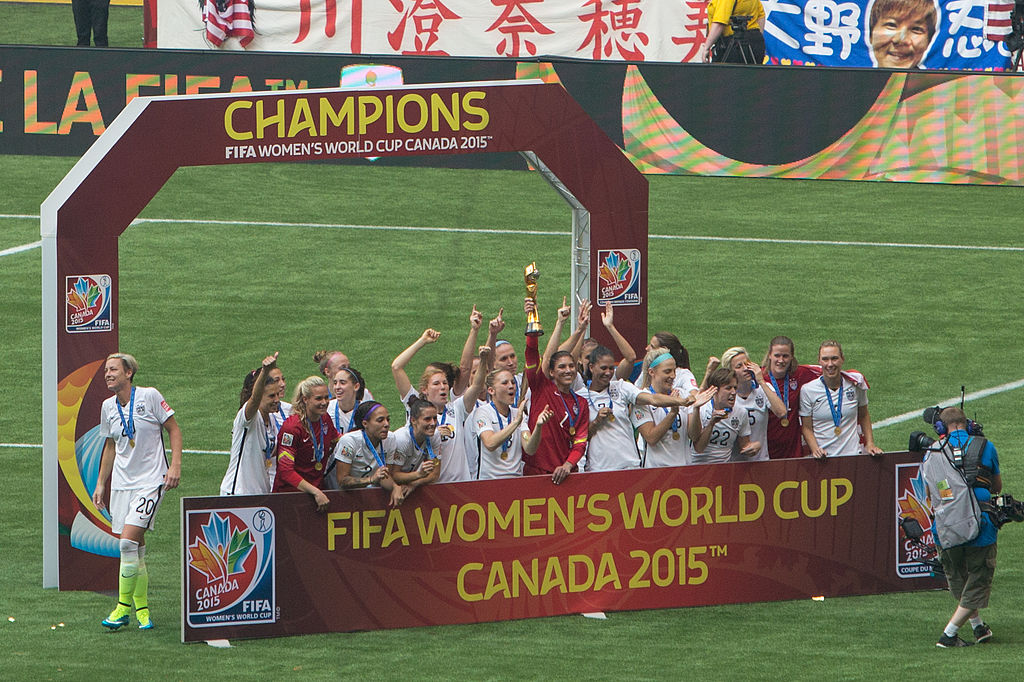 The United States national football team celebrating their 5-2 victory over Japan in the 2015 FIFA Women's World Cup Final, held in Vancouver, Canada. (Photo by Nicki Dugan Pogue via Wikimedia Commons).
Latin American Teams Seek Glory As Women's World Cup Begins
June 7, 2019
By Staff
TODAY IN LATIN AMERICA
REGION: Amid growing frustration with pay inequality and unfair labor practices, the 2019 FIFA Women's World Cup begins today in France. The eighth edition of this global soccer tournament will see twenty-four countries, represented by 552 players, competing in what experts are calling the "most important women's World Cup in history." Six teams will represent the hemisphere. Brazil and debutantes Jamaica share Group C and will face off on Sunday. Argentina and Canada debut on Monday. Chile, also playing in a World Cup for the first time, and the United States, defending champions and favorites to win the competition, take the field on Tuesday.
HEADLINES FROM THE WESTERN HEMISPHERE
NORTH AMERICA
MEXICO: President Andrés Manuel López Obrador is organizing a "unity rally" with migrant activists tomorrow, two days before the U.S. is set to impose a 5% tariff on all Mexican goods. The event will take place on the border city of Tijuana, with all governors, state and federal legislators, and union leaders invited to participate by the president. Having not reached a deal yet, another round of discussions between Mexican and U.S. officials regarding immigration and trade will take place today in Washington.
MEXICO: On Wednesday, Mexican authorities arrested two local men who they claim are "migrant caravan organizers." Migrant rights defender Irineo Mujica, director of the Pueblo Sin Fronteras nonprofit, was arrested in Mexico City, while fellow activist Cristóbal Sánchez was apprehended in Sonoyta, Sonora. Several civil society organizations have come out in support of Mujica and Sánchez, condemning the actions of Mexican police. The government has also frozen the bank accounts of 26 other individuals linked to the migrant caravans. Mexico has also said it would deploy six thousand troops in its southern border with Guatemala to stem the flow of migrant caravans into its territory, as part of its ongoing negotiation with the United States.
CARIBBEAN
PUERTO RICO: After signing the delayed disaster aid bill yesterday, President Donald Trump said on Twitter that Puerto Rico should "love him" for sending funds to the island ravaged by Hurricane Maria. For weeks, Trump fought off the passing of the $1.9 billion emergency package, recently approved by the Senate on May 23. In the past, Trump has claimed that he singlehandedly saved Puerto Rico, tweeting that he is the "best thing that ever happened" to the island back in April. Senate Minority Leader Chuck Schumer (D-NY) called Trump's statement "a lie," saying that "without his interference areas would have received aid months ago."
HAITI: A former Haitian police commander in the National Police (PNH) faces an investigation in the U.S. related to international drug trafficking. Commander Joris Margelus, in charge of the PNH's anti-drug unit, was arrested in Miami by immigration authorities in connection to a drug-smuggling operation where multiple kilos of cocaine and heroin disappeared after a raid in 2015. The seized narcotics were estimated to have a street value of $10 million. Mergelus is accused of taking bribes to hinder a police investigation into a vessel transporting said drugs from Colombia into Haiti.
CENTRAL AMERICA
COSTA RICA: This past May, the country achieved an all-time-high in electricity generation. Five renewable sources generated 99,99% of the 984.19 gigawatt-hours of electricity produced: hydroelectric, geothermal, eolic, biomass, and solar energy. Since 2015, Costa Rica has been able to generate over 98% of its energy sustainably. Costa Rica is seeking to become the first country in the world to achieve zero-carbon emissions by 2050.
ANDES
VENEZUELA: Despite U.S. President Donald Trump saying that "Russia had removed all of his personnel" from Venezuela this past Monday, President Vladimir Putin asserted that some Russian "military advisors" remain in Caracas. In a press conference held yesterday in Moscow, President Putin also said that Russia "has no intention of sending troops" to shore up Venezuela's embattled president Nicolás Maduro. Putin also criticized Western countries who recognized opposition leader Juan Guaidó as Venezuela's legitimate president.
PERU: In an attempt to bolster migratory policy, Peru deported 52 Venezuelans accused of falsifying documents to enter the country.  Yesterday, President Martín Vizcarra announced tighter entry restrictions, saying that Venezuelans will require a visa issued at the Peruvian consulate in Caracas to gain entry to Peru starting June 15. Over 800,000 Venezuelans are estimated to have sought asylum in Perú.
SOUTHERN CONE
BRAZIL: Brazilian soccer superstar Neymar has begun losing sponsorship deals over his alleged rape case. Mastercard suspended the footballer's participation in their campaign for this year's Copa America, to be hosted in Brazil this summer, which Neymar will miss after suffering an ankle injury on Wednesday. Nike, the world's largest sportswear maker, also said it was "very concerned" about the accusations made by Najila Trinidade. The 26-year-old model said Neymar left her "traumatized" after forcing himself onto her in a Paris hotel room on May 15. Neymar testified yesterday in Rio de Janeiro, while Trinidade is expected to do the same today in a São Paulo court.