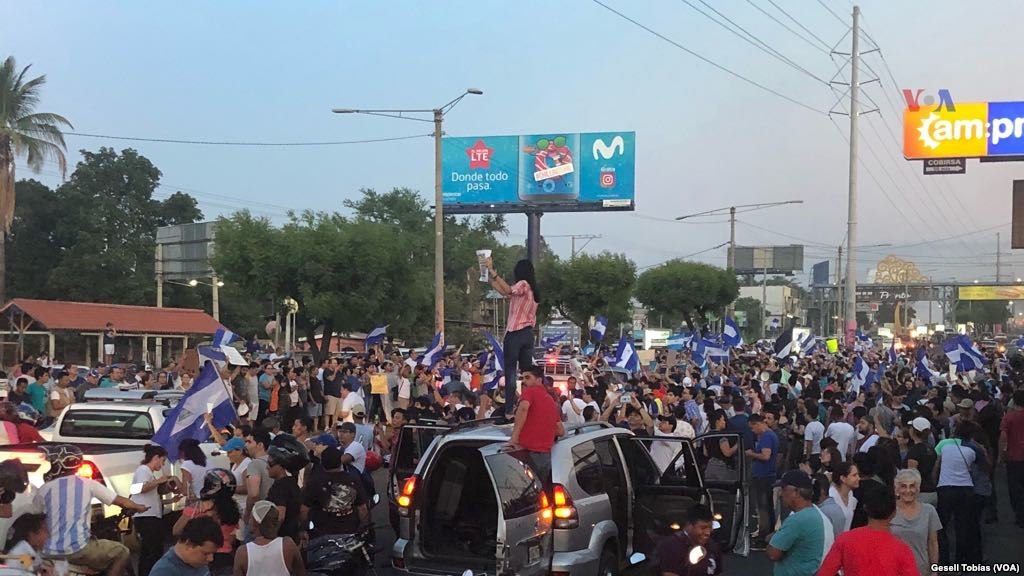 Anti-government demonstrators take the streets of Managua on April 2018, during which hundreds of protesters would be arrested and imprisoned. (Photo Voice of America via Wikimedia Commons).
Nicaraguan Amnesty Law Frees 106 Political Prisoners In 48 Hours
June 12, 2019
By Staff
TODAY IN LATIN AMERICA
NICARAGUA: After the ratification of a controversial amnesty law that pardons all of those who participated in the anti-government protests of 2018, Nicaragua released 56 political prisoners yesterday. Among them are the foremost leaders of the civic revolt, like student leader Yubrank Suazo and journalists Miguel Mora and Lucía Pineda, convicted of inciting "terrorism" in Nicaragua after heavily criticizing Daniel Ortega's regime. This massive inmate release occurs a day after 50 prisoners were liberated.
The amnesty has been rebuked by the Civic Alliance. The opposition group alleges that security forces that repressed protestors during the demonstrations will be spared of any legal punishment, exacerbating impunity by protecting "those who committed crimes against humanity." Over 530 deaths were reported in the seven months after the April 2018 demonstrations that rocked the country. Local newspaper La Prensa reported that "at least 80 political prisoners" are still behind bars.
Headlines from the western hemisphere
NORTH AMERICA
MEXICO: As part of its commitment with the United States following the week-long tariff negotiations, Mexico started to deploy its National Guard along its southern border with Guatemala. According to Foreign Minister Marcelo Ebrard, Mexico has committed to report back on its migratory enforcement progress in 45 days. Additionally, Mexico has created a five-person team tasked with implementing the program, which includes registering migrants and regularizing their status upon arrival. The Associated Press found that there are at least 13,000 backlogged cases of asylum-seekers waiting to get a court hearing in the United States.
MEXICO: Foreign Minister Marcelo Ebrard announced yesterday that Mexico would hold commercial talks with China in early July. The meeting will take in China, following the participation of both countries at the G-20 summit in Osaka, Japan, between June 28 and 29. President Andrés Manuel López Obrador said he would not travel to Japan and that Ebrard and Finance Minister Carlos Urzúa will lead the Mexican delegation in Asia instead.
CARIBBEAN
HAITI: Haitian media organizations have demanded more protection from the state's security forces, as tensions continue to escalate into the third day of anti-corruption protests. On Monday, radio journalist Rospide Pétion, 45, was murdered on his way home in Port-au-Prince after a show where he criticized President Jovenel Moïse. Other reporters have been attacked during the protests by citizens wielding weapons, prompting journalists to ask the Haitian police for protection.
DOMINICAN REPUBLIC: Slugger David Ortiz is back in Boston after he was ambushed at a bar in Santo Domingo last Sunday. The surgery removed parts of his gallbladder and intestines, as the bullet pierced through his abdomen. Upon arriving in Boston, Ortíz, lovingly known as 'Big Papi', underwent another two-hour exploratory surgery. The three-time World Series champion will remain in intensive care for at least the next forty-eight hours.
CENTRAL AMERICA
HONDURAS: A Honduran Air Force helicopter crashed during an anti-narcotic operation yesterday, inuring seven soldiers plus three crewmembers. The accident happened in the department of Gracias a Dios, in the easternmost part of Honduras, next to its border with Nicaragua. Reports say that the wreckage occurred when the pilot tried to approach a densely forested area and the helicopter "got stuck" with the treetops.
ANDES
COLOMBIA: Despite having a drug-trafficking probe in the United States, a former FARC rebel was sworn in as a lawmaker yesterday in Bogotá. The United States wanted to extradite Seuxis Paucias Hernández Solarte, known by his alias 'Jesús Santrich,' for conspiring to ship cocaine to the United States. Colombia's top court argued on May 29 that the former combatant and peace negotiator was protected by a constitutional status that gives immunity to legislators, allowing Santrich to take his seat in the Colombian Congress yesterday. President Iván Duque asked the Prosecutor's Office to suspend the former combatant's entry to the legislature, calling Santrich a "mafioso" that delegitimizes the role.  
PERU: Nobel laureate Mario Vargas Llosa has announced that his next novel, "Tiempos Recios" ("Hard Times"), will be published in October this year. The story is set in 1954 Guatemala, in the wake of the U.S.-backed military coup perpetrated by Coronel Carlos Castillo Armas that overthrew the democratically-elected government of Jacobo Árbenz. The Peruvian author said that the historical fiction novel connects with another work of his, "La fiesta del chivo" ("The Feast of the Goat"), a novel published in 2001 about dictatorial power in the Dominican Republic during the Cold War.
SOUTHERN CONE
BRAZIL: The country won an international legal battle over a 100-million-year-old trove of dinosaur fossils. A court in Lyon, France, ruled that forty-five well-preserved fossils will be repatriated at the end of June. With an estimated value of €600,000 (roughly 2.5 million Brazilian reais, or US$680,000), the court concluded that the bounty had been "illegally removed" from Brazil. This legal victory comes in the context of an increased presence of the illegal fossil trade in the South American country.
ARGENTINA: President Mauricio Macri announced yesterday that the Senator for the province of Río Negro, Miguel Angel Pichetto, would be his running mate for the upcoming October presidential elections. The moderate Peronist, who heads the largest caucus in the Argentinean Senate with the Justicialista Party (PJ) as an opposition figure, is seen as a choice to "broaden" Macri's voter base. In a series of tweets, the president described Pichetto, 68, as a "statesman" who is "committed to Argentina's institutions."