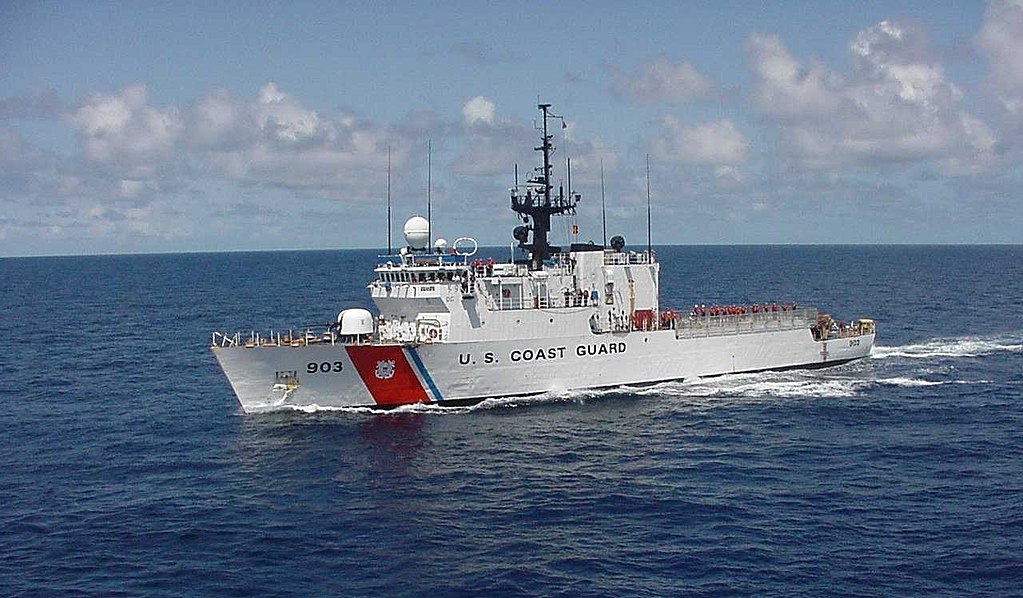 Coast Guard Cutter Harriet Lane patrols the waters during a 60-day patrol in the Caribbean Sea from January to March, 2009. (Photo by U.S. Coast Guard via Wikimedia Commons.)
ACLU Accuses U.S. Coast Guard Of Improperly Detaining Four Jamaican Fishermen
June 13, 2019
By Staff
TODAY IN LATIN AMERICA
JAMAICA: Yesterday, the American Civil Liberties Union (ACLU) filed a lawsuit against the U.S. Coast Guard (USCG) for allegedly kidnapping and abusing four Jamaican fishermen for over a month at sea. The USCG officers say they interdicted the Jamaican boat after they saw the four men disposing packages of marijuana into the water on Sept. 2017, allegedly seizing 600 pounds. The ACLU denies the presence of drugs on the boat on its lawsuit.
Instead, the ACLU claims the USCG officers accused the fishermen of drug-smuggling, burned their two-engine boat, ankle-chained them to the cutter's deck and transferred them three more times to other Coast Guard vessels. Robert Dexter Weir, Patrick Wayne Ferguson, Luther Fian Patterson, and David Roderick Williams would be transported to Miami in mid-Oct. 2017, where they were finally able to communicate with their family. Although the drug charges would later be dropped, the four men served ten months for "making a false statement" to a law enforcement official and would be deported to Jamaica.
Headlines from the western hemisphere
NORTH AMERICA
MEXICO: Yesterday, Mexico dropped charges against two migrant activists. On June 6, migrant rights defender Irineo Mujica, director of the Pueblo Sin Fronteras nonprofit, was arrested in Mexico City, while fellow activist Cristóbal Sánchez was apprehended in Sonoyta, Sonora. Both activists were accused of "people smuggling" and "allowing undocumented migrants" into Mexico, crimes that a federal prosecutor in Chiapas deemed they were not guilty.
MEXICO: In less than 24 hours, reporter Norma Sarabia was murdered in the Gulf state of Tabasco and another journalist, Marcos Miranda, was reportedly abducted in the eastern state of Veracruz. Sarabia, killed on her doorstep by two gunmen on a motorcycle, worked as a crime reporter for 15 years. Gunmen kidnapped Miranda, an editor and crime reporter for a local news station, as he took his 10-year-old daughter to school. Both Sarabia and Mirando have had received threats for their work. According to the Committee to Protect Journalists, two journalists have been murdered in direct relation to their work in 2019, whereas four more cases are still being determined to evaluate if the motive was linked to their profession.
CARIBBEAN
DOMINICAN REPUBLIC: Six people have been arrested by Dominican police in connection to the attempted murder of slugger David Ortíz. Authorities have apprehended the alleged gunman and confiscated the gun with which the attack was perpetrated on Sunday. The nation's attorney general said yesterday that "no one involved in the crime" will remain in impunity, "not even the intellectual authors" of the ambush. According to Ney Aldrin Bautista Altamonte, the director of the Dominican police, suspects would have received 400,000 Dominican pesos (around $8,000) to murder the former Boston Red Sox player.
CENTRAL AMERICA
GUATEMALA: A week before the general elections, the prosecutor tasked with investigating electoral crimes fled Guatemala. Attorney General María Consuelo Porras confirmed yesterday that the Electoral Crimes prosecutor Óscar Schaad requested to be absent from his work, quoting security concerns for his family. Schaad's name appeared in a recent Drug Enforcement Agency (DEA) probe into presidential candidate Mario Estrada, arrested in the United States on drug charges.
PANAMA: Yesterday, a Panamanian court ordered the release of former President Ricardo Martinelli from prison and into house arrest. Martinelli, who is being prosecuted for political espionage and embezzlement, was also banned to leave the country. Martinelli was extradited to Panama in June 2018, a year after he was arrested in Miami, where he resided since 2015 to elude Panamanian justice after his "organized state apparatus" was discovered. The former president faces up to 21 years in prison for tapping into the phones of his detractors, including opposition politicians, union leaders, and journalists. The trial continues tomorrow.
ANDES
ECUADOR: In a landmark case for LGBTQ rights, the country's Constitutional Court approved two same-sex marriages. The two cases, presented in the provincial court of the north-central state of Pichincha back in 2017, yielded a positive ruling after a final 5-4 vote. The nine judges agreed there is a need for constitutional reform to legalize civil marriage among same-sex couples. The development comes after the court was unable to reach a consensus regarding marriage equality last week.
VENEZUELA: Amid an unprecedented inflation rate, the Central Bank of Venezuela introduces new bills today. These include banknotes for 10,000, 20,000 and 50,000 bolívares, with the latter one equivalent to about $8. The rollout of these three new large bills aims to "facilitate commercial transactions" in the country, according to a statement by the central bank. Attempting to counteract hyperinflation in Venezuela and to ease cash shortages, President Nicolás Maduro slashed five zeros off the bolívar back in Aug. 2018.
SOUTHERN CONE
ARGENTINA: A federal court in Buenos Aires sentenced a former secretary of public works to six years of prison for money-laundering and illicit enrichment. José López, who served during Cristina Fernández' administration, attempted to hide stacks of cash at a convent in General Rodríguez in 2016, a locality outside the Argentinean capital. The confiscated funds, allegedly adding up to $9 million, will be allocated to two pediatric hospitals.
BRAZIL: A study has found that around 1,200 pesticides and weedkillers have been sanctioned by the Brazilian government in the last three years, raising concerns as their active ingredients harm farmers and the environment. Published by Unearth, Greenpeace UK's news agency, the report shows that 193 of the recently approved pesticides are banned in Europe since they contain highly hazardous chemicals. The pesticides' approval rate ramped up in the last two administrations–Michel Temer and Jair Bolsonaro–, both of which have shown close ties to the Brazilian agribusiness lobby.