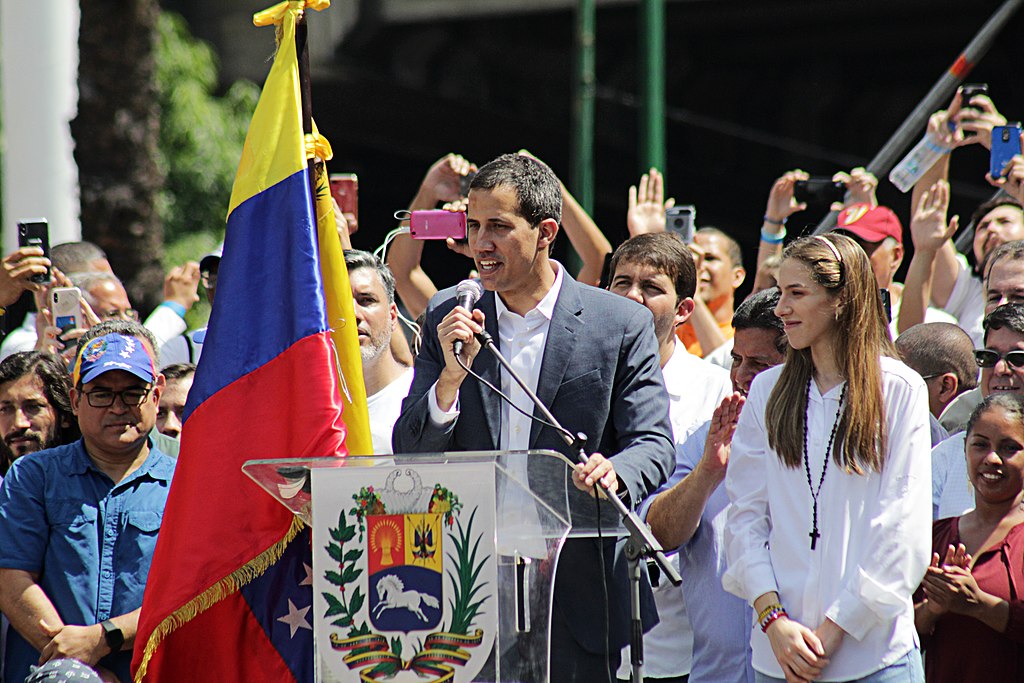 Opposition leader and self-declared interim president Juan Guaidó addresses a crowd in Caracas on Feb. 2, 2019 (Photo by Alexcocopro via Wikimedia Commons).
Venezuelan Opposition Leader Accused Of Being Tied To Crimes
June 19, 2019
By Staff
TODAY IN LATIN AMERICA
VENEZUELA: Yesterday, Attorney General Tarek William Saab denounced opposition leader Juan Guaidó of allegedly leading a corruption scheme that misappropriated funds in February. The crime reportedly occurred after Guaidó called on Venezuelan soldiers to abandon the military and join him in delivering humanitarian aid in the Colombian border town of Cúcuta. Two other members of the opposition have been accused of stealing tens of thousands of dollars in humanitarian aid earmarked for soldiers who defected into Colombia. Saab, an ally of President Nicolás Maduro, said that the leader of the National Assembly is leading the "mafia of corruption." Guaidó has ordered a probe into the allegations and vowed to clarify the case of military officers in Cúcuta.
Headlines from the western hemisphere
NORTH AMERICA
UNITED STATES: El Museo del Barrio, the oldest Latinx and Latin American art museum in the United States, celebrated its 50th anniversary this past week. Founded in 1969 by a collective of Puerto Rican parents, educators, and community activists from Central and East Harlem, the museum began in a public school classroom and became one of the founding cultural institutions at the Museum Mile of New York City in 1979. Recently, El Museo has become the object of criticism as many believe it is excluding the community it was intended to serve. At a celebratory event on June 11, a group of Latinx activists occupied the building, saying that the museum neglects its history as a community-based institution, made for and by "El Barrio."
CARIBBEAN
HAITI: A delegation from the Organization of American States (OAS) arrives in Port-au-Prince today. Amid ongoing violent protests, Haiti asked if the OAS could help facilitate a dialogue between President Jovenel Moïse and those demanding his ouster on June 14. Officials included in the "fact-finding" mission are Carlos Trujillo, U.S. Ambassador to the OAS, and Gonzalo Koncke, Chief of Staff for OAS Secretary Luis Almagro.
DOMINICAN REPUBLIC: Yesterday, police arrested the eleventh suspect in David Ortiz' murder attempt. Alberto Miguel Rodríguez Mota, identified by Dominican media as a drug trafficker, is believed to have paid hitmen to murder the former Boston Red Sox slugger. Dominican police also believe Rodríguez Mota also rented the car used in the attack against the baseball player on June 13.
CENTRAL AMERICA
GUATEMALA: U.S. President Donald Trump tweeted yesterday that Guatemala is "getting ready" to sign a safe third-country agreement. Contrary to what Trump said, Minister of Interior Enrique Degenhart announced that Guatemala has "not agreed" to host asylum-seekers and that both countries are currently working through viable options. Degenhart said Guatemala would "not allow mafia structures" to take children illegally, implying that collaboration on migratory matters with the U.S. will deepen.
NICARAGUA: The Nicaraguan government says they have liberated all political prisoners arrested during the 2018 protests. Although the administration of President Daniel Ortega did release many of the leaders of those nationwide protests, the opposition maintains that there are 85 Nicaraguans who are still wrongfully imprisoned. The government adamantly denies this claim, saying that they will not free any other individual. The Organization of American States (OAS) announced yesterday that Nicaragua would be one of the main items on the agenda during the General Assembly taking place on June 26-28.
ANDES
PERU: Yesterday, Peruvian prosecutors demanded former President Alejandro Toledo gets 16 years and eight months in prison for allegedly laundering money during his time in office. Moreover, authorities have demanded that Toledo and his wife, Elena Karp, be extradited from the United States back to Peru to face justice. The case involves granting favors to construction conglomerate Odebrecht in return for $20 million in bribes.
GUYANA: The Caribbean Court of Justice (CCJ) upheld the Guyanese Parliament's no-confidence vote against President David Granger, meaning that the country will have new elections within three months unless Parliament asks for an extension. The Granger administration accepted the ruling of the CCJ, a regional court based in Trinidad and Tobago. Guyana will go to the polls before oil production begins in early 2020, potentially running the risk of renegotiating contracts for offshore gas and oil exploration.
SOUTHERN CONE
CHILE: After inaugurated all the newly-appointed ministers, the administration of Sebastián Piñera unveiled a $4 billion infrastructure plan to reinvigorate Chile's economy. Highways, reservoirs, and airports are included in the program, said to allocate $2 billion in the next two years. Piñera said that the policy would increase Chileans' wages and create jobs across the country. The labor minister, Nicolás Monckeberg, also revealed that the government would push pension reform plans through Congress with "extreme urgency."
BRAZIL: Marta Viera da Silva became the top scorer in the history of the FIFA World Cup after netting her 17th goal in yesterday's 1-0 win against Italy. Marta surpasses Miroslav Klose, a German striker who scored 16 goals in the men's tournament. Playing her fifth World Cup, the six-time FIFA Player of the Year is considered by many to be the greatest woman ever to play the game.