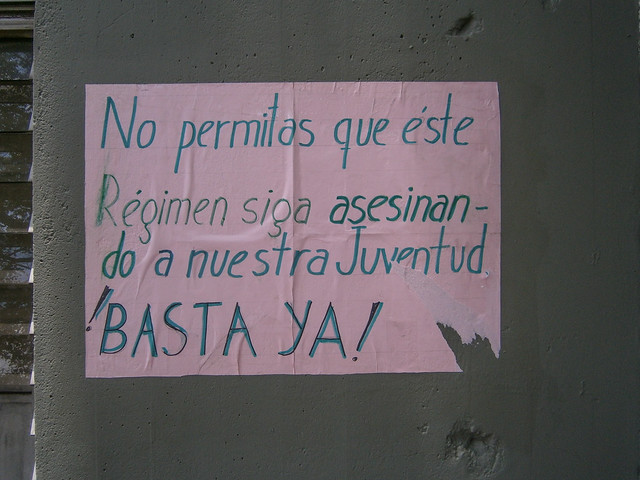 A sign from 2014 claims the Maduro administration is killing the country's youth. (Photo by Wilfredorrh via Flickr)
United Nations Accuses Venezuela of Extrajudicial Killings of Maduro Opponents
July 5, 2019
By Staff
TODAY IN LATIN AMERICA
VENEZUELA: Authorities counted more than 6,800 killings since the beginning of 2018 during operations categorized as "resistance to authority," according to a new UN report. Other numbers the United Nations pulled from the Venezuelan Violence Observatory are even higher. After conducting interviews with more than 500 victims and witnesses, the United Nations concluded that security forces may be committing extrajudicial killings "to instill fear in the population and maintain social control." The report alleges that members of the Special Action Forces, or FAES, altered crime scenes so that victims appeared to have been holding drugs or weapons and that detainees have been tortured.
The UN investigation has added to the international scrutiny over the death of navy captain Rafael Acosta, who appeared to have been tortured before he died in custody. In an interview with the Associated Press, defected Venezuelan spy chief Cristopher Figuera claimed that Venezuelan President Nicolás Maduro himself had ordered authorities to plant evidence and carry out random detentions, though the news agency was unable to verify these accusations. In a statement on the UN report, Maduro's administration called it "distorted," "selective" and "openly biased."
Headlines from the western hemisphere
NORTH AMERICA
BORDER: U.S. Border Patrol agents are still searching the Rio Grande River for a 2-year-old Brazilian girl who went missing Monday as she tried to cross the river with her mother, who is from Haiti. The girl's mother was detained by Border Patrol agents at the Del Rio Border Patrol Station in Texas. Law enforcement officials in Ciudad Acuña, Mexico, are assisting in the search. The girl's disappearance comes only a week after a Salvadoran father and his 2-year-old daughter were found drowned on the banks of the Rio Grande. 
MEXICO: Mexican federal police blocked highways outside of Mexico City for a second day yesterday to protest their ranks being absorbed into the newly deployed National Guard. The federal police are being dissolved to join the new guard, which was created to fight violence across the country. Mexico began to deploy the National Guard in the capital on Monday. Federal police officers say they do not want to become soldiers. President Andrés Manuel López Obrador (AMLO) has blamed "dark forces" and politics for the protests. AMLO reiterated yesterday that he will not modify the National Guard entry requirements, despite the protests.
MEXICO/CARIBBEAN: Satellite observations show that the Caribbean is experiencing the biggest seaweed bloom in the world, and it is heading toward Mexico's popular tourist beaches. Scientists attribute deforestation and fertilizer to the massive growth of Sargassum, which could smother corals and seagrasses and leave a pungent smell on beaches. Last year, the mass of Sargassum grew so large that it spanned West Africa to the Gulf of Mexico. Sargassum is important to the ecosystem, but the unusually rapid growth can harm other living organisms in the environment, including sea turtles.
CENTRAL AMERICA
HONDURAS: A former mayor of Tegucigalpa was killed in a shooting yesterday as he drove through his neighborhood, Miraflores Sur, in the Honduran capital. Óscar Roberto "El Pelón" Acosta Zepeda was mayor of Tegucigalpa from 1994 to 1998. His car was riddled with bullets on all sides. Witnesses say he was being chased by a taxi-like vehicle, but police have not provided a motive for the killing. Acosta was the only liberal mayor Tegucigalpa has seen in recent decades.
CARIBBEAN
REGION: United Nations Secretary-General António Guterres ends his trip to the Caribbean today where he has been meeting with leaders to discuss climate change and budget challenges as many nations continue to recover from the devastation of hurricanes Maria and Irma in 2017. The 40th annual Conference of Heads of Government of the Caribbean Community began Wednesday. Guterres acknowledged that the threats faced by Caribbean families from storms and further devastation will only intensify, saying, "we need all hands on deck." 
PUERTO RICO: Though Puerto Rico is still recovering from the 2017 hurricane season, the island's private marketing firm announced that tourism revenue is on track to break a record this year. From the beginning of the year through May, the firm reported $445 million in tourism revenue. The island continues to push tourism, with new hotels opening and a partnership with Lin-Manuel Miranda for an eight-episode series about Miranda's favorite places in Puerto Rico.
ANDES
BOLIVIA: Police arrested an Italian crime boss who fled a 16-year drug trafficking sentence in his home country, Bolivian Government Minister Carlos Romero announced yesterday. Paolo Lumia used a similar name – Carlos Suarez Romero – when he entered Bolivia earlier this year. The minister said Lumia will be deported from Bolivia, while officials continue payments Lumia made to local drug lords on behalf of his higher-ups in the Sicilian Mafia. 
SOUTHERN CONE
BRAZIL: The Argentine Football Association decried what it called "serious and gross refereeing errors" at Tuesday's Copa America semi-final, which Argentina lost to Brazil. AFA President Claudio Tapia sent a letter to CONMEBOL, the organization that governs South American soccer, affirming team captain Lionel Messi's claims that the officiates made "crazy" calls. The association also criticized Brazil's President Jair Bolsonaro for "clear political demonstration" after he did a half-time lap around the stadium. On Sunday afternoon, Brazil will play in a final match against Peru, which made the final for the first time since 1975 after defeating defending champion Chile.