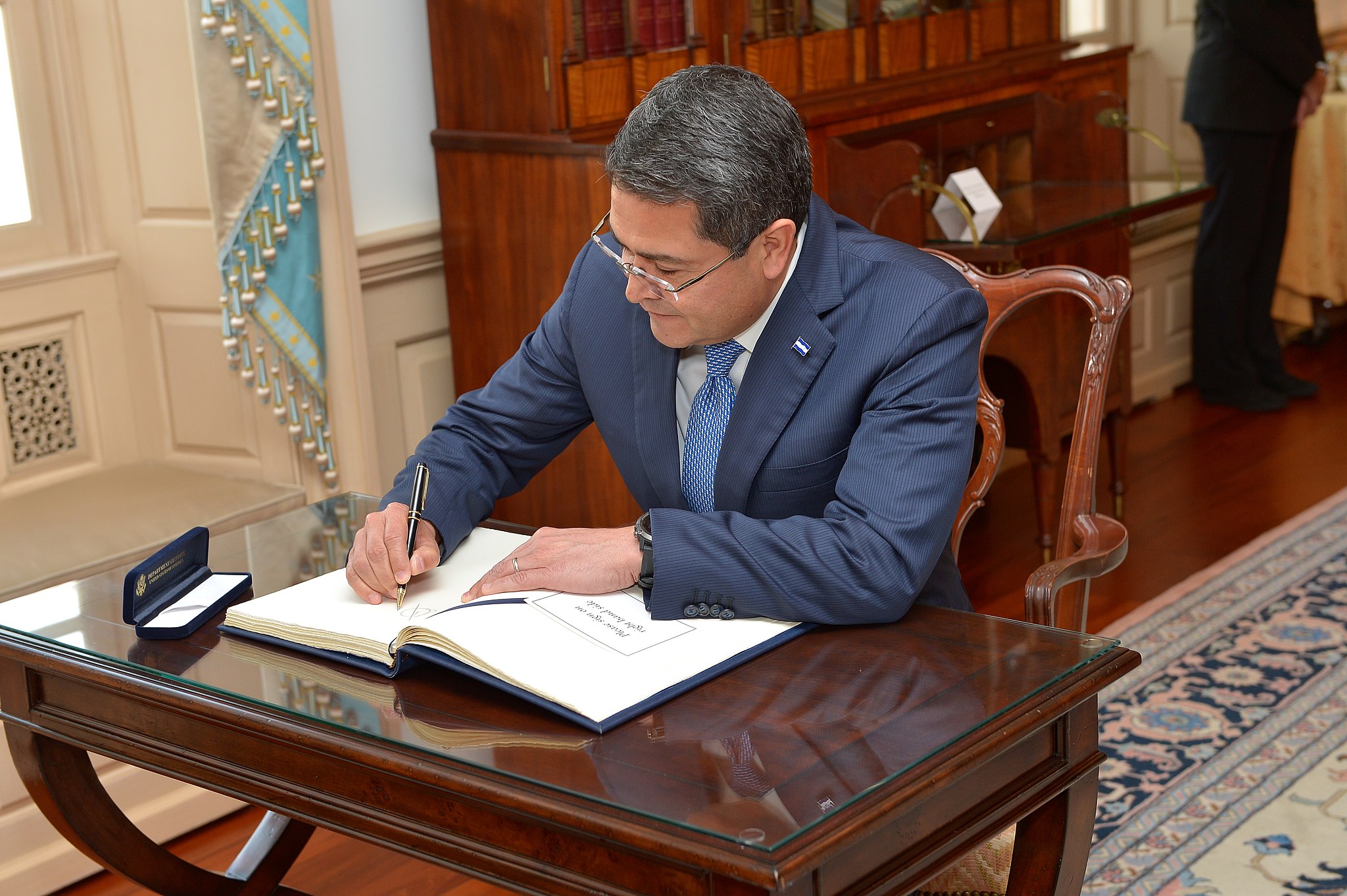 Honduran President Juan Orlando Hernandez, whose presidential campaign received $1.5m from "drug proceeds" that were used to bribe local officials in exchange for protection and the completion of public works. (Photo by U.S. Department of State via Wikimedia Commons).
National Mobilization Calls For Honduran President To Resign
August 9, 2019
By Staff
TODAY IN LATIN AMERICA
HONDURAS: Former president Manuel Zelaya and his political organization, Free ('Libre'), have convened a "permanent mobilization" in Tegucigalpa and around the country today, urging President Juan Orlando Hernández to resign. Protests against President Hernández have been ongoing all week, with tensions escalating between security forces and demonstrators the marches have progressively grown in size. Hondurans have expressed their anger over allegations by U.S. prosecutors that Hernández accepted drug money to fund his campaign.
Headlines from the western hemisphere
NORTH AMERICA
UNITED STATES: Kimberley Breier, the top U.S. official for Latin America in the State Department, resigned yesterday. Breier, who served as Assistant Secretary of State for Western Hemisphere, cited personal reasons for leaving. A senior State Department official said that Breier had been chastised by White House policy advisor Stephen Miller in an email chain, The Washington Post reports. Miller perceived that Breier "had a lack of commitment in defending asylum agreement with Guatemala."
MEXICO: Police found 19 bodies in what appears to be a killing spree between rival drug cartels fighting for territorial control in the western state of Michoacán. The state's Attorney General Adrián López Solís said in a news conference that the Jalisco New Generation (CJNG) cartel claimed authorship of the macabre spectacle, which featured nine men hung from an overpass with a banner threatening rivals Las Viagras, and ten mutilated bodies dumped on the side of the road near the city of Uruapan. The slaughter is attributed to the CJNG's motivation to control the multi-billion dollar avocado trade industry, according to The Guardian.
REGION: A U.N. panel warns that humanity must drastically change how it uses land and grows food to fight climate change. The Intergovernmental Panel on Climate Change (IPCC) convened 103 experts from 52 countries who said that conserving, restoring, and better managing land, as well as shifting diets to plant-based foods, would be crucial to reducing greenhouse gases. Some recommendations include a worldwide reduction in consumption of red meats; duplicating the intake of fruits and vegetables; promoting smallholder agriculture; and limiting the use of water.
CENTRAL AMERICA
GUATEMALA: The second round of Guatemala's presidential election takes place on Sunday. Immigration, rising poverty, and pervasive corruption provide the backdrop for the runoff vote between former first lady Sandra Torres and ex-prison director Alejandro Giammattei. The most recent poll has Giammattei in the lead with 61.1% of the vote intention, while Torres tallies at 39.8%. Abstentionism might ultimately decide the winner, with only 61% of Guatemalans in the voter roll planning to participate in Sunday's ballotage.
CARIBBEAN
PUERTO RICO: The island is bracing for more protests as Puerto Rican politicians are considering a fourth governor in less than a week. Yesterday, members of the pro-statehood New Progressive Party (PNP) began openly talking about a replacement for Wanda Vásquez, who was sworn in as governor on Wednesday. Senate President Thomas Rivera Schatz is now publicly backing Jenniffer González, Puerto Rico's non-voting representative in the U.S. Congress, to become governor of the island. Governor Vásquez said yesterday she would remain in office until 2020 when elections are expected to take place.
ANDES
COLOMBIA: Human Rights Watch (HRW) published a report yesterday saying that armed groups clashing for territorial control in the northeastern Catatumbo region have forced 40,000 civilians, including Venezuelan refugees, to flee the area. The 64-page investigation, titled "The War in Catatumbo," details how the National Liberation Army (ELN) and the Popular Liberation Army (EPL) have "committed a range of abuses against civilians, including killings, disappearances, sexual violence, child recruitment, and forced displacement." HRW accuses the Colombian government of "not meeting its obligations" in protecting Colombian civilians and Venezuelan refugees in the area.
SOUTHERN CONE
ARGENTINA: On Sunday, political parties will hold primaries, known as PASO. Although candidates for each office have already been chosen, participation is mandatory, meaning that the results will indicate potential support ahead of the general elections on Oct. 27. Two of the nine presidential candidates lead the pack. President Mauricio Macri is seeking reelection with the Together for Change ('Juntos por el Cambio') coalition. The opposition, Everyone's Front ('El Frente de Todos'), presents Alberto Fernández and former president Cristina Fernández de Kirchner as their candidates.
BRAZIL: Federal police arrested Eike Batista, once Brazil's richest man, on charges of money laundering and suspicion of market manipulation. Authorities apprehended the mining and oil magnate in Rio de Janeiro, where he was currently serving a 30-year sentence in house arrest.  In 2018, a court found Batista guilty of paying $16.5 million in bribes to secure construction contracts to the now-imprisoned former governor of Rio de Janeiro Sérgio Cabral. The newest charges involve hiding large sums of money in a private bank based in Panama, with transactions estimated at 800 million reais (about $203 million).