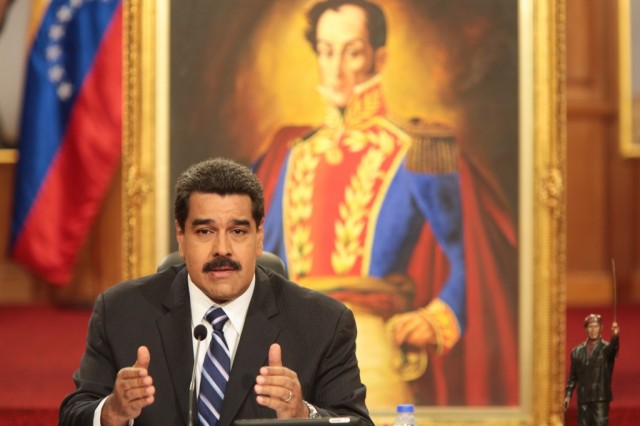 U.S. Expands Visa Restrictions for Venezuelan Officials
February 3, 2015
By Staff
Top Story — The relationship between Venezuela and the United States reached new levels of animosity on Monday, as the U.S. State Department announced that Venezuelan politicians suspected of corruption or human rights abuses — as well as members of the politicians' families — will be denied travel visas to the United States. The announcement comes days after Venezuelan President Nicolas Maduro accused U.S. Vice President Joe Biden of plotting to overthrow his socialist government, a charge that the vice president's office calls "ludicrous."
Venezuelan politicians suspected of corruption or human rights violations "are not welcome in the United States," State Department spokeswoman Jen Psaki said about the new visa restrictions. The move to also ban family members of suspected Venezuelan officials is unprecedented.
Over the weekend, Maduro told viewers during a televised announcement that "what Vice President José Biden did is unspeakable," in reference to what Maduro claims was Biden's attempt to instigate an overthrow of the Venezuelan government. According to Maduro, Biden urged Caribbean heads of state during an energy summit in January to withdraw their support for Venezuela. The Latin American country's economy is currently struggling over a recent slump in global oil prices.
Biden's office referred to Maduro's charges as "ludicrous," adding that they are "clearly part of an effort to distract from the concerning situation in Venezuela, which includes repeated violations of freedom of speech, assembly, and due process."
Despite the cooling of relations between Venezuela and the United States in the last several years — the two countries have not traded ambassadors since 2010 — Biden and Maduro engaged in cordial relations in January during Brazilian President Dilma Rousseff's inauguration ceremony, where they shook hands.
"Vice President Biden: Look me in the eyes. I saw you in Brazil, I gave you my hand," Maduro said during his address over the weekend. "You, who said this is a new era for relations in Latin America, were going to conspire against Venezuela."
Headlines from the Western Hemisphere
North America
Caribbean
Central America
Andes
Southern Cone
Image: Venezuelan government, public domain