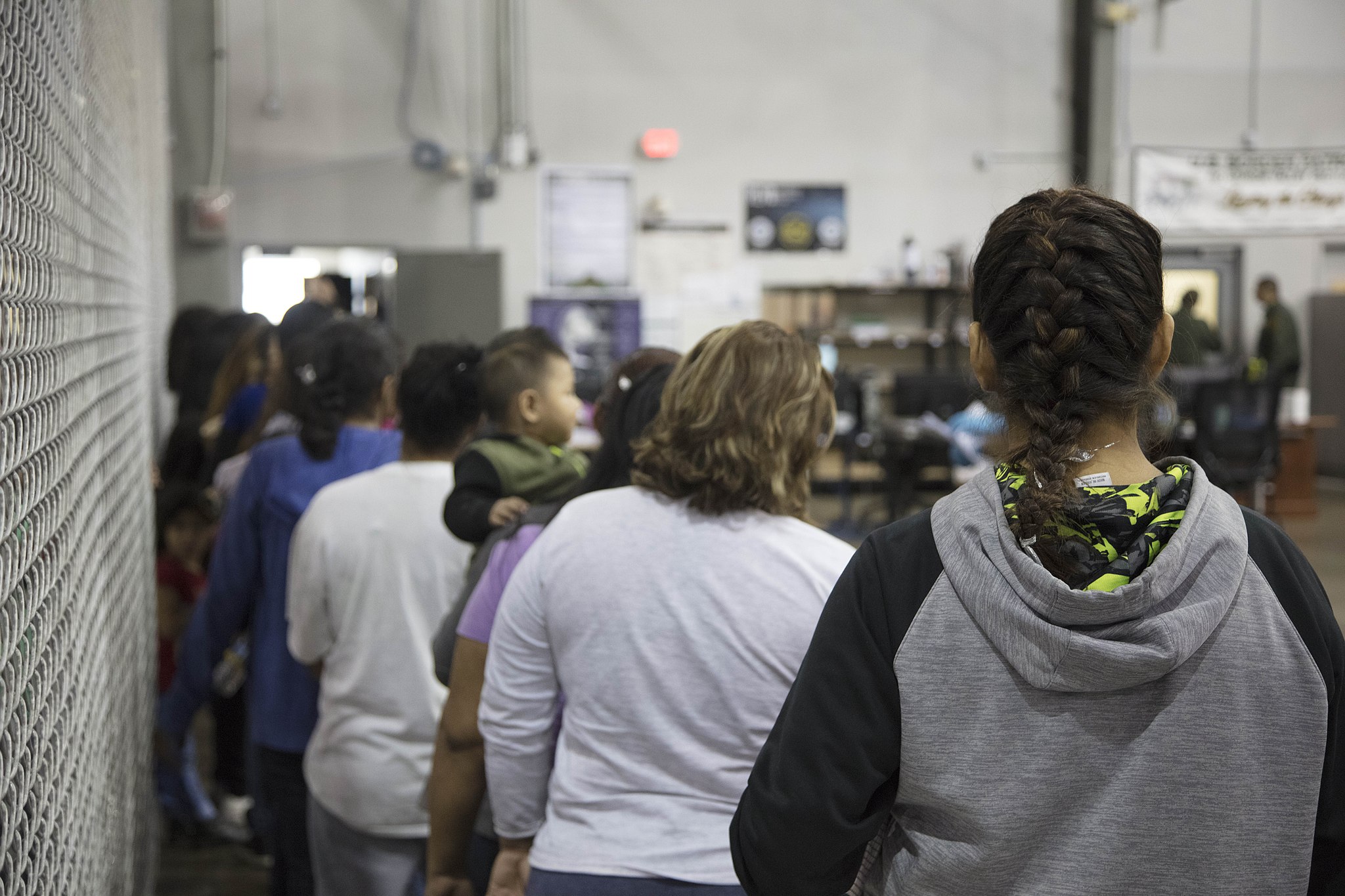 Immigrant detention facility operated by the U.S. government in McAllen, Texas. (Photo by U.S. Customs and Border Patrol via Wikimedia Commons)
Trump Administration to Include Detained Migrants' DNA in Criminal Database
October 3, 2019
By Staff
TODAY IN LATIN AMERICA
UNITED STATES: The Department of Homeland Security announced that it would begin collecting DNA samples from thousands of migrants in federal custody for entry into a national criminal database. A new federal regulation would grant immigrant officers the authority to collect DNA samples in detention facilities. The samples would then be entered into the F.B.I's national criminal database. 
The new rule would also allow officers to collect DNA from children and migrants seeking asylum at legal entry points, even if they have not broken any laws. Immigrant and privacy advocates believe the new rule raises privacy concerns that could result in more discrimination against migrants as a result of law enforcement officials having access to their personal data. The data collection may also have implications for family members of migrants who may be United States citizens, according to a lawyer at the ACLU.
Headlines from the western hemisphere
SOUTHERN CONE
ARGENTINA: Acts of anti-semitism in the country spiked in 2018. A report published by the Delegation of Argentine Israelite Associations (DAIA), a Jewish community organization in Argentina, showed a 107% increase from the year before in instances of anti-semitism. The report showed a total of 834 registered cases last year, compared to the 404 in 2017. Nine out of 10 instances occurred on social media. Nearly 70% of the incidents took place in the nation's capital, Buenos Aires. In a separate national study conducted by the World Zionist Organization (WZO), around half of respondents said they believed there is discrimination against Jews.
ANDES
COLOMBIA: Mexican photographer Alejandra Rajal was detained and deported around midnight from the El Dorado airport yesterday when she tried to enter to work on a project for the International Women's Media Foundation (IWMF), according to the Colombian journalist Claudia Julieta Duque. Colombian immigration officials said that the photographer was not deported, but she was not admitted after lying to authorities about the nature of her trip, as she had planned to work as a journalist but arrived in the country with a tourist visa. Duque commented that it was strange that Rajal was detained before reaching the line for immigration, and it remains unknown how authorities were aware of Rajal's arrival. 
COLOMBIA: Colombian Intelligence Chief Oswaldo Peña resigned on Tuesday over the publishing of a now-discredited set of photos allegedly showing Colombian rebel troops being sheltered in Venezuela. The 128-page dossier was presented at the United Nations General Assembly last week by Colombian President Iván Duque as "conclusive proof" that the Maduro regime was harboring Colombian guerilla troops in Venezuela. Some photos in the dossier were taken years ago in Colombia. While other evidence of ELN rebel presence in Venezuela has been confirmed by media and other government reports, some analysts worry that Colombia may be hurting itself through this mistake.
CARIBBEAN
PUERTO RICO: Former Secretary of Sports and Recreation Ramón Orta Rodríguez pled guilty to public corruption charges of $10 million in fraudulent contracts. The charges against Orta Rodríguez include conspiracy, electronic fraud, mail fraud, aggravated identity theft and money laundering. Along with co-conspirators named in the indictment, Orta Rodríguez allegedly used two organizations, Rosso Group Inc. and Global Sport Initiative, to receive money from contacts funded by the department. Rosso Group Inc. was also contracted for federally funded projects in direct violation of an agreement Orta Rodríguez had with the department. He faces up to 18 months in prison.
CENTRAL AMERICA
HONDURAS: Yesterday, the federal drug trafficking trial against Antonio "Tony" Hernández, a former congressman and the brother of Honduras President Juan Orlando Hernández, began in the U.S. District Court for the Southern District of New York. Tony Hernández's charges include conspiracy to transport drugs into the United States, weapons possession and lying to U.S. authorities. Orlando Hernández has been named as co-conspirator in his brother's case for accepting $1.5 million in drug-trafficking proceeds for his first successful presidential bid in 2013. Orlando Hernández has denied all allegations. Tony Hernández was arrested last November in Miami and pled not guilty to the charges.
NICARAGUA: There were 48 femicides in Nicaragua in the first nine months of 2019, according to a report compiled by the feminist nonprofit organization Catholic for the Right to Decide. An additional 58 women survived femicide attempts. Nicaragua is one of 18 countries in Latin America with a law explicitly identifying femicide. A comprehensive law against domestic violence, Ley Integral Contra la Violencia Hacia Las Mujeres (Ley 779), was passed in 2012. While the law identified femicide as a crime and acknowledged the diverse ways domestic violence can manifest, a series of reforms overturned these advancements by introducing new mediations. Moreover, the Nicaraguan police units tasked with dealing with gender violence cases were dissolved in 2016.
NORTH AMERICA
BORDER: A recently released book from two New York Times journalists claims President Donald Trump suggested shooting migrants in the legs to stop them from entering the United States at the southern border. Another excerpt of the book says Trump also suggested building an electrified, spiked border wall and an alligator-infested moat to halt migration into the United States. Trump tweeted yesterday that the claims were false, saying that he "may be tough on border security, but I'm not that tough." The book, titled "Border Wars: Inside Trump's Assault on Immigration," is based on dozens of interviews with multiple anonymous government officials.
MEXICO: The National Commission to Prevent and Eradicate Violence Against Women (Conavim) declared a second Gender Violence Alert in seven municipalities due to the disappearance of thousands of women in the past seven years. From 2012 to 2018, more than 5,000 women and girls were reported missing in the municipalities that received the alert. According to the gender violence report, which was created by a working group as a result of Conavim's alert, the state of Mexico must dedicate a greater part of the national budget to preventing gender violence, as well as provide more investigative resources for unsolved disappearance cases. The report also found that there is currently an insufficient number of public servants to work on the cases of the missing women.