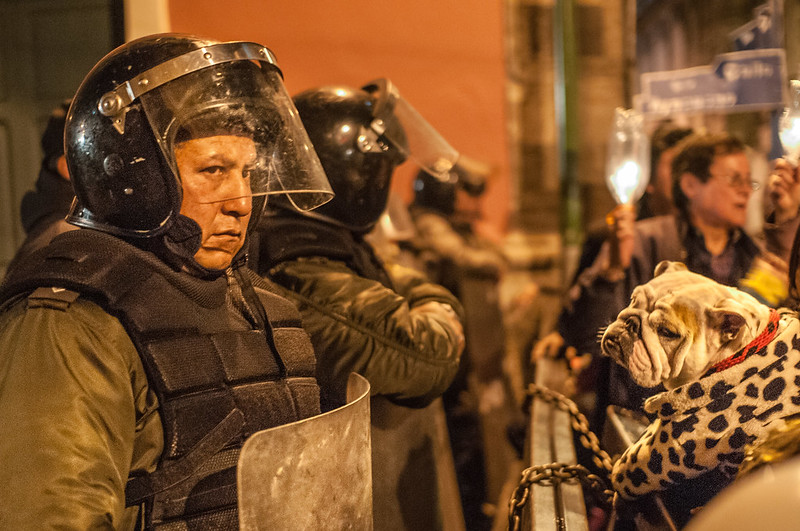 Police monitor the crowd at a 2014 protest in La Paz, Bolivia. (Image courtesy of Eneas de Troya via Flickr)
8 Dead in Bolivia; Evo Morales Calls for UN Intervention
November 18, 2019
By Staff
TODAY IN LATIN AMERICA
BOLIVIA: The death toll in Bolivia continues to rise as violent clashes continue between security forces and supporters of former president Evo Morales. On Friday security forces opened fire on supporters of Morales in Sacaba, killing at least eight people. At least three more deaths were confirmed on Saturday. The country's national ombudsman said on Sunday that a total of 19 people had died since the disputed election on Oct. 20. 
Meanwhile, Morales called on the United Nations to intervene on the ground in Bolivia. In an interview with the Associated Press on Thursday, Morales said he wanted the UN envoy "to be a mediator, not just a facilitator, perhaps accompanied by the Catholic church." The former president also accused the United States of being a "great conspirator" in his ousting and said he believes Bolivian troops are set to "rebel" against those who forced him out of office. Morales argued that he still has a claim as president since the Legislative Assembly has not yet accepted his resignation, and he intends to return to Bolivia. The country's interim president, Jeanine Áñez, has said Morales will face legal charges for election fraud if he chooses to return. Áñez has 90 days to conduct an election for a new president.
HEADLINES FROM THE WESTERN HEMISPHERE
ANDES
COLOMBIA: Colombia's President Iván Duque signed off on a law that allows mayors to determine where alcohol and drugs may or may not be consumed. The law has been called an "intelligent" drug policy, after previous laws for consumption were deemed too "repressive." The former police code, introduced by former president Juan Manuel Santos, banned the use of alcohol and drugs in public, but the police have been widely accused of using the decree to extort people and steal their drugs. The code was struck down by the constitutional court, which cited public consumption as a "constitutional right." The new law allows local politicians to define  alcohol consumption laws, and some have called it a step in ending Colombia's war on drugs.
SOUTHERN CONE
ARGENTINA: President-elect Alberto Fernández announced he will be proposing a new law to Congress intended to depenalize abortion. Fernández said abortion is a public health concern and should be tackled as such. He also said he hopes the topic doesn't become a "progressive or conservative" argument. "It cannot become an element of dispute between us," he said. A similar law was proposed in 2018, but the Senate did not approve it. Fernández urged the members of the parliament and the population to "put their ideologies aside" and look at abortion as a "public health that problem that we must solve."
CARIBBEAN
PUERTO RICO: Pedro Pierluisi, who formerly represented Puerto Rico in Congress, officially launched his candidacy for governorship on Sunday. Pierluisi was sworn in as governor in August, after the island's former governor Ricardo Rosselló resigned amid widespread protests, but the Supreme Court ordered Pierluisi to step down, ruling he had taken office in violation of Puerto Rico's constitution. In front of an audience in Manatí, a city in the northern coast of the island, the New Progressive Party candidate promised to promote the island's economy and distanced himself from the federal oversight board, which he used to advise as an attorney. Pierluisi lost his party's primaries in 2016 to Rosselló. 
BAHAMAS: A report by the Inter-American Development Bank estimates the losses inflicted by Hurricane Dorian on the Bahamas at about $3.4 billion, an amount equal to over a quarter of the country's GDP. The development bank said reconstruction will take several years and require large investments. The destruction of homes and other buildings resulted in damage of up to $2.5 billion. Another $717 million in losses was caused by the impact on goods and services, and the development bank estimated $221 million in additional costs.
CENTRAL AMERICA
NICARAGUA: Nicaragua's opposition said Friday that 13 activists were arrested while delivering aid to protesters who are relatives of jailed opponents of President Daniel Ortega's government. The demonstrators are on hunger strike at a church in Masaya, about 15 miles southeast of the country's capital, Managua, to demand freedom for their loved ones. Haydeé Castillo, leader of the opposition coalition Blue and White National Unity, said the activists were "unjustly and arbitrarily" detained by police Thursday. The Permanent Commission on Human Rights in Nicaragua said Sunday that authorities will present charges against the activists.
NORTH AMERICA
MEXICO: Students at 11 departments and campuses of the National Autonomous University of Mexico (UNAM) have gone on full or partial strike to protest the university administration's inaction on sexual abuse and harassment. Student protesters say the UNAM director has not done enough to address the problem. Following a march at the flagship UNAM campus in Mexico City on Thursday, a smaller group of protesters vandalized the director's offices. The strike continues at several departments on the flagship UNAM campus in Mexico City, as well as preparatory high schools and satellite campuses in the city and suburbs. Protests began on Oct. 23 at a UNAM campus in Cuautitlán, a suburb of Mexico City, where students have reported 77 cases of sexual abuse and harassment since 2015.
MEXICO: Five bodies were recovered from unmarked graves in Acapulco on Friday, discovered to be a family whose ages range from 11 to 70. The family had disappeared after gunmen forced them out of their home on the outskirts of Acapulco on Oct. 14. Honoria Rendón Ríos, 70, along with her daughter and three grandchildren had been missing ever since. Suspects in the murders are part of a local gang. There is no known motive. Acapulco has been one of Mexico's most dangerous cities for several years.
BORDER: On Thursday, U.S. Customs and Border Protection acting commissioner Mark Morgan said that overall migrant crossings on the U.S.-Mexico border went down in October, but the number of Mexican nationals taken into custody on the border now exceeds Central Americans from Guatemala, El Salvador and Honduras. Morgan attributed the overall decline to Trump administration policies including the Migrant Protection Protocols (MPP), which requires Central Americans to wait in Mexico while their asylum applications are processed. Mexicans cannot be removed from the United States under the MPP, which may be related to the demographic shift in recent months. Most Mexicans arriving on the border say they are fleeing violence in their home states.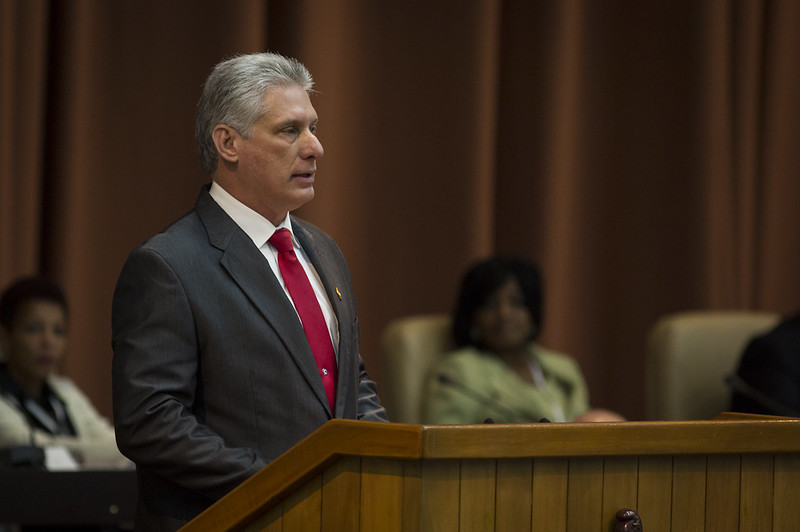 November 15, 2019
> Staff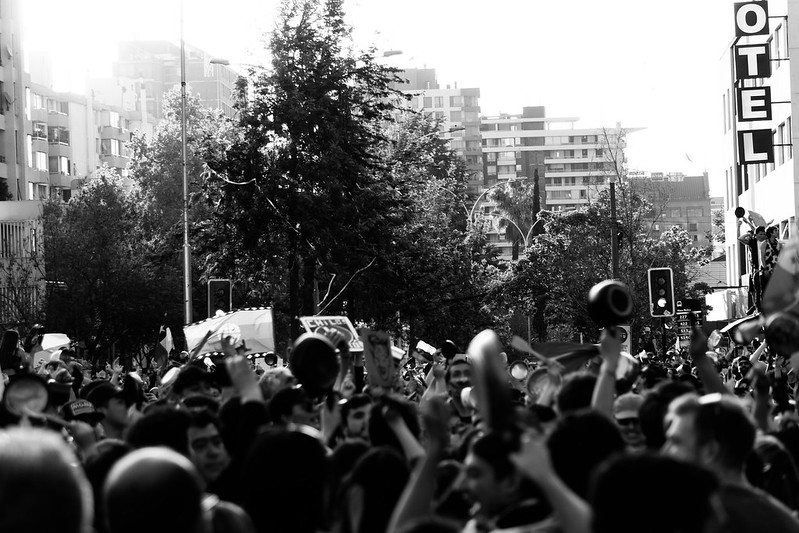 November 19, 2019
> Staff